Discussion Starter
·
#1
·
Here is the story from 1994. My city deweller neighbour moved to the country in 1992 with one horse a race horse not the trotters mostly seen in this area.
Any time he needed tractor work done he gave me a call. I used my 555 to hual a huge oak tree to my house that they had taken down on the edge of his drive so they could get the well truck in there.
I used the 44 standard to plow what was to become his yard and the 30 to disk it up silky soft. The 1952 mustang pulled the grain drill that planted the grass seed and the rye cover crop. The 1953 Mustang brush hogged the pasture that the 44 standard and 555 pulled big russian olive bushes from. the 53 mustang even back filled his pole barn they built 3 feet off the ground.
While I was having a good time working my masseys George was haboring a want of a tractor of his own.
He was going out and looking at all the local dealers at stuff then call me to go lokk at the ones he liked. OH he found some horriable stuff, An IH indrustral tractor that squeeled like a pig if you raised the front bucket. A ratty old B110 they cranked and cranked and about when you gave up it started.
He passed on a beautiful Farmall Utilty 300 with a 3 pt convertion, front loader and sickle bar mower. After a week I asked him if he didn't want the 300 and he said no so I called my brother in law who bought it, beautiful tractor runs like a dreem even today.
Then one Morning George calls and asked if I had time to go to an auction sale site and look at some consigned tractors there.
Of all the tractors there I told George the CA Allis with the plow disk and cultvator and a D17 sitting along side it were the best tractors of the bunch. I came home and told Kare he was going to buy the CA.
sunday Morning he called and asked if I could go hual his tractor home Monday morning. I told him I could and when I got to the auction site and George pointed out the D17 you could have knocked me over with a feather.
It needed some help right away. I built a new battery tray so it didn't have to be bungy corded to the right running board. Ran new wires where they had shorted out under the rotten battery tray.
George happly drove it around in the field out back pulling a 8 ft. disk I loaned him. Good learning experince that was as one morning he called and said the disk was up on the back tire, to short of a turn and not watching the equment.
Another morning he called and asked if a front loader off a WD would fit it. I told him that I had a welder so yes it fit.
A couple days latter he called and asked if I could go get the front loader and a bunch of other stuff. I ended up taking the Mustang with the front loader to load up the front loader he bought with a rear blade, one of those bucket scrapers and a allis mounted field cultvator.
I got all that stuff home for him. He went on a vacation for a week so I got the front loader to my house with the tractor and had it mounted and working when he got home. I also rigged up a hitch so he could use the back blade to clear snow from his drive way. His wife said he was fired and to call that guy next door to clean the drive. George had left a big pile at a place in the drive they turned around in and she got stuck.
So any way it is mine now and I really like it. We had WD's and wd45 at one point when I was a kid.
Building one of Kares flower gardens, removing the clay and hualing in woods top soil.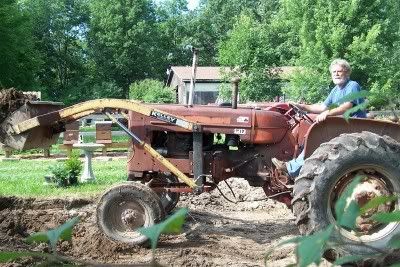 Stuck in the mud trying to move the big rock to the area near the honey house every one wants to back into.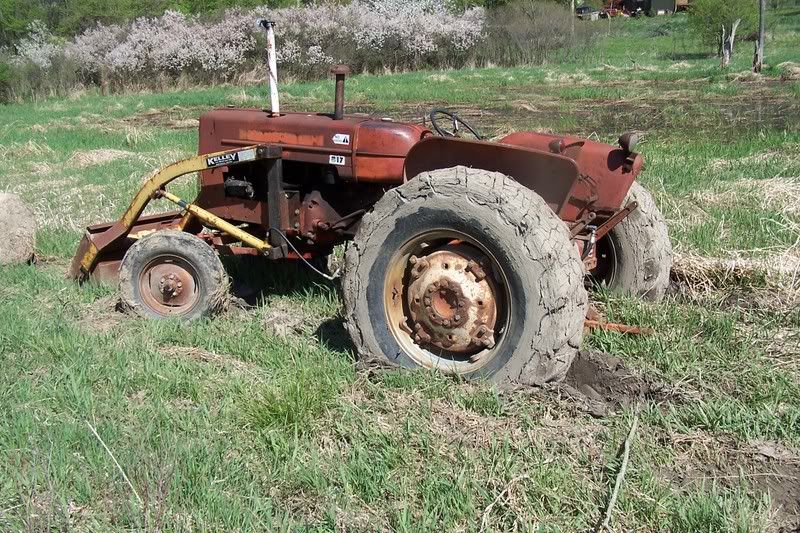 Al