Discussion Starter
·
#1
·
I finally got the time to take a few shots of some lathe projects of my son in law. So to keep my promise to Don, here we go:
My son in law is the shop teacher at the local middle and high schools and loves anything associated with wood working. Especially the lathe. Don't ask me how he figured out this bowl, but it's one piece of sugar maple out of our yard.
Here's another thing I don't have a clue how to do....but its spalted maple out of the wood pile. Nope, no wooden chicken to go with it....
A little walnut goblet just right for the spalted maple egg.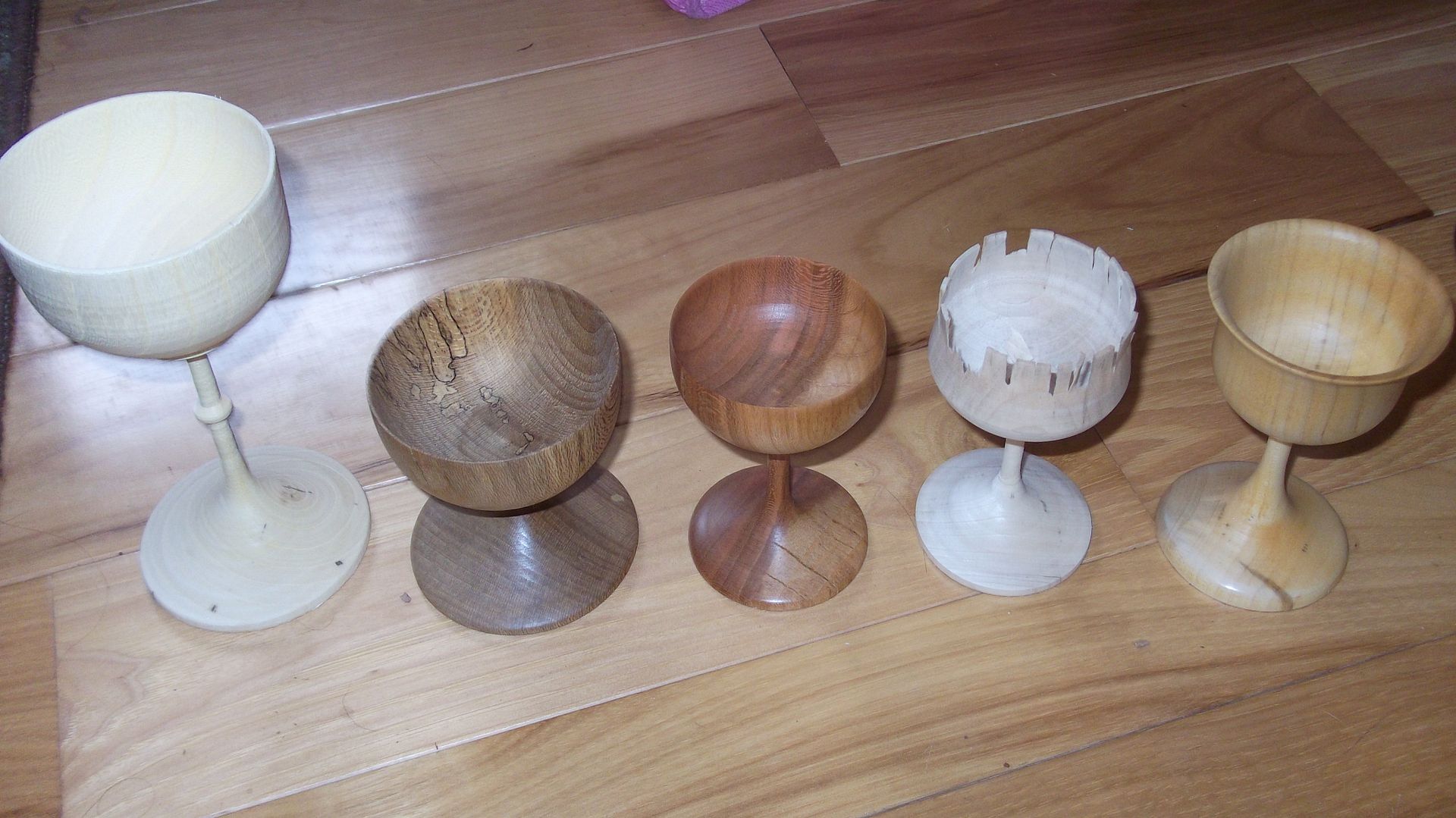 Miscellaneous little goblets for little goblins, I guess. I do not possess the skill nor the patience. Patience is required when dealing with middle and high schoolers handling power machinery and he has tons of it fortunately.
Cherry and walnut.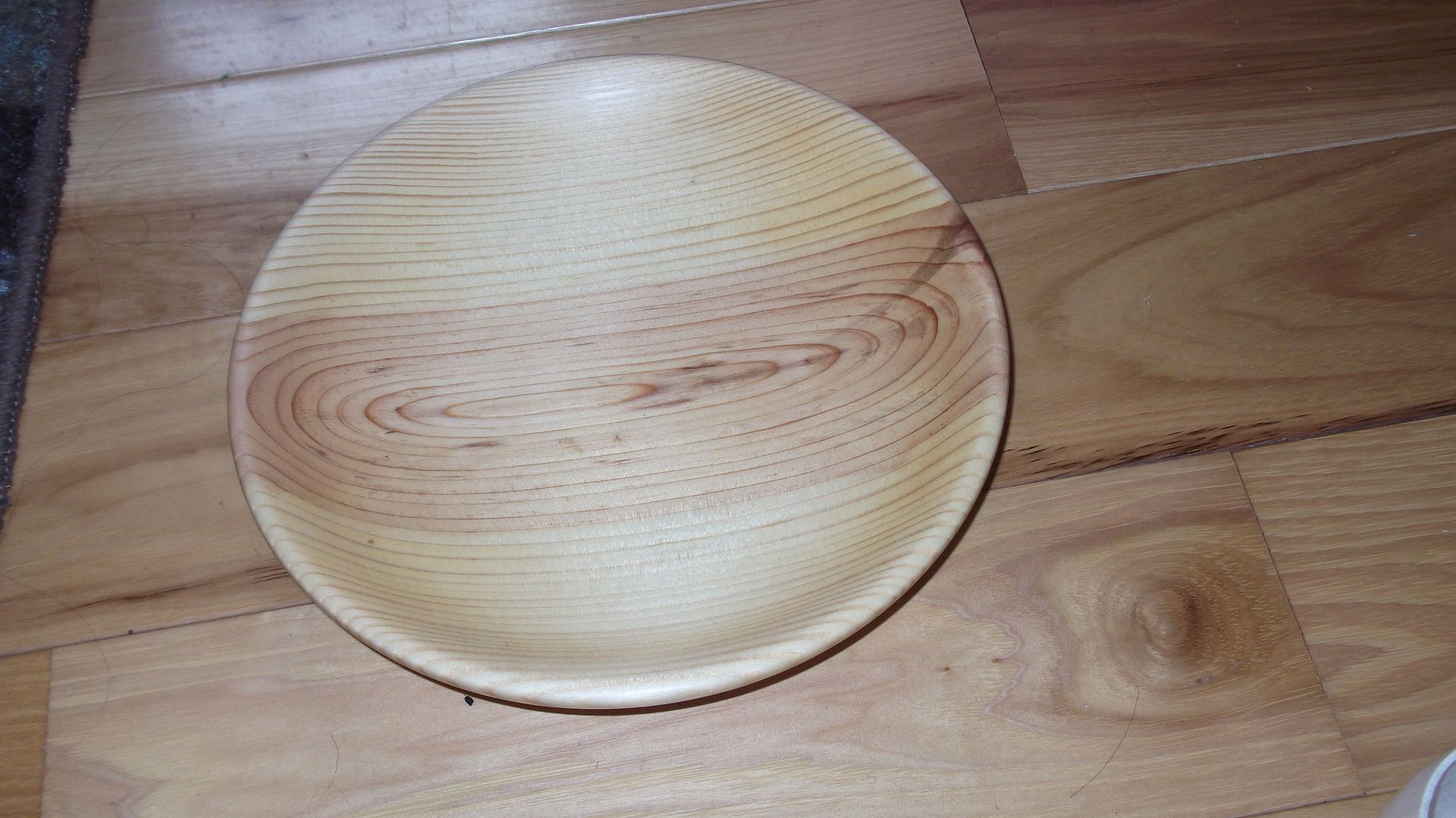 Yellow pine 2 x 10 scrap.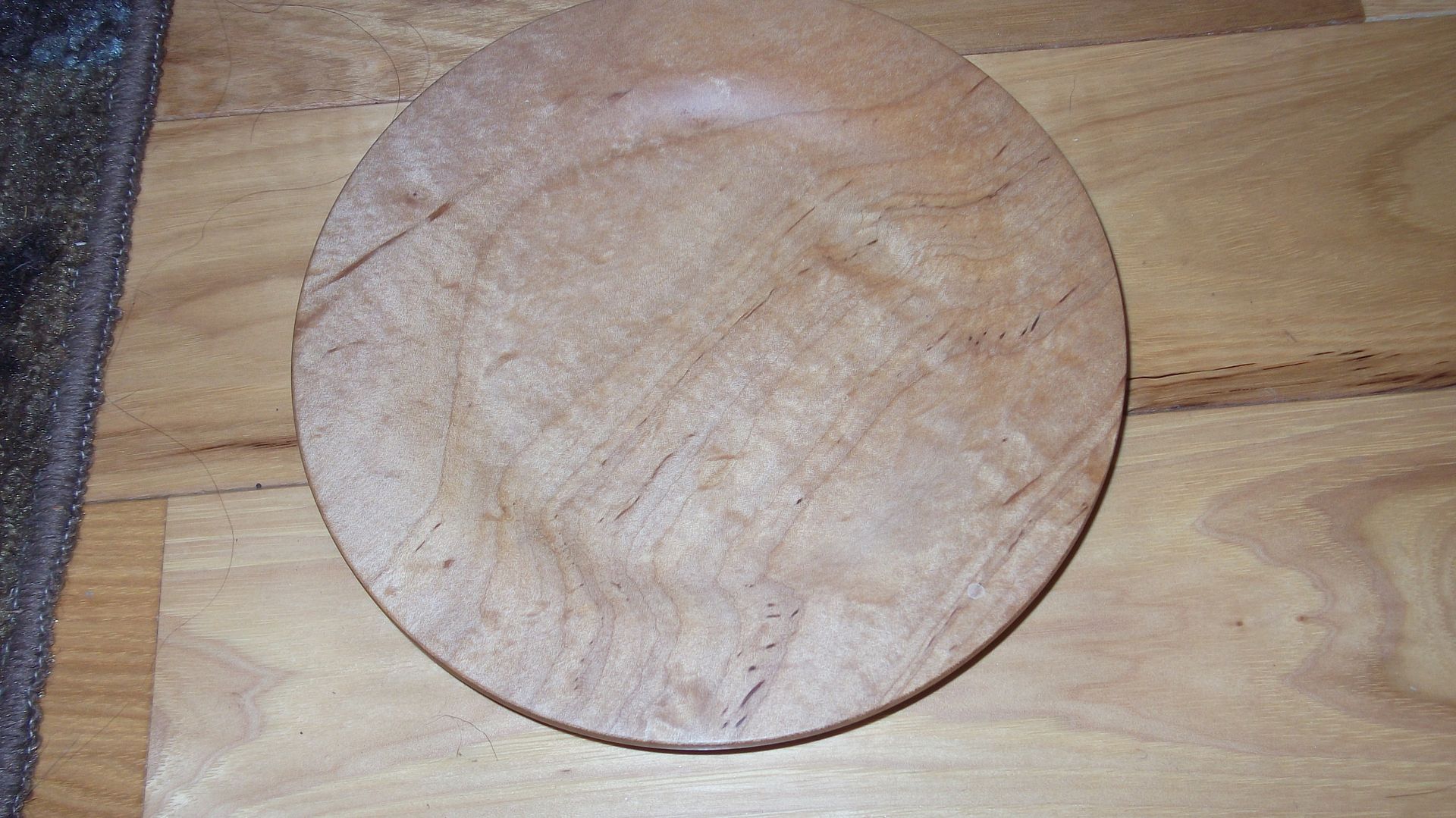 Decorator plate...I'm thinking the gravy would put a stain on it the dishwasher couldn't remove.
Remember the catalpa post ?? This is a chunk of catalpa from his dad.
This was a sawmill slab of cherry, 4 x 12 originally for a mantle. Just cut the end off with a chainsaw.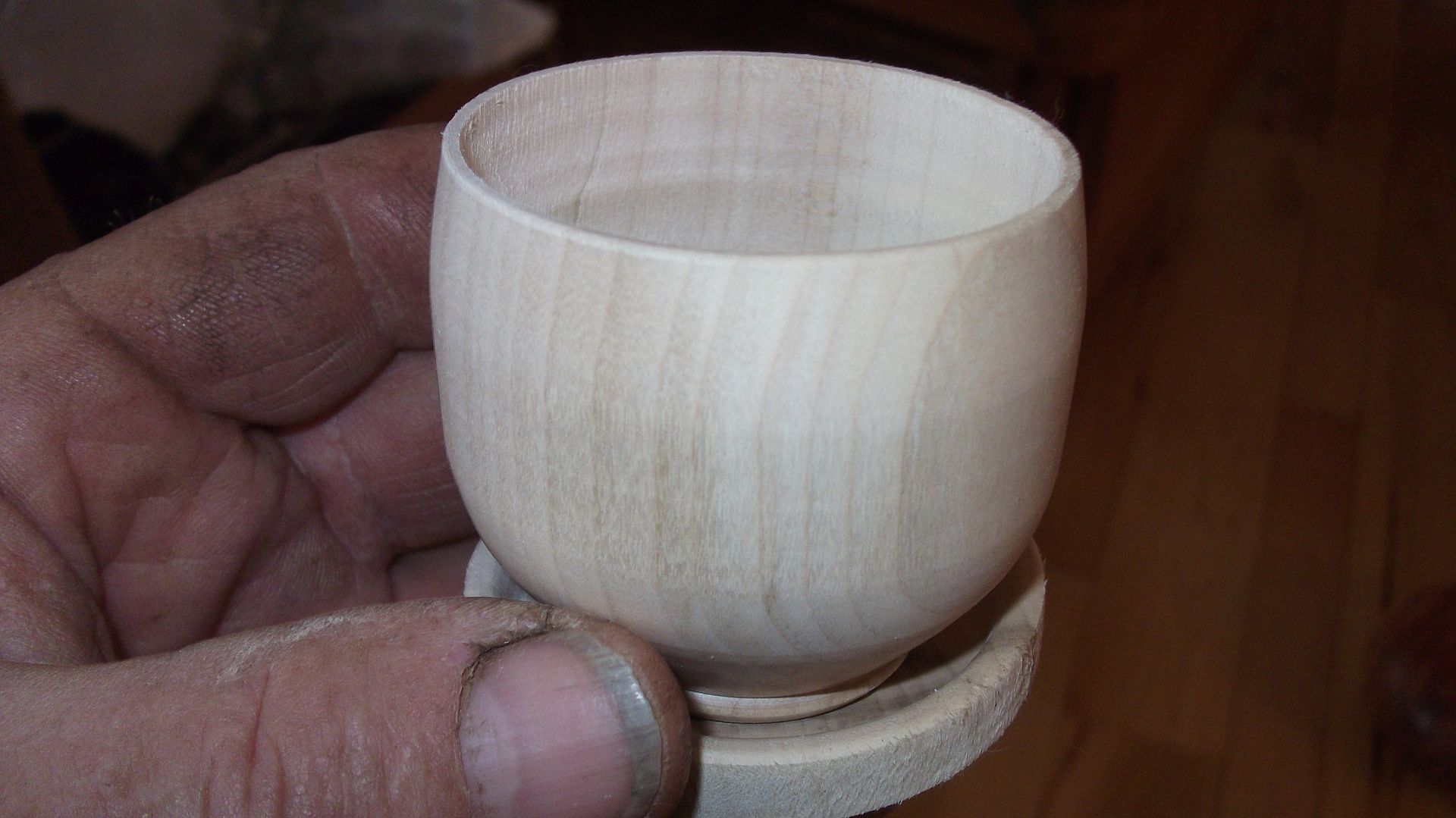 Little cup and saucer, can't remember the wood, maybe box elder or hedge apple....just guessing.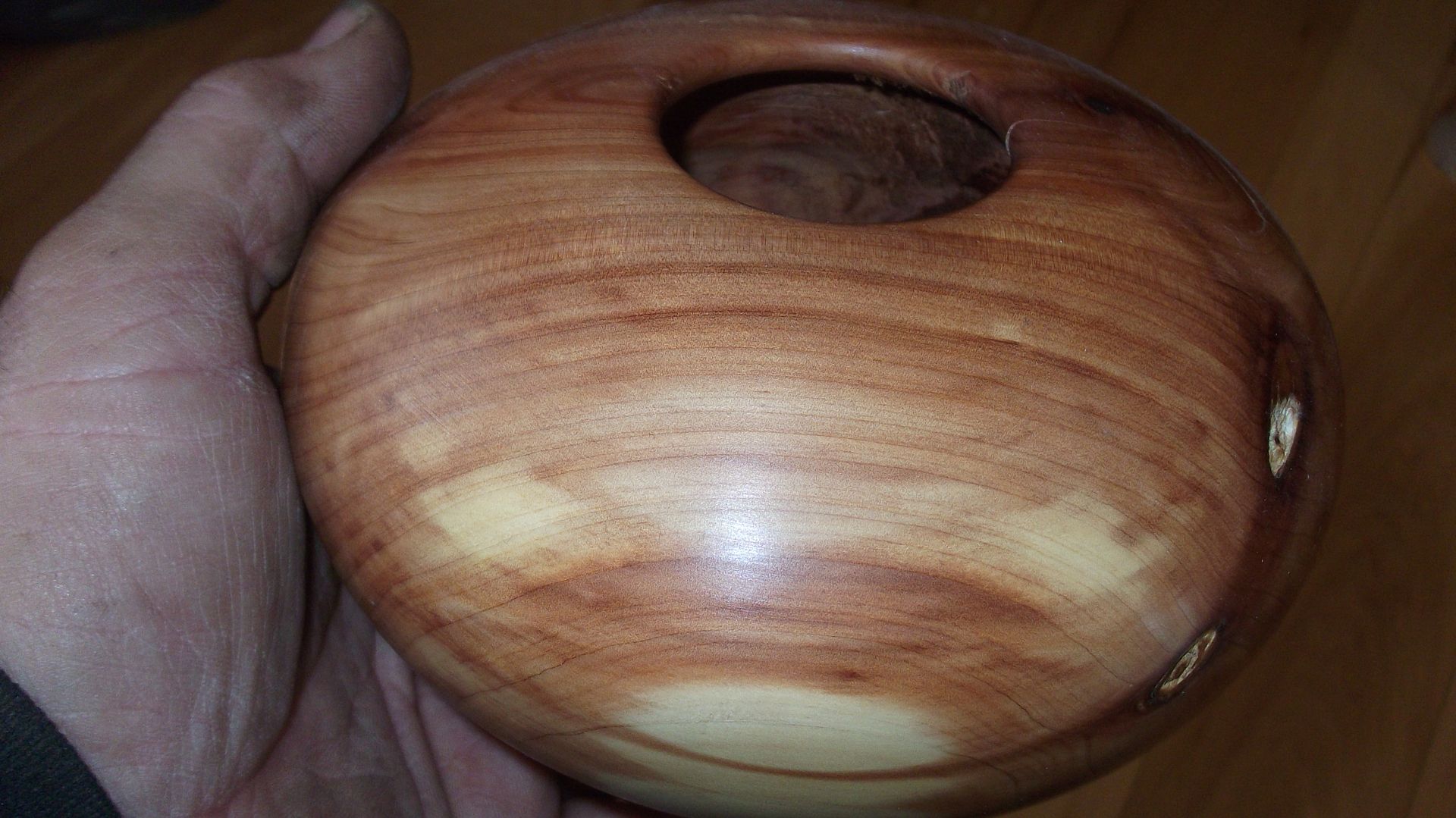 Red cedar, yep it's hollow... mostly anyways.
Now I don't drink, nor does my sil, but either my eyes are deceiving me OR I'm "under the influence" of something because that stem on this goblet just ain't in line....
I think he's done this on purpose, because if I'd a done it, it would've been entirely by accident. Don't ask me how its done, I just see the finished projects....and there is no glue involved.
A little walnut pedestal with a free ring on the stem...and it is not an assembly, the ring was cut off the stem somehow.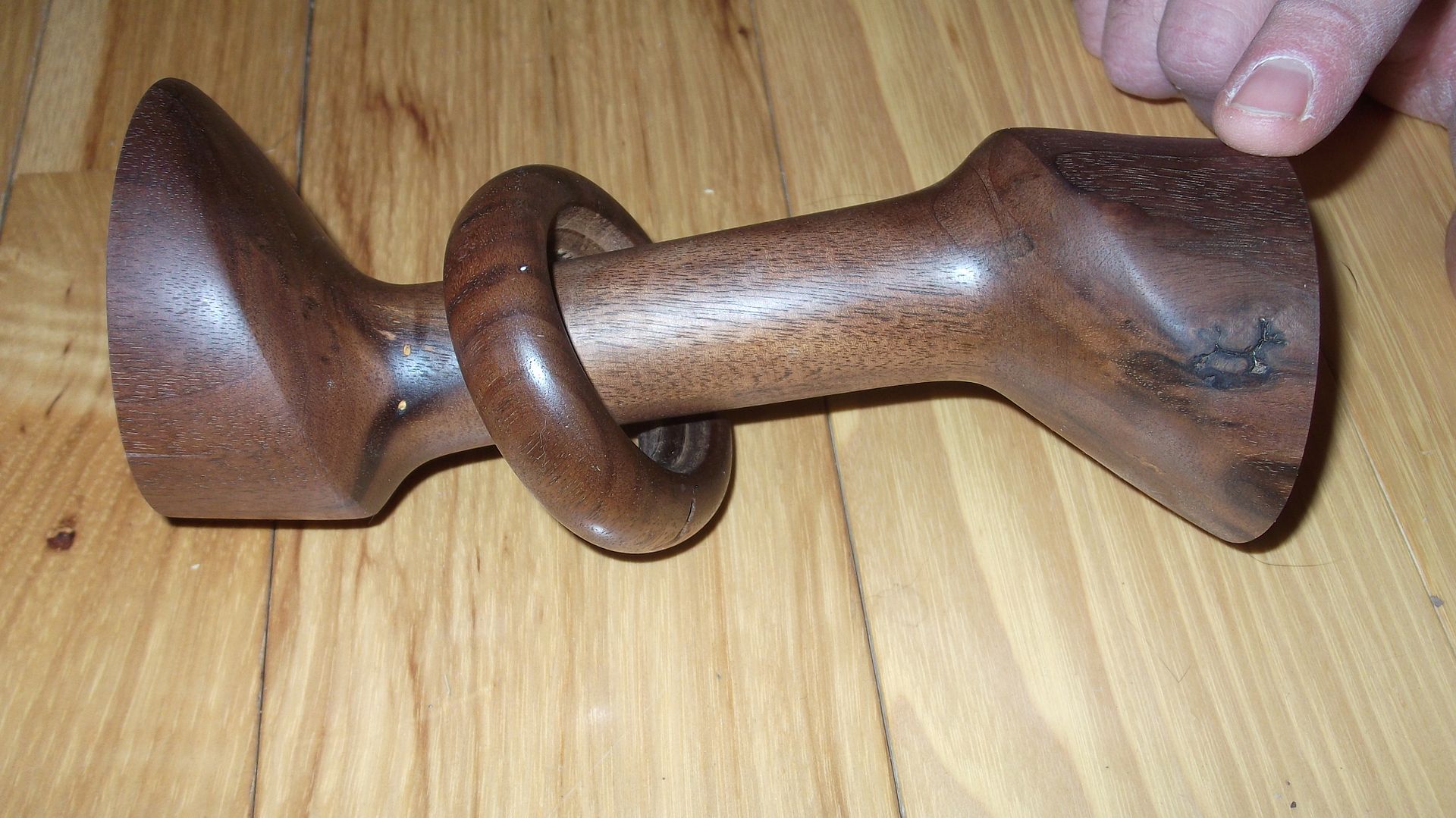 Just a different view...there must be something wrong with his lathe, because it keeps turning stuff crooked.....
A few spinning tops and.....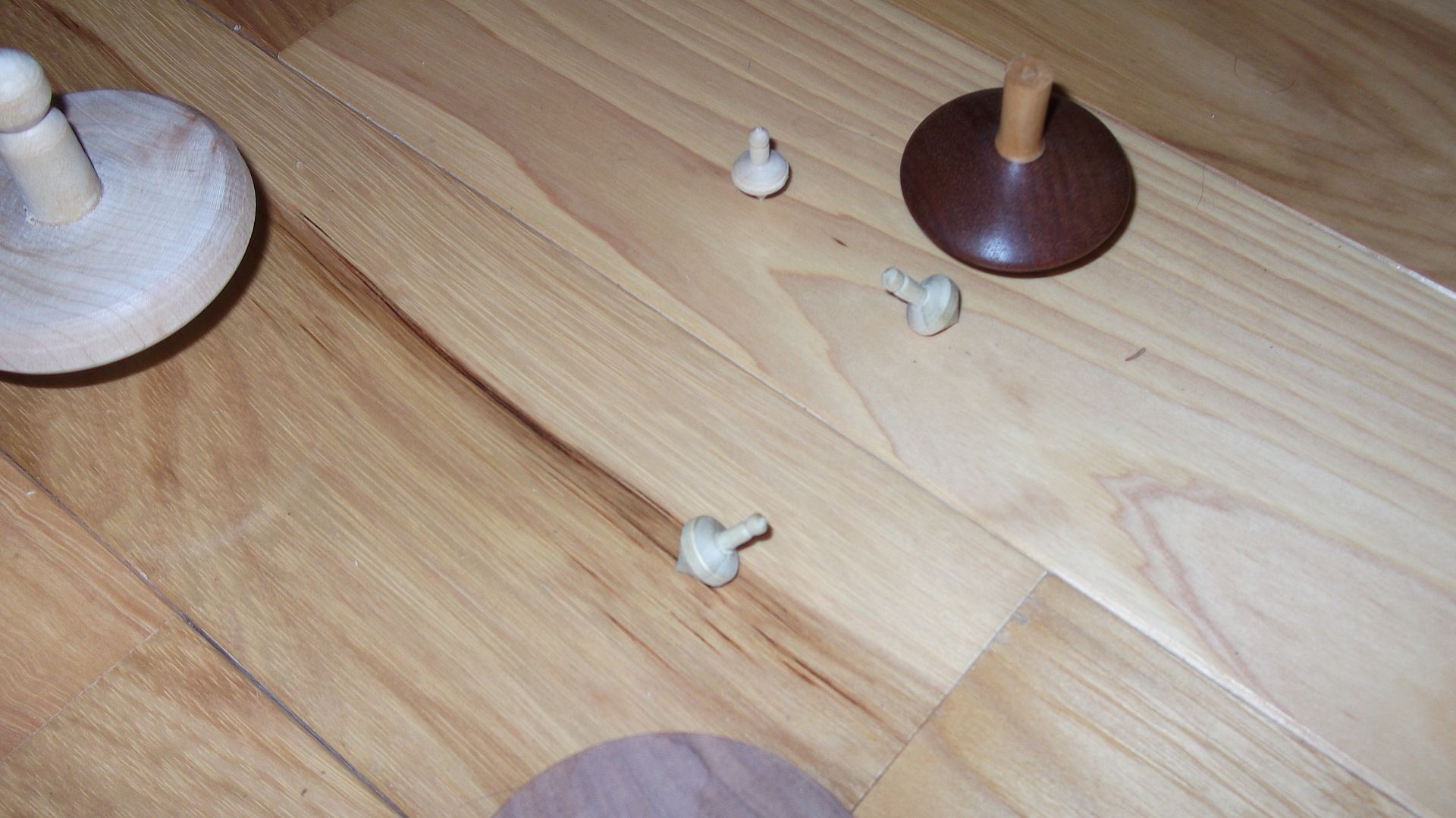 We managed to get some small ones spinning at the same time too. The two that look like they're laying over are in their final stages of wobble before stopping due to the slow reflexes of the camera man.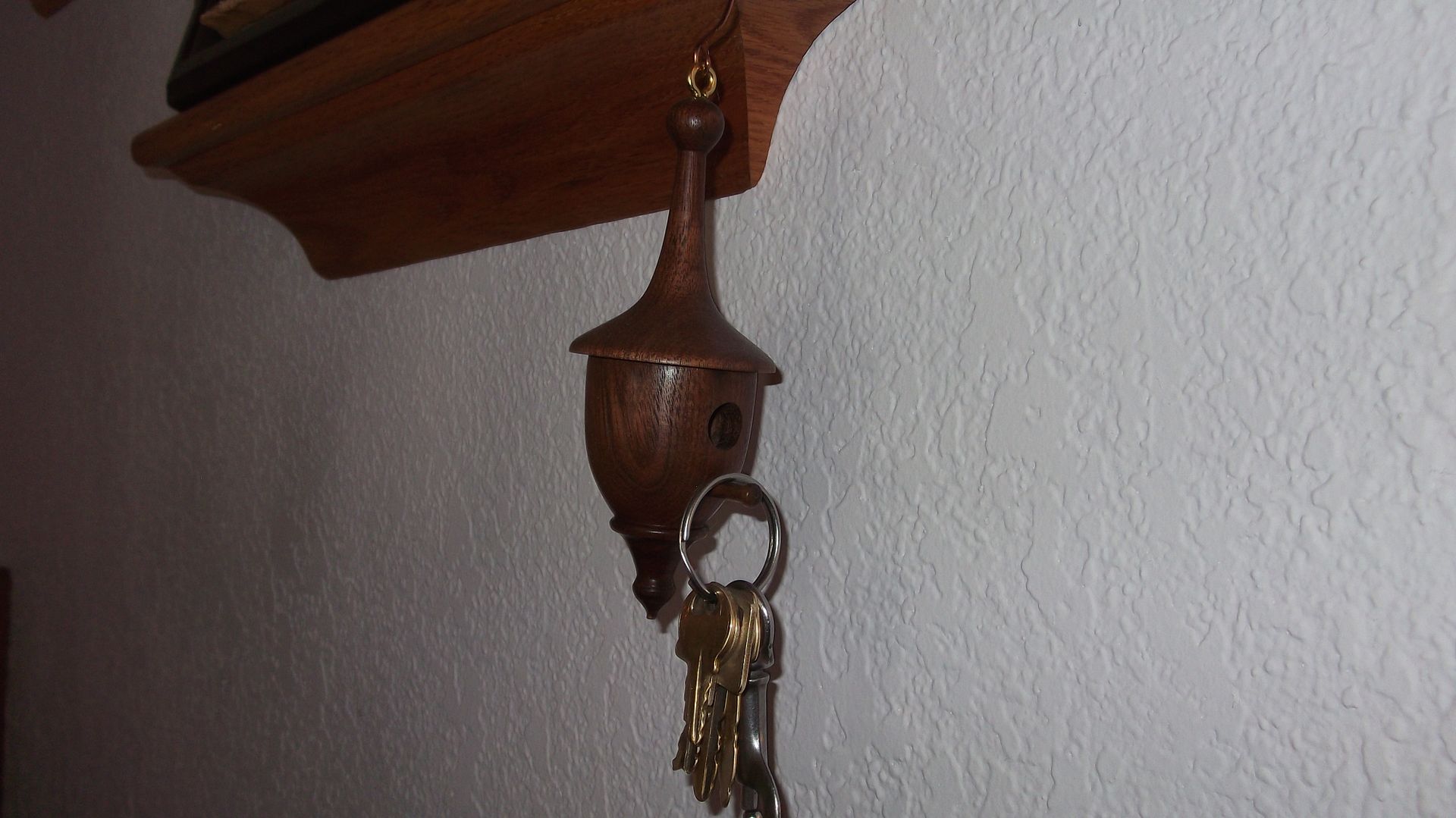 Hanging my keys on the birdhouse gives an idea of the size.
Cherry and soft maple. Kinda cut like the "felloes" on a wagon wheel.
Here's his Powermatic lathe. It had a single phase one horse motor, but he changed it out to a 3 hp 3 phase motor.
Fitted with a Reeves drive, you set the rpm's you desire with this lever and it allows rpm change through...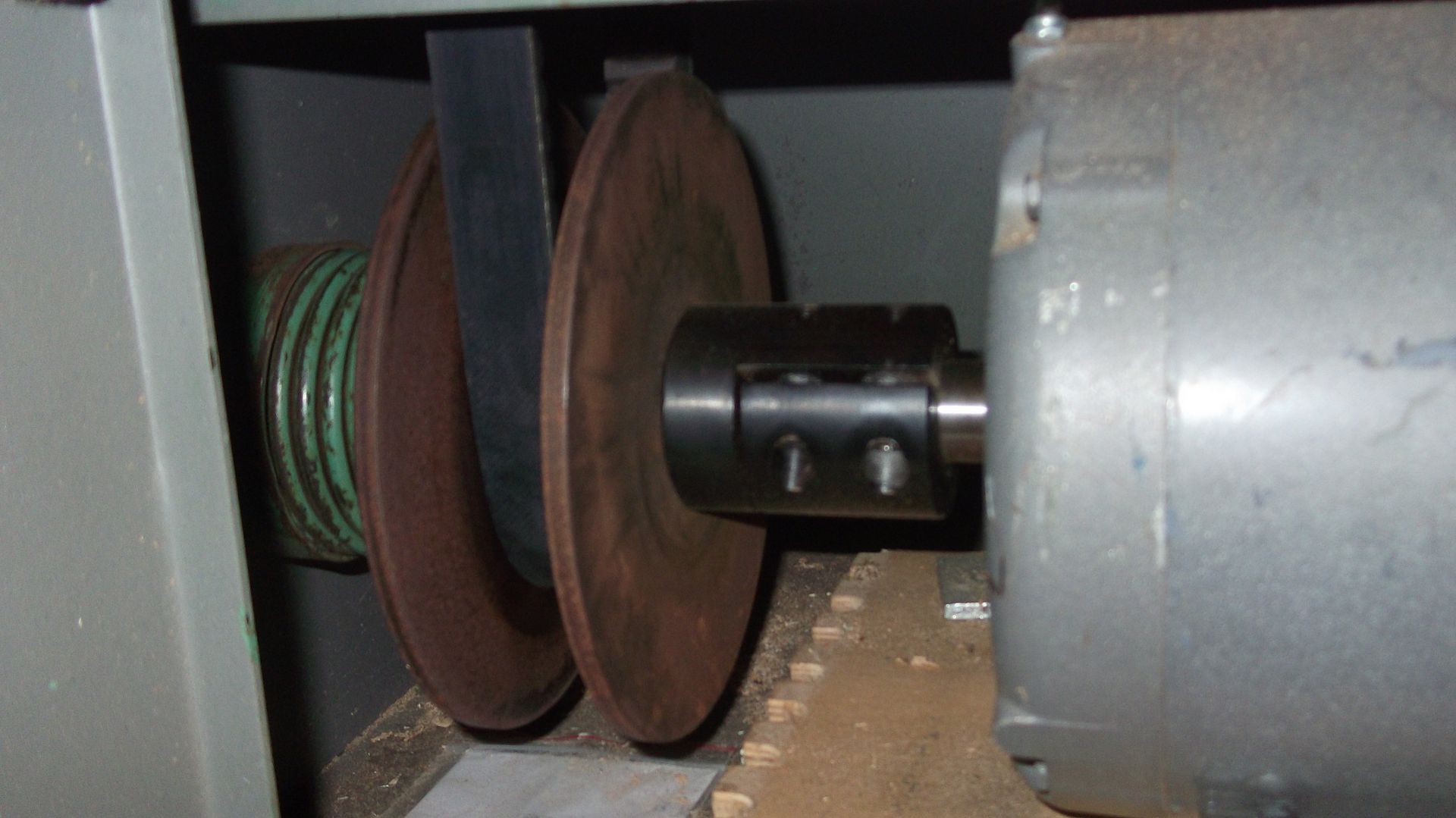 ....through a pair of variable pitched sheaves on the motor and the head stock.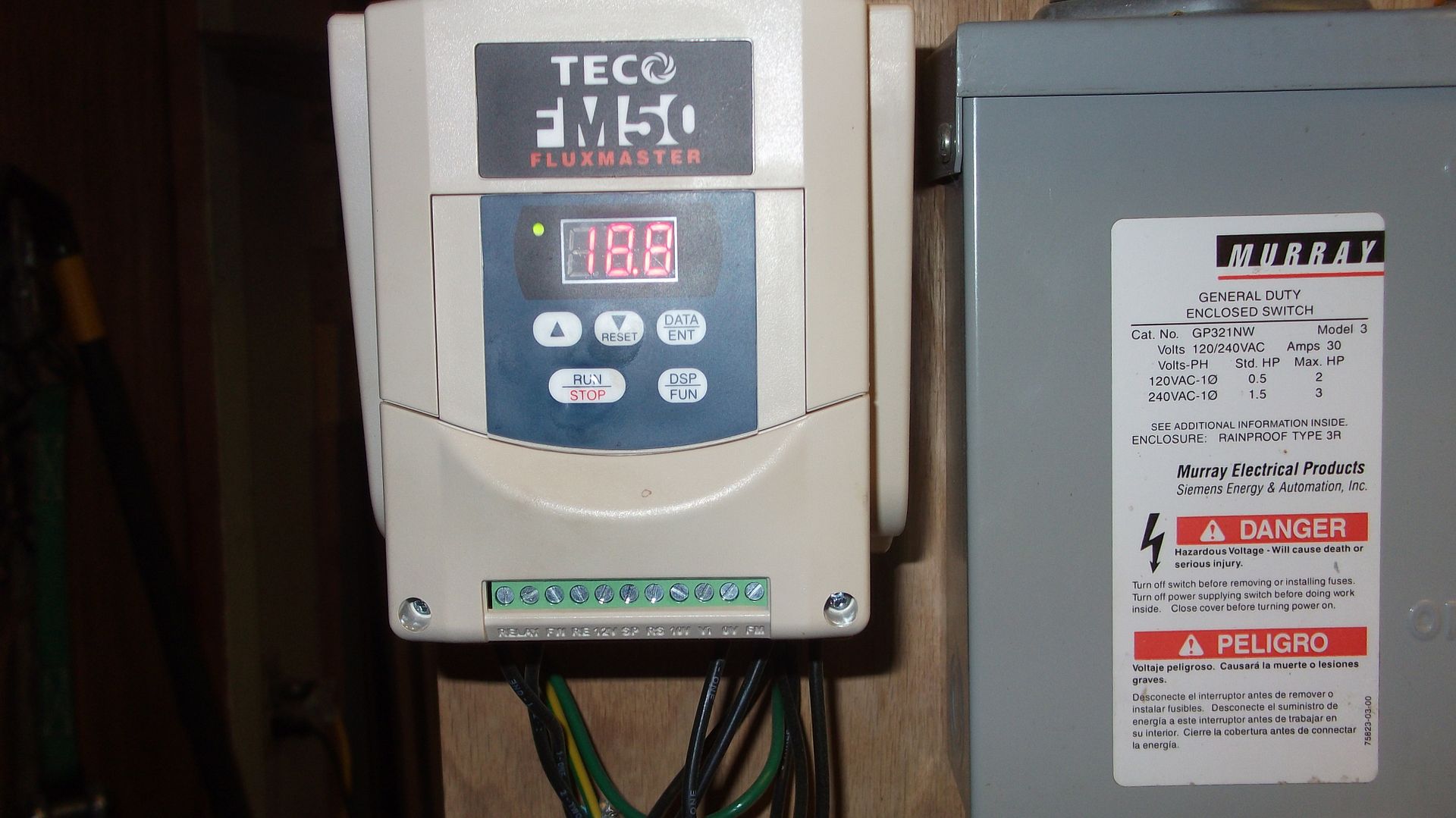 Then to get infinite control of the spindle speed this vfd (variable frequency drive) was installed to do two things: first to allow a 3 phase motor to run on single phase 230v power and secondly to vary the Hz (frequency) to the motor from 0 to 60 Hz so you can optimize the torque on the motor at any selected rpm on the Reeves drive.
Say if you were running the lowest rpm on the Reeves, and 15 hz on the vfd, you'd be at one quarter of that speed, 30 hz you'd be at half speed and any infinite variable in between. Same would ring true if you's selected a higher rpm on the Reeves. So ultimately there is an infinitely variable speed selection with the ability to maintain optimum torque. (I got to help out on this part)
The wiring is only temporary, sooner or later it will be enclosed in flexible conduit. He's currently figuring where to set another 3 phase machine so we can utilize the one vfd on two different machines with minimum effort. Then it will be permanently wired in conduit.
Whoops, I forgot a walnut handle for the small gouge complete with a copper tubing ferrule.
Last but not least, here is my daughters lathe where she makes wooden ball point pens. And wouldn't you know it, I didn't even get a shot of any of them !!
So thank you for looking at some stuff that would normally have become scraps of wood for the stove but with some patience have been "turned" into some cool items. Living right up the road 500' away, I've jokingly told my daughter that if they ever get divorced, she's gonna have to find another place to live because Mike is too good of neighbor and handyman to let move away....Yep, I got a chunk of coal from her for Christmas. Just kidding, my kids really take care of me quite well !!!