Discussion Starter
·
#1
·
I'd mis-read the number on the cell phone the day of the auction (tractor data) and thought it was a '51 but it is really a '40. 367xxx is '51
and 367xx is '40 :lol: :lol: Doesn't really matter anyway. A neighbor to the auction said he knows it ran 6 years ago for sure, since
then it has just sat and rested. Everyone thought it was stuck which I guess is why it went so cheap, I bought it for the rubber and for parts
for another H. After I bought it, my son in law told me he moved the crank pully. Then I KNEW it was a bargain for sure !!
Soaked the carb overnight and cleaned it up a bit, hung a temporary tank we use for motorcycle work,
put in 4 new D21 Champions and she decided to run for me !!! Not even a puff of smoke, but there was a lot of little hot rust flakes blowing
out of the smoke stack. Already a decent 12v changeover but I have to checkto make sure its charging yet, the needle isn't
moving at all and the temp guage is dead...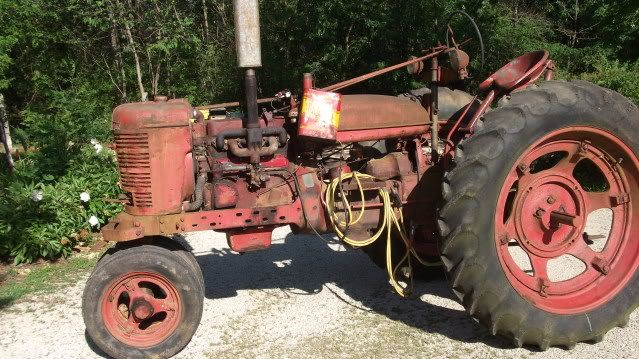 We ran all over the place to warm up the oil and to check the brakes and transmission...all is good except...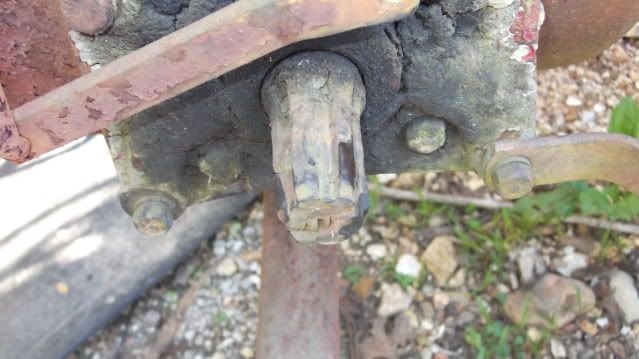 the pto shaft... it sure is worn out. So I'm looking for a replacement, hopefully a used one. The belt pully fibres are just starting
to separate on the end of one side, so it's already stored inside on a shelf. No need to let it get any worse. Only minor things to
make another smooth running little helper around the place.