Discussion Starter
·
#1
·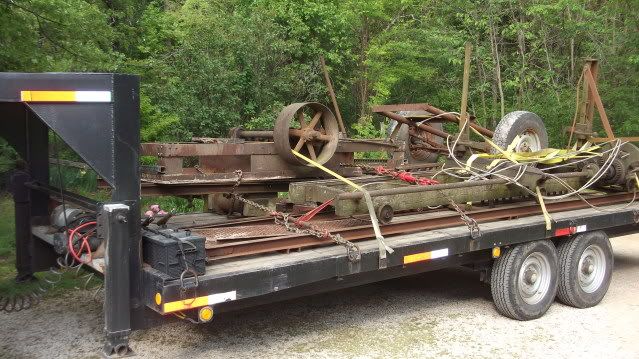 The best way is to cut it in half !!! We took torches, metabo and razor blades, extension cords, pry bars, Kubota with forks, an extra axle to put under the halves... and here it is ready to truck on down the hiway !!! After cutting in half and strapping to the axle you see on top, we had to wind around a tiny circle drive and up a driveway so steep and rocky a mountain goat would feel at home !! We backed the sections on the trailer until the axle bumped, then dropped the axle off and winched them forward the rest of the way.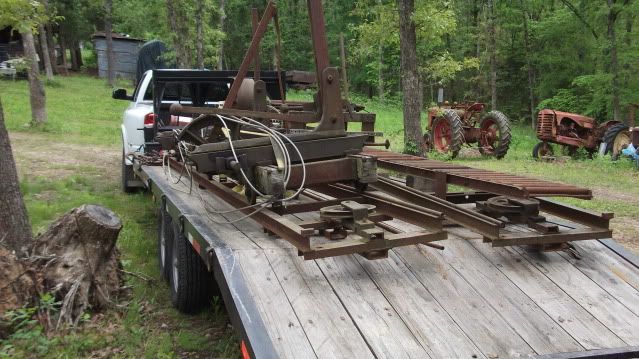 Everything was bound with chains...the nylon tiedowns just added insurance for floppy stuff. The first half came up the hill and was loaded with the carriage assemble strapped to it. The other half came up with the underbelly reel. The cab assembly came up by itself and was set on top with the Kubota as well as the axle and frame used to transport the track assemblies.
Had to take the full crew for retrieval. Son and son-in-law, the Kubota and Old Blue, the trusty rusty '85 Ford.
This little trailer is made with the front axles of a '54 Ford truck...My much older brother and his oldest son built it 25 years ago. Through horse tradin back and forth I managed to end up with it. Probably a little overloaded with the Kubota, but it's always been used beyond its capacity....