Discussion Starter
·
#1
·
Talking at breaktime on the jobsite about a month ago ended up with a fellow telling me of an old Allis at deer camp that's been sitting for 7 years. No one wants it, no one knows anything about it, no one can get it to run. It was his father in law's pride and joy and since his passing this old girl was rapidly following in his path....unless, of course, someone like me gets wind of her rapid demise.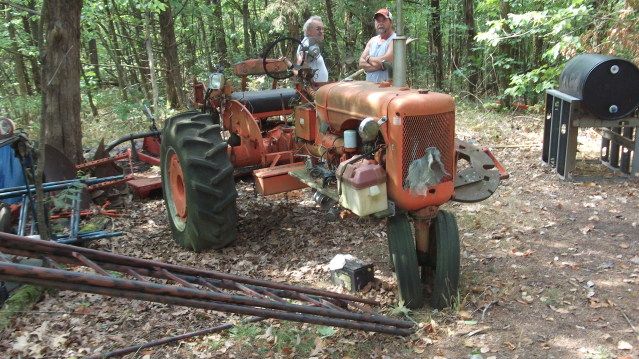 Since his Mother in law is 88 and could use the money and no one offered anything but the junk man...and that was to haul it and all kinds of pull-type implements off at no charge to the salvage yard, we discussed the basics of what it may be worth in non-running condition and agreed on a price contingent upon visual inspection as it was 134 miles from me. This picture is after we shot some air in the tires and ready to winch out of the trees. Man, are we back in the woods here.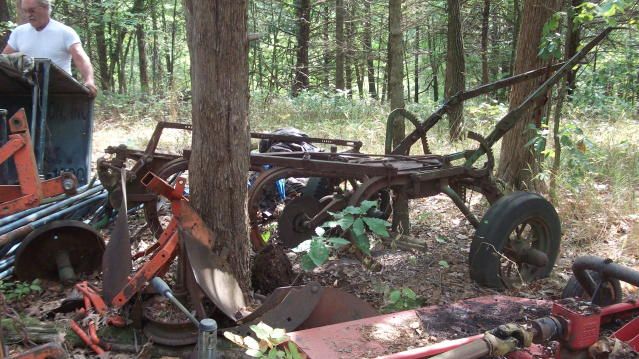 Sitting next to it is this Case 3 bottom pull type plow, mostly complete except the tongue. Shares, molboard landslide and coulters laid against a tree.
We struck a combination deal on the plows and the C, will negotiate on the trailer load of additional pull type implements later.
Sitting tall, proud to be coming to a place where some new life will be poured into her a few dollars at a time.
Gotta get a picture before she gets lost in the rest of the junk pile MrsMassey brings home all the time.... :lol: :lol: :lol: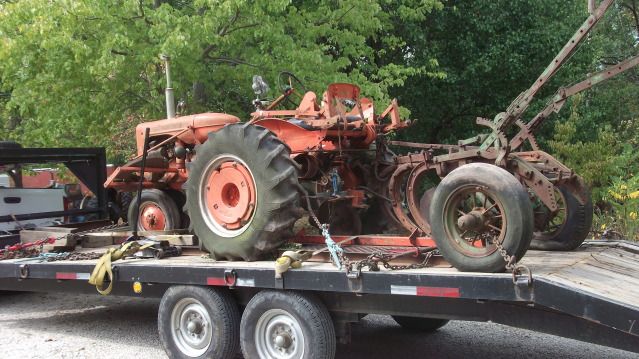 Now I know you are wondering why I called this a "Restomod"... well that's because a restomod uses accessories just a little out of the ordinary while restoring a car or a truck, so it's a combination of a Restoration and Modification to what was original. You will see a few pretty cool features this old fellow added to this little C to make it just as he wanted. Hey, if they can do it to cars and trucks, we can do it to tractors !!!!
Pretty meaty do-nuts for a for a little C, don't you think... 13.6 x 24's plus cast centers and a set of wheel weights. This little cotton picker will really dig, I bet !!!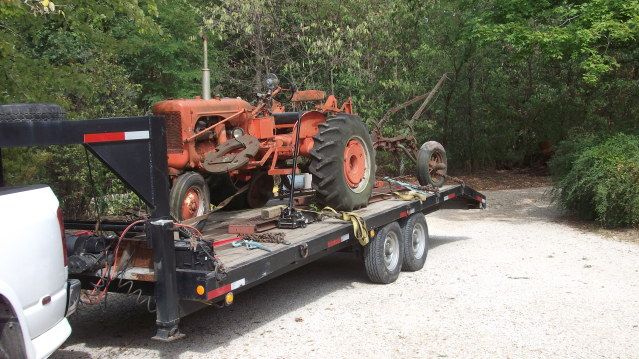 Another shot for posterity...
...and another....
Dropped the plows off down in the woods and rolled this little girl under the Catalpa so maybe I can fiddle with her tomorrow. She is really a straight looking tractor, and I believe she will purr like a kitten....unless of course she is stuck from sitting....surely not the case...Check out the awesome step on the left side. It too looks factory, but I don't know for sure.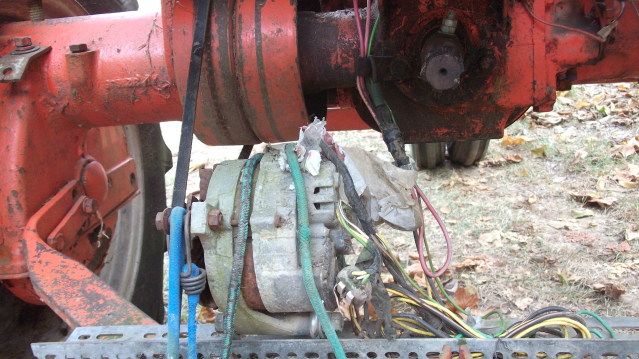 Remember those modifications I was yakking about a few pics back ??? How about this... a 12v alternator running off the the belt pully to operate a host of other mods !!!
This is the neatest ball attachment I've ever seen !!
Look closely and you will see switches, push buttons and momentary buttons, horn buttons, relays that all do something with the 12v power supply. Notice the perfectly mounted 12v fan aimed directly at the operators face !!!??? Awesome...
Here's a 12v spotlight mounted on a pedestal outside the fender with it's own toggle switch.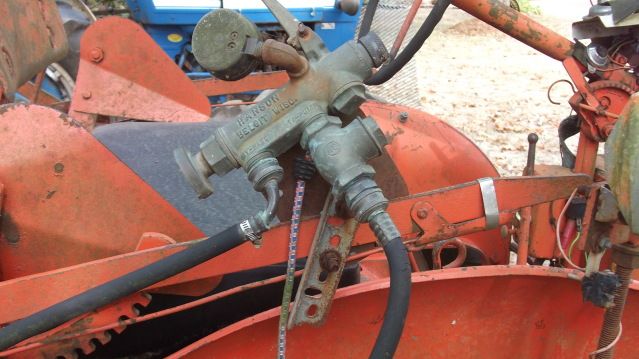 Here's a liquid control valve, check valve and guage that I have yet to figure out yet....
Here's a rear facing 50 watt light for watching implements at night.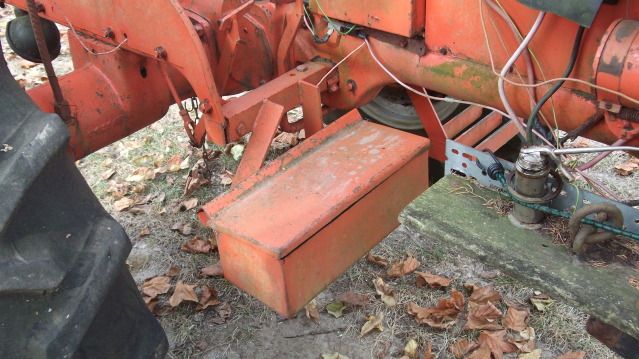 This is one deluxe tool box, looks factory to me but I don't know. It does double duty as a step up on the right side.
Here's a 12v siren....yes, a siren with it's own momentary switch on the steering column
This is a shot of the accessory rack, with oil can, 12v ammeter and additional 12v battery box . The tractor still runs on 6v, has a 6v battery in its own original battery box and has the original 6v generator.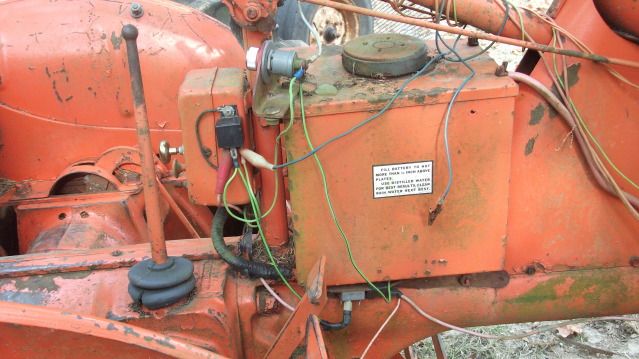 There is no end to the accessories the old gentleman added to his little tractor...My buddy said his father in law would disappear to deer camp for weeks at a time just tinkering with the tractor and working the plots and puttering about.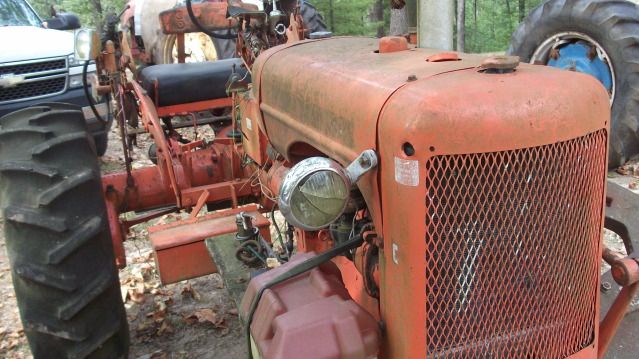 We have a high headlight on this side and a low headlight on the other, controlled by their own switches.
Here's a view from the drivers seat, note the inner tube covers over the electrical switches and buttons.
Myriad of wires to everything.
A little peek under the rubber switch cover...I can feel the fan's cool breeze blowing right into my face already !!!!
Hmmmm....
12v relay.......more Hmmmmmmmmm....
She sure has a healthy look about her from the rear.
Due to the hilly area around deer camp, the wheel weight was put on one cultivator bracket to keep from tumbling over on the steep hills. I guess he always tried to keep that side up hill.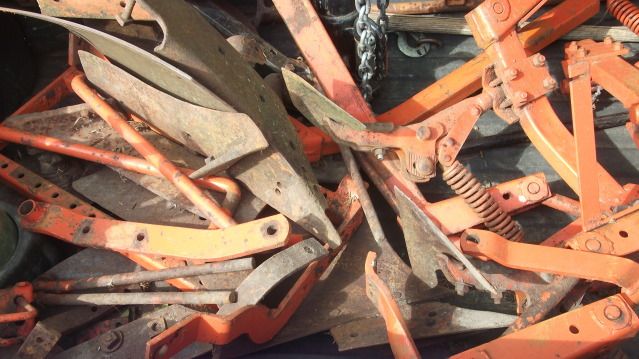 Here's the bed of my truck filled with cultivators for the C and the parts and pieces for the Case plow, even a rim for a pneumatic tire to replace the rear steel wheel. Well, we got everything unloaded, lined up and ready to be sorted out. Spark plugs removed and cylinders soaking for the night, and Kroil sprayed over all the little parts and pieces from one end to the other. Maybe TOMORROW will be a better day...... :lol: :lol: :lol: Can't get much better than today though, MrsMassey is out of town for a couple days and I snuck home another tractor :lol: :lol: :lol: Maybe tomorrow I'll find a MASSEY !!!