Discussion Starter
·
#1
·
In a conversation with Gordon(1121) the other day he said his Dad was very interested in woodworking, so here's a small project for Don and anyone else that may be interested in doing something with wood that doesn't involve a woodsplitter and a fire. This is some trim I made for my bathroom a number of years ago. Having to remove it for the new flooring, (during my current bathroom remodel) it was time for a little freshening up. Sanding lightly and two more coats of polyeurthane gave these results.
Now, if you've ever worked with Slippery Elm before, you will know it grows whiskers. Sand it smooth as a newborn baby's behind, put one coat of finish and instantly it grows peach fuzz that is as stiff as a grown mans 3 day stubble. Getting it to stay smooth requires numerous sandings and numerous coats.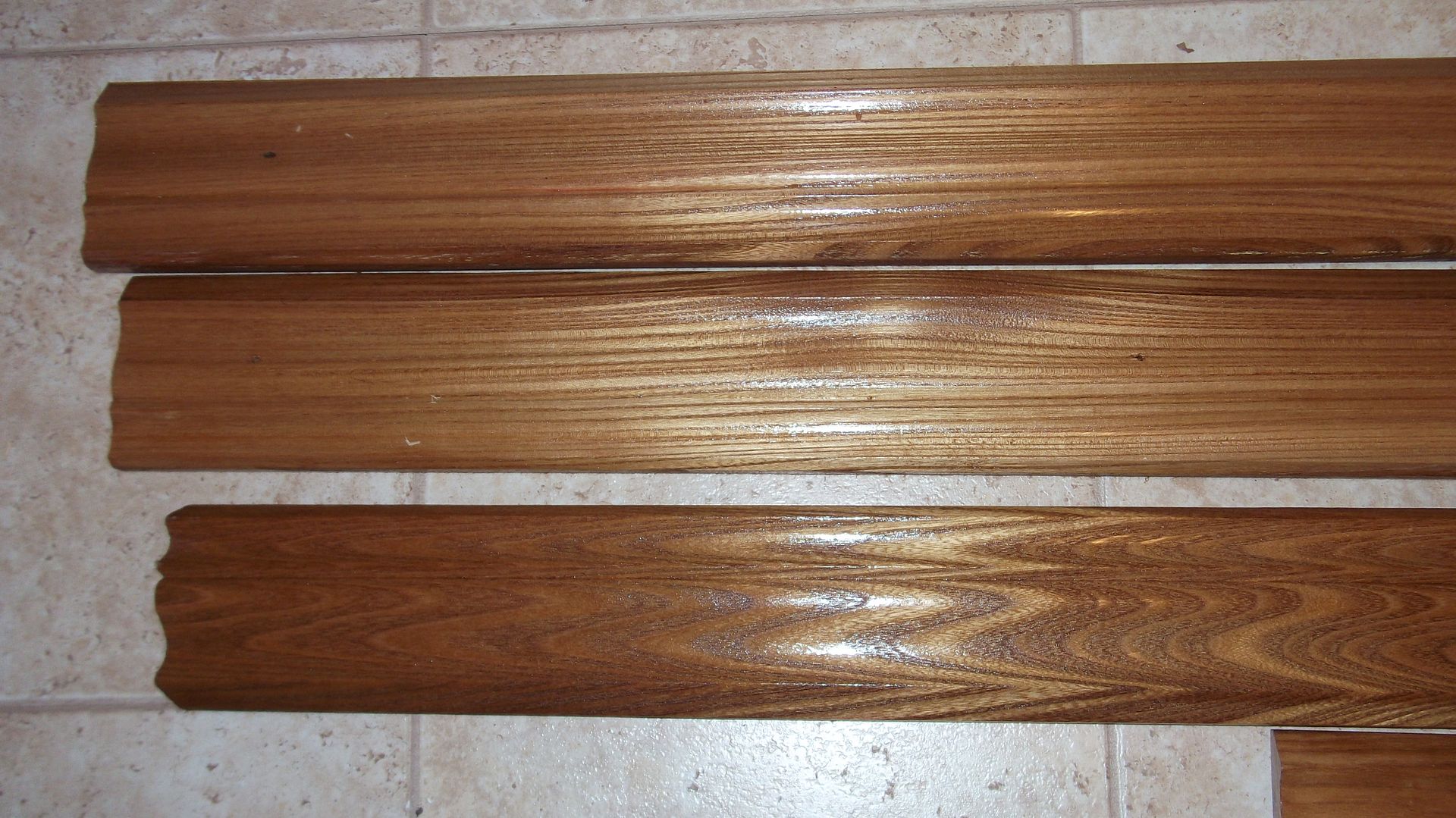 The great thing about it though, you can drive a nail a quarter inch from the end and like cypress, it won't split. The next great thing is the natural pecan shaded brown color of the wood. Also, in addition to some phenomenal grain patterns of its own, some of the grain can easily be mistaken for some oaks and ash. Others may even have a pattern similar to pine. And it can come out of the same log !!! Of course that is just my opinion and that plus a dollar will get you a small coffee at McDonalds.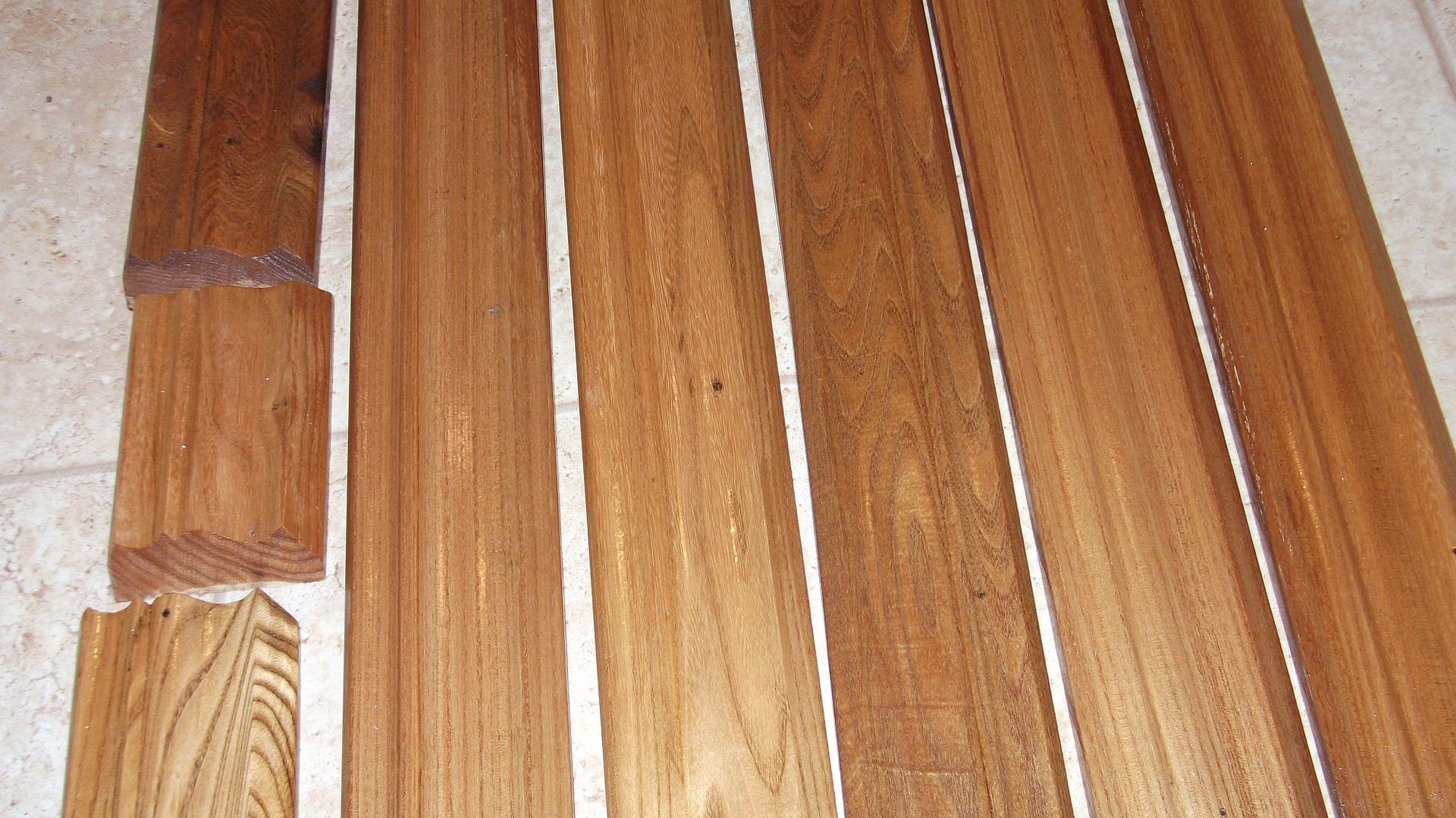 This particular elm has a unique story. Maybe 15, 20 years ago we'd stopped by this old friend of my dad's as he was having a yard sale. I'd grown up with his sons and hadn't seen them since high school. Well, I bought a few wood working tools he had then during some reminiscing conversation he said maybe I'd be interested in something else he had. Walking back to his lean-to he showed me this huge stack of slippery elm that my dad and uncle had sawed for him in 1964 right off on my old home place !!! There were 1 x 12's all 12' to 14' in length and stacked thigh high in two stacks.
He wouldn't talk price until they were loaded in the back of my truck then wouldn't take anything for them !!! He calmly said "It just seems right that all this wood goes back where it come from." And that was that. He's since passed away, though his memory is still alive and refreshed each time I see how pretty this trim really is.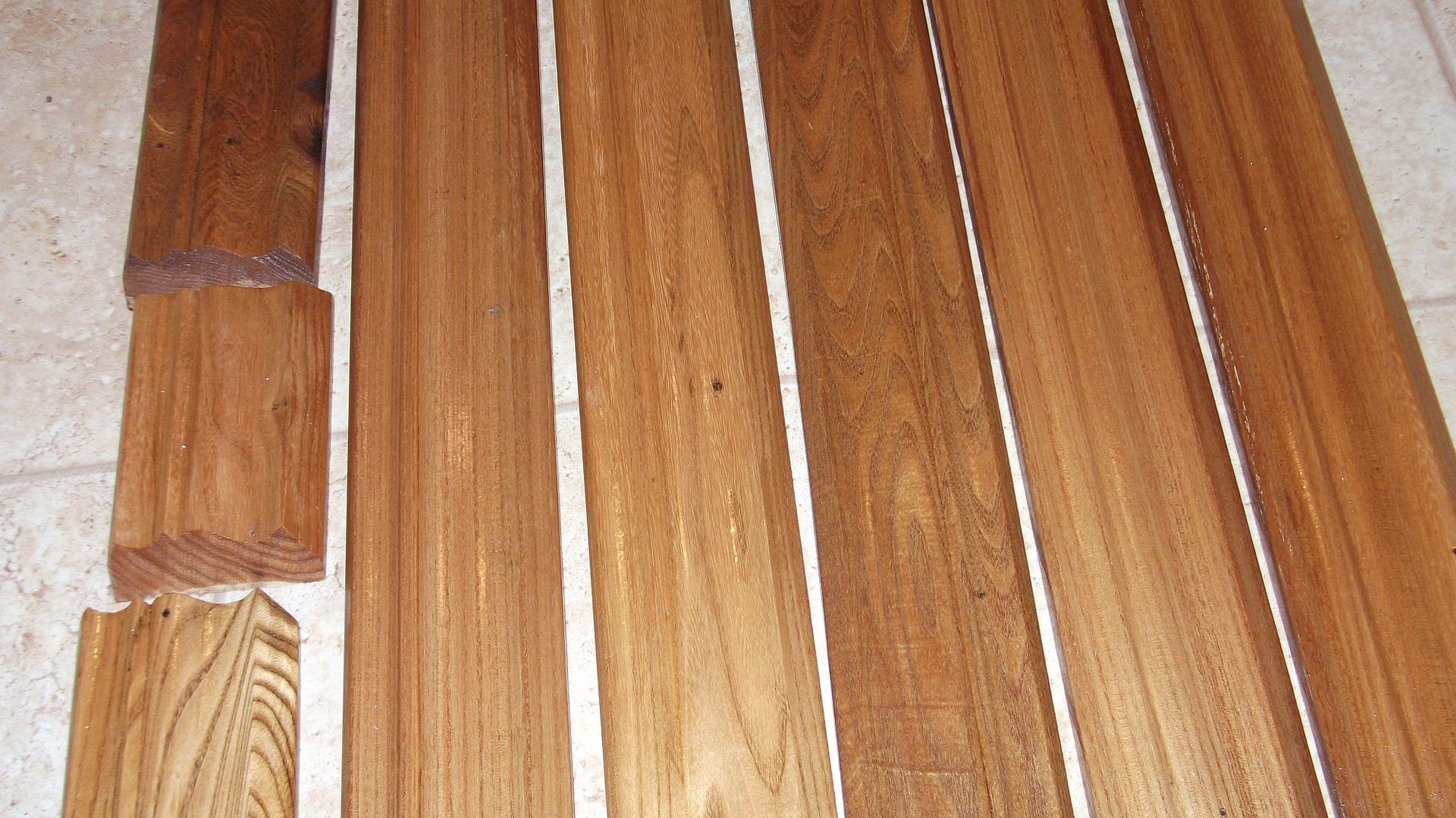 Whoops, a duplicate and I don't know how to delete it. Anyway, you notice it looks suspiciously like crown moulding ? Well it is, I used a 3 5/8" crown moulding bit on a 12" Woodmaster planer to make it. Just not using the 45 degree knife on the back allows it to be used as door trim or baseboard. I like the configuration, it seems to be unusual in that capacity and I'm all for "unusual".... Hopefully all the nail holes line back up and longer finish nails can be used to re attach.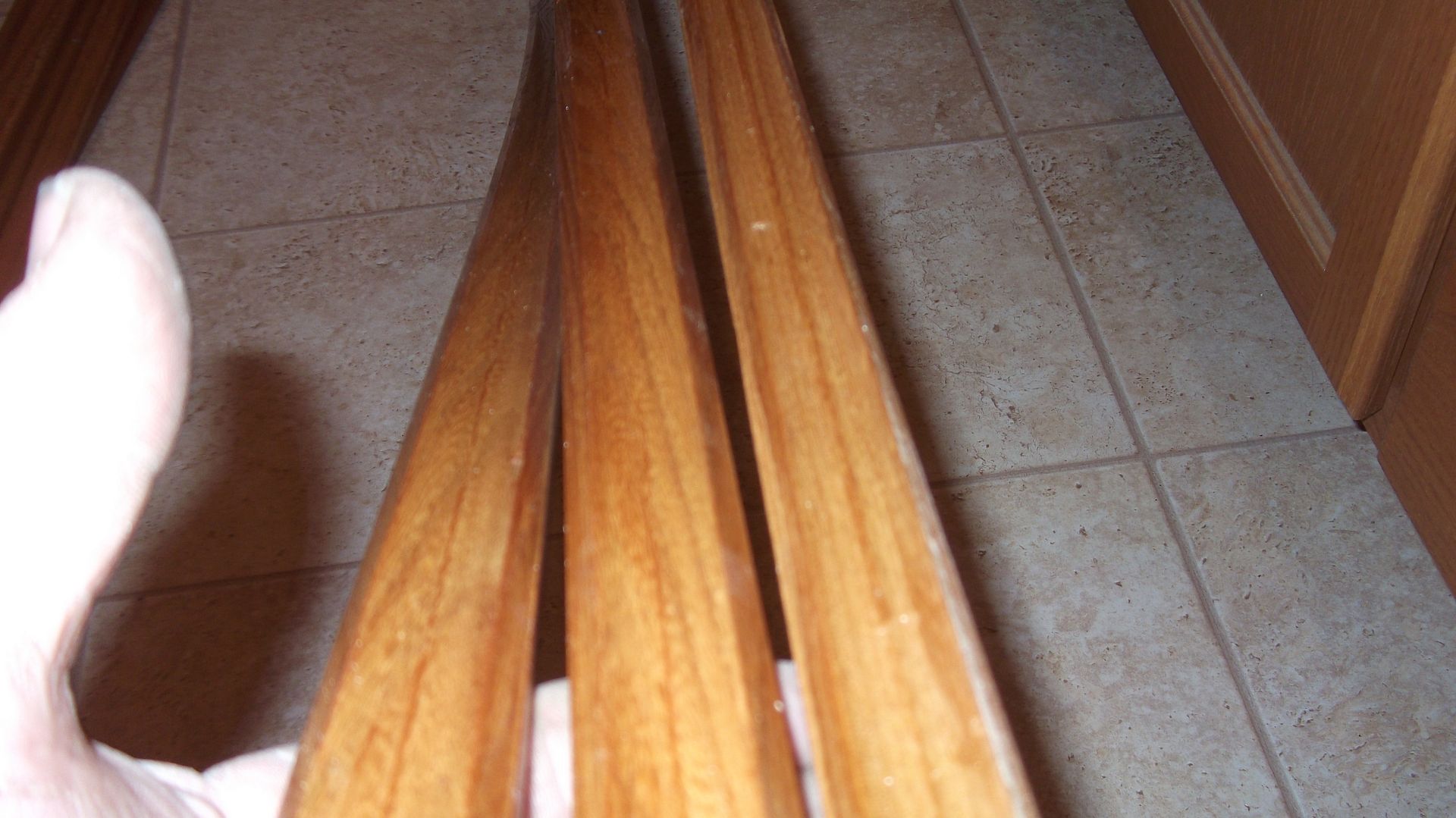 This is just some 1" cove for the corners. Some walls are painted and tie into another wall with tongue and grooved ash and other corners are the junction of two t & g ash walls.
Here is the same 3 5/8" moulding that is used as crown by relieving both sides of the back at 45 degree angles with a companion knife that matches the front width of the moulding. The wall in this photo is ash. Taken from the home place, sawed on our old Fisher and Davis mill this ash was stored for more than 30 years before coming back to life on these walls. This was all planed on the 24" JT Towsely planer then ran by hand through a 3 hp Grisley shaper first with the groove bit then with the tongue bit one at a time. Even the ends are tongue and grooved each requiring a walk to the shed after each board was measured and cut to length in the room. No amount of measuring on my part could result in more than one cut at a time. The direction and location of the angles change many times from the floor to the ceiling.
Here is a hint of a couple of the directional changes and shows why it had to be done one cut at a time. Humidity is only 24% in the house now, due to the wood heat, so you can see the heads of the finish nails in the shrinking joints. In the summer they swell back up and mostly hide them. May I add that the ash is so hard, the air nailer with the 1 1/2" 18 ga. finish nails would crumple up with the pull of the trigger. Each nail hole had to be pilot drilled in order to be driven by hand into the tongues and set with a nail set far enough to not interfere with the groove of the next piece.
You can see our "emergency lighting" system we have throughout our house. Of course they do not come on automatically with power failure though.
Man, I really like that slippery elm matched up with the ash !!! Thanks to the kindhearted spirit of dad's old friend I can enjoy another little bit of what was given to us by nature. Rest in peace Clyde and know that you are spoken of often.
No, it sure ain't perfect like you'd have with store bought material or seamless like you'd get with other manufactured products...but by golly it is what it is and its good enough for a guy who grew up in a little shanty of a house where you couldn't keep a candle lit in high winds and you'd have to crack a thin film of ice in the water bucket before the fire in the cookstove would get going good. Man, I got it good now..... Hope you enjoyed the photos and story.