Discussion Starter
·
#1
·
One of the many good thing about living in one spot all your life is the friendships that are developed and the sharing of ideas and parts and pieces of just about anything without thought of monetary gain. Such is the case of my old friend Bert. What a guy !! 83 and going strong, I've only known him for close to 30 years, he being at that time 6 years younger then than I am now.
What a wealth of electrical knowledge in that man's head. He has rebuilt countless drills, sawzalls, skilsaws, battery drills, roto-hammers, and adapted electric drills to make them reversible and never asked for anything in return. I've scrounged tons of electrical controls: relays, transformers, contactors, time delay relays, motors, blowers, shafts & bearings and on and on from commercial equipment I've torn out and given to him to use on countless projects.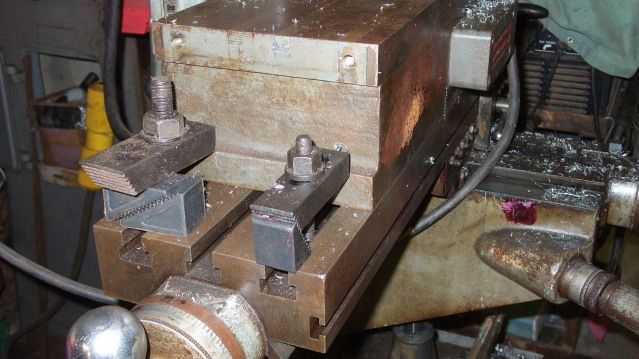 He'd picked up this HUGE non-working electromagnet at a flea market for a dollar or two and decided to make it useful. To clarify, it is sitting on top of the mini-mill table and is clamped on each end with the slotted clamps and weighs in at approximately 75 pounds. To make it work instead of a simple on and off switch, he decided varying the amount of pull would be desireable so....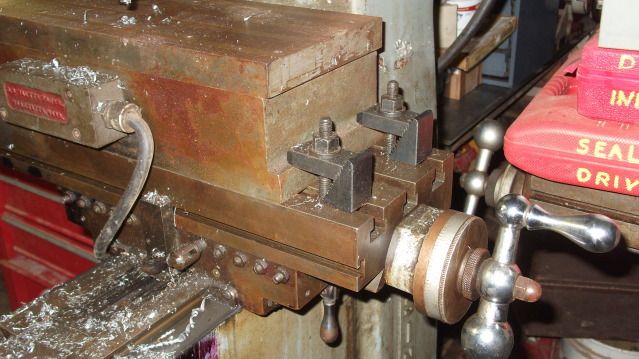 This is the other end clamped in position with the magnet perfectly square to the mill table.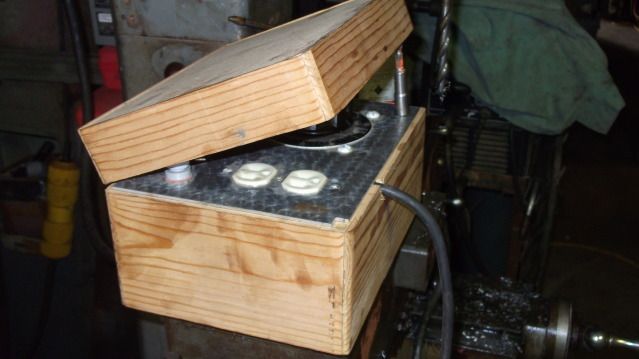 Lacking the tools at that time to make a metal box, ol' Bert made the control box out of pine. Inside here is a few goodies....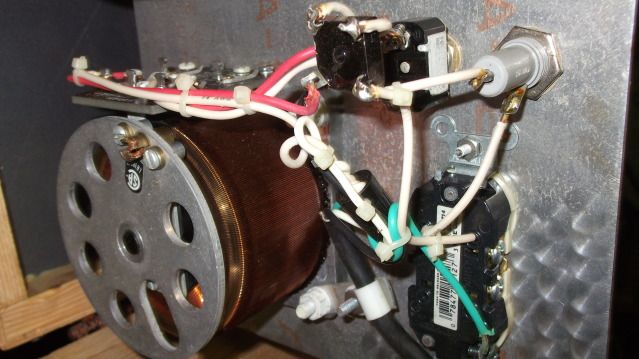 With the top raised, you can see the auto-transformer, which is essentially a huge variable resistance marked on the front with a dial from 0 -100%. Also there is the receptacle and switch.
The machine looks as though it was made for the use of the magnet as it is nearly an absolute perfect fit. That itself is quite odd, because I only picked up this mini-mill about two months ago, acquiring it about 4 years after the magnet. I'm calling it "mini" because it only has a #1 Morse taper and maximum tooling is only 1/2" without reduced shanks on the tools or an adapter from #1 to #2. It still has a 30" bed vs a regular Bridgeport that typically has a 42" bed.
It sure has some grip, to illustrate, the bigger wrench towards the rear is a 1 5/16 and is being held on with just an inch or so of the magnet. Sitting a flat plate on the surface, you can't move it with a prybar. Talk about one handy-dandy addition to the tool crib....this is it. I seldom clamp anything for drilling at all, sliding the surface off the edge so the bit misses the magnet and that's it. Hit the switch, twist the dial to 50%, 60%, 70% and occasionally 100% and drill. Do the same with the end mills to slot or what ever, seldom having to resort to the old clamping methods.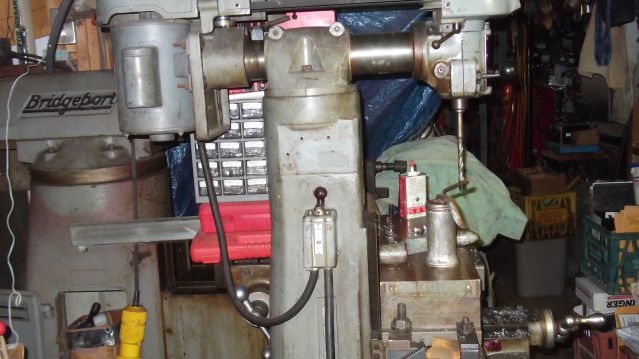 In back of the mini is the regular Bridgeport where the magnet has resided for the last 4 years...Unfortunately my electronic "add-a-phase" tossed its cookies while I was milling some stuff for an old tractor repair and smoked my 3 phase motor. It is on the back burner until a new or used 3 phase motor is located. This is a much better fit on this little fellow anyway !!
I guess the point of the story should have been more about what a tremendous friend I have in Bert and about his selflessness in giving freely his wealth of knowledge and how he has given countless items like this to friends all the 30 years I've had the grand pleasure to have him as a friend, mentor and buddy.
I will never be able to repay him for all he has done for me and one day, maybe I'll honor him with a story about all the gadgets, ideas and truly remarkable devices he has come up with.....many of them in use in my shop.