Inital breakdown of parts - fan & fixings have been removed.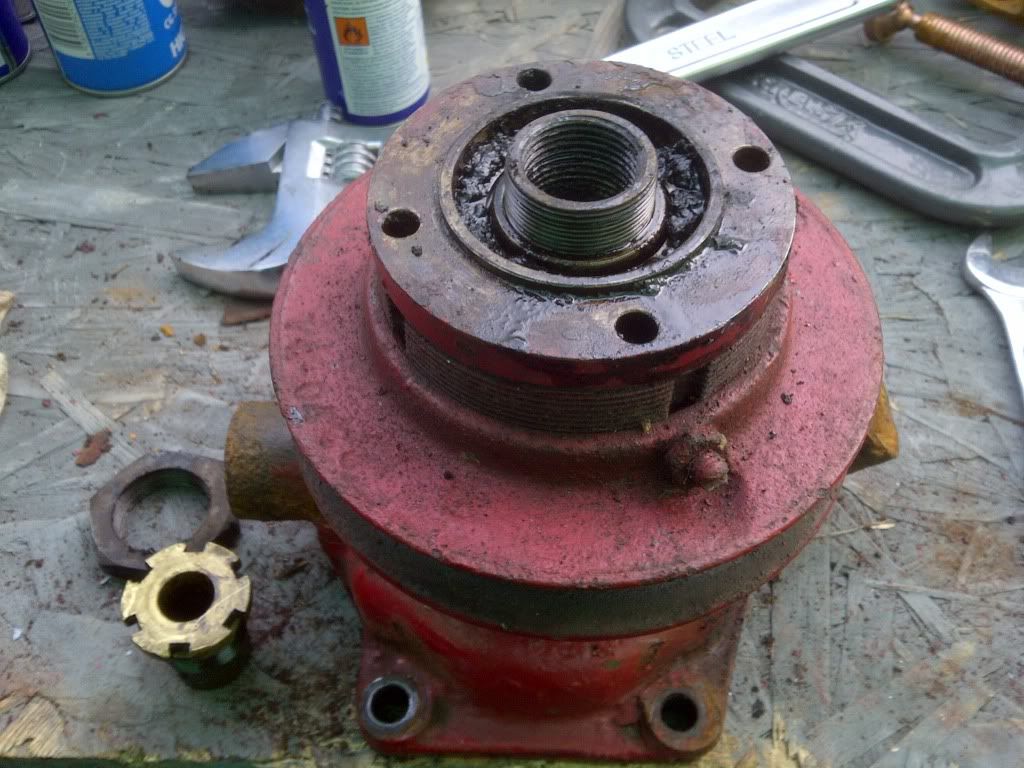 Removal of the brass nut and large nut.
After removing the impeller shaft the brass nut can be tapped around using a punch and a good size wrench is need for the big nut. Avoid using a pipewrench on the brass nut. A little bit of heat helps the job. The brass nut shouldn't be too tight and behind it should be wadding (which had disintegrated). I also found the best way to free the big nut was to refit the pump 'firmly' to the engine block. G-clamps & vise didn't really work well.
Exposing the bearings
With the big nut removed the outer oil seal can be removed exposing the bearings.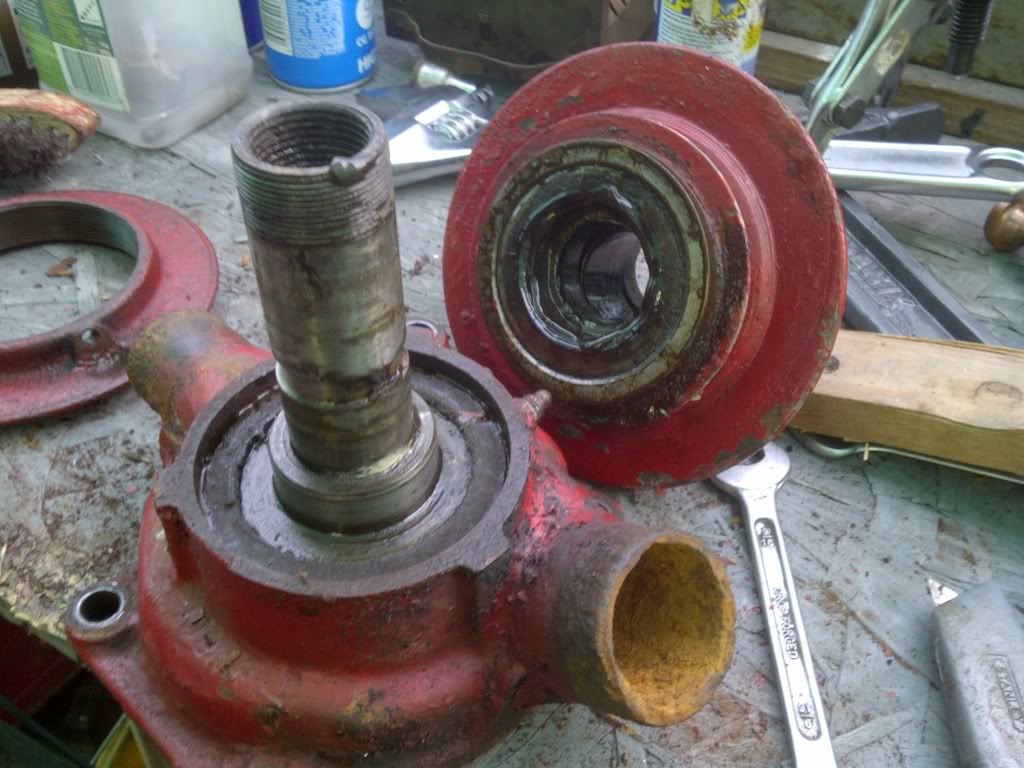 Removing the pulley
With the big nut removed the pulley can be removed, exposing the rear bearing, seal and felt washer.
The outer section of the pulley can also be removed for cleaning.
New bearing and seal kit
The reference numbers on the bearings and seals are obsolete so I had to take them into a local parts supplier for them to measure accurately.
Old parts pictured on left, new parts pictured on the right. Before installing I removed the side seals from the bearings.
The bearings and seals we pressed out using a hydraulic press. Once removed I gave everything a good soak in cleaner, repainted and regreased ready for assembly. The new bearings we pressed in using the hydraulic press and fixings which may need adjustment were not painted.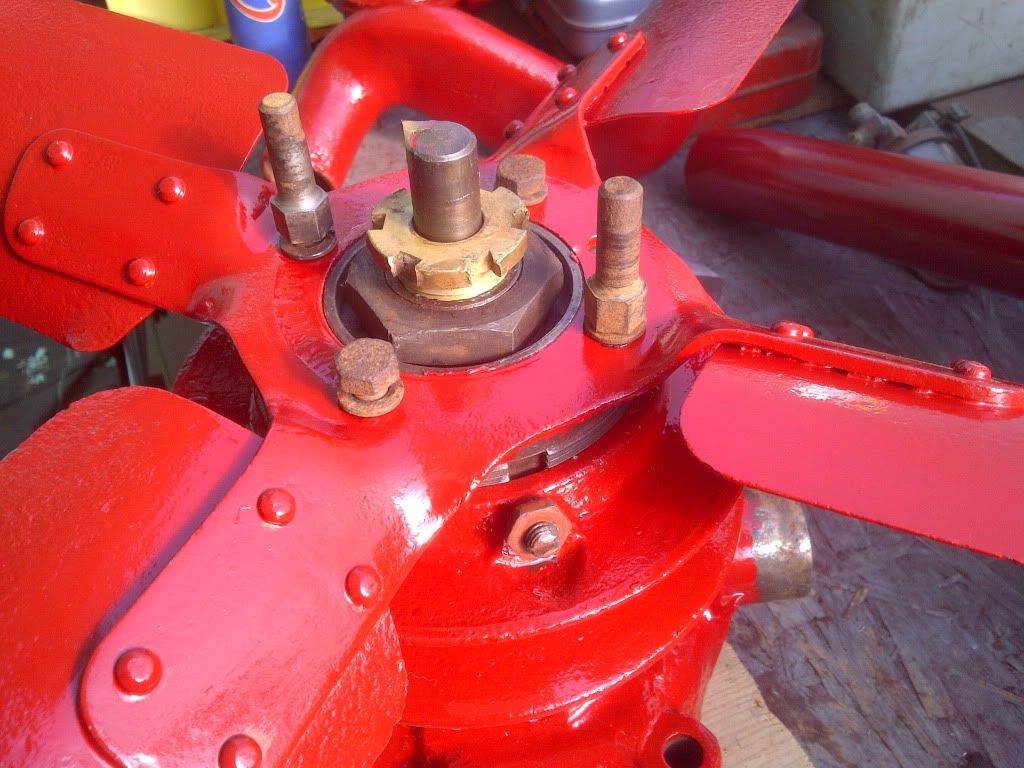 After pressing the bearings into the pulley I refitted the pulley to main shaft. A small amount of red gasket seal was applied to the top bearing cover to keep the grease in. Next the impeller shaft was replaced and about 5 wraps of wadding coated in grease was placed around the shaft. Big nut and brass nut were then refitted.
Lastly the fan was refitted along with the impeller retaining springs.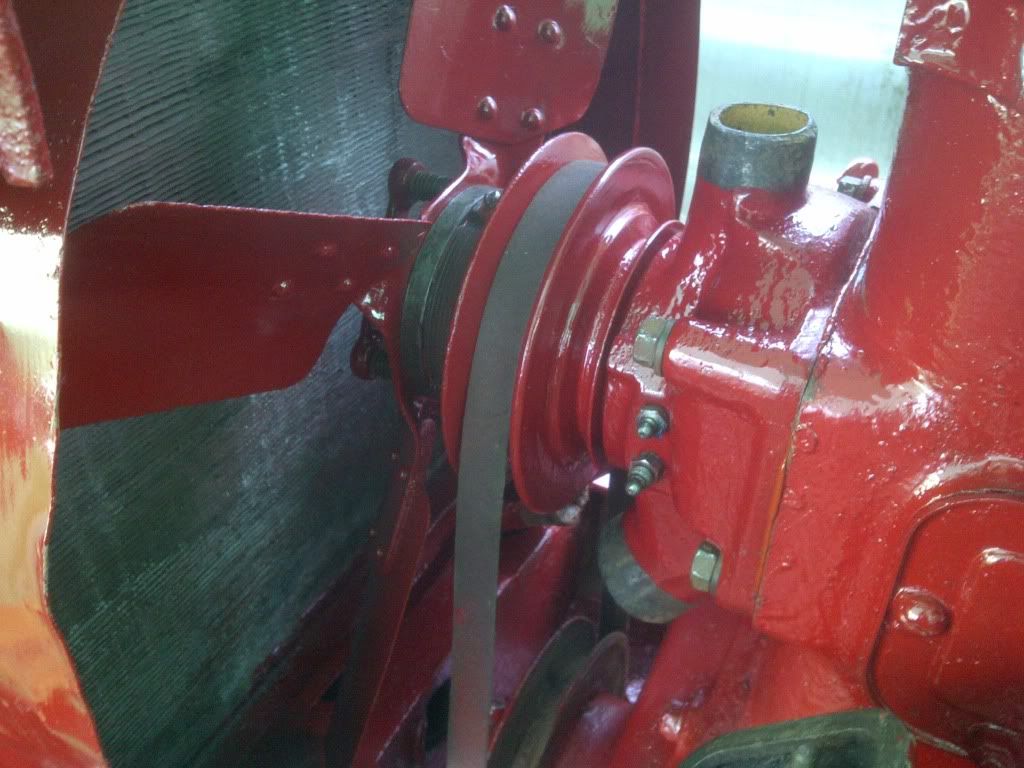 Back on the engine with the fan belt ready for tension.