Discussion Starter
·
#1
·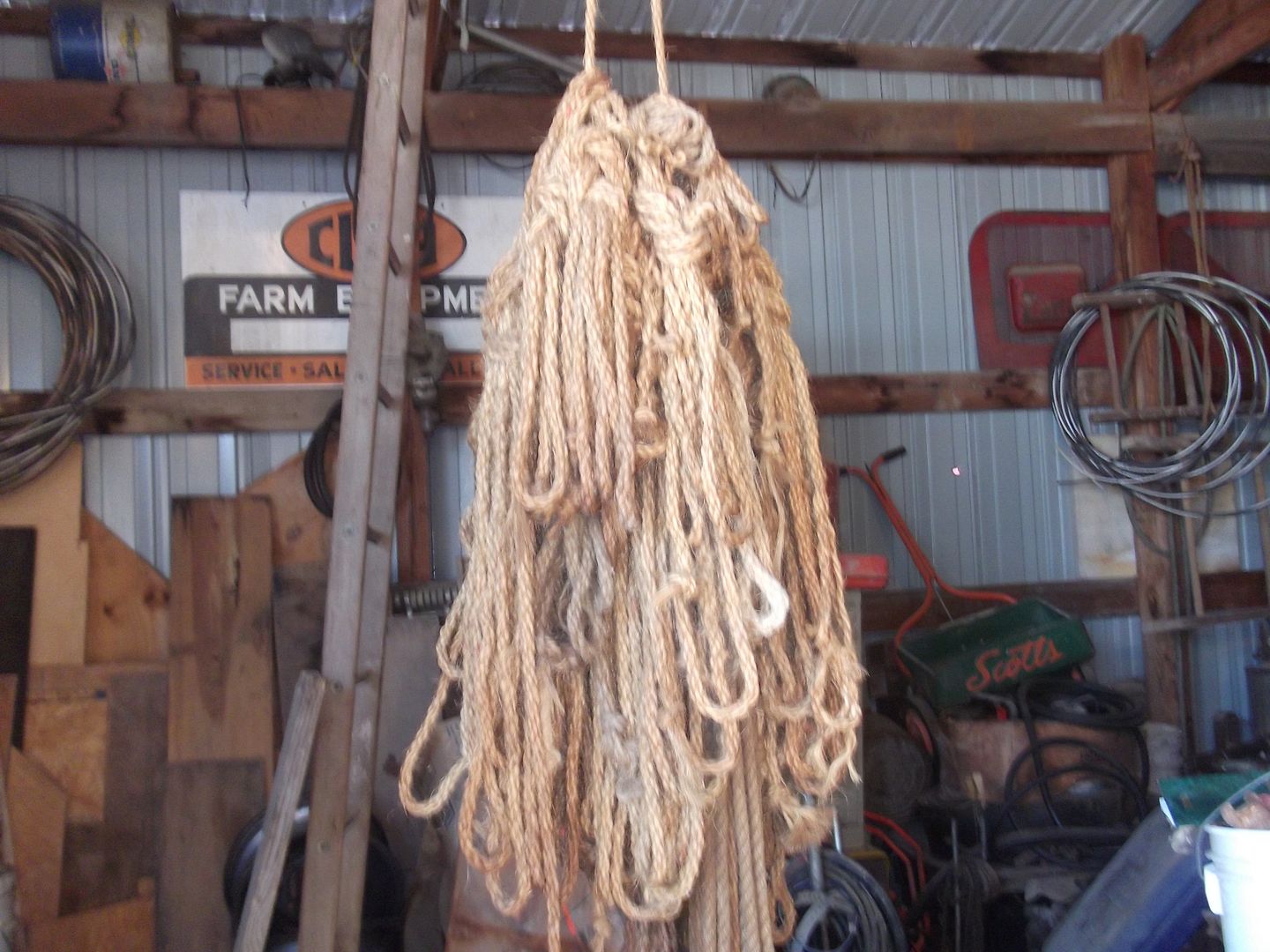 We had an old bench up by the well house when I was a kid and my Grandpa, in his 80's by then would sit on the "hobo" bench (as it was called), and twist the ends of used baler twine together with a backwards twist. He would spend countless hours sitting on the bench intently working these strands together. It was a given, if not too cold nor too wet that is just about where he would always be found. Literally doing thousands of these over the years, he would twist two strands into a simple two strand braid, then take three of the two stranded braids and make a three braided rope with six individual strands. All of used baler twine. We both (400 propane and myself) have managed to save a mile or two of the hand made home made rope each, anywhere from 8' in length to well over a hundred feet in length. The last would have been twisted together in his unique way before 1960. This little bundle here, I believe was dropped off by our sister who just moved to Alaska a year or so ago and was somewhat limited in what she could take along. On a side note, she emailed me the other day and said she wished she'd have taken more that one, because retrieving a trashcan from down an embankment by tying the rope to her bumper....she BROKE it !!!
Sorry, I get sidetracked occasionally, now back to the story:
You can seldom see within the strands of rope the actual joint where the ends of the twine are counter-twisted into each other. I'd sit there and watch him hoping for an occasional peppermint treat from his front bib pocket as it was always bulging with them. Now in the middle of this bundle is in fact a factory manufactured hemp rope and you can clearly see the difference. I didn't want you to think I was passing that off as handmade also. I've seen the hand cranked rope twisting tool used at craft shows, but never have I witnessed another process like our grandfather used. Too old to do any farming anymore, sitting on the bench twisting rope he could overlook the lane going out to pasture and watch the dairy and beef cattle leave in the morning and return to my dad's call in the afternoon. Also from that vantage point he could easily nab a kid like me to get him a drink of water from the well house or to help lay out the twine for the next twist. Mostly he just whiled away the hours more than likely reflecting on the past wishing he was young enough to be out there milking the goats or dairy cows or at least be able to get to the barn more easily to tell some of the young'uns HOW to do it .
That sure was a lot of story for one funky picture now wasn't it?