Discussion Starter
•
#1
•
New system, but NOT for myself... These are a pair of 75 ton Trane rooftop units we are replacing, new ones must be online by Monday as this is a local medical office building. So speak about being under the gun.... Talk about the perfect weather too !!! It was 108 on the roof today, get to do it again tomorrow too, because we only got one running. Wiring will be done by 10:00 tomorrow, should have the second one up by noon or two.
I shut them down at 5 p.m. last night (Friday) and recovered the refrigerant. Approximately 275 lbs of r-22. Got off the roof and home by 9:30.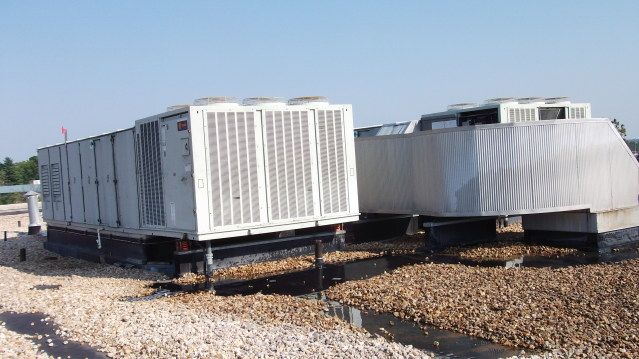 These have hot water reheat coils so Tuesday evening I had to shut down the boilers and cut 2" copper isolation valves in to each water circuit and prep the units by disconnecting anything not associated with the cooling side. Had to leave cooling on until Friday at 5. Made it home Tuesday night at 11:30 pm. The original units are 33' long and 10' wide, the new ones are 37' and long due to higher efficiency condensor coils.
We use these guys a lot for rooftop changeouts... this is a 250 ton crane with 223' of boom and a 65' swing jib. To reach our units, 4 stories up and approximately 150' in we will need two truckloads of counterweights. Takes 4 guys about 1 1/2 hour to be ready for the first lift. The units we are replacing weigh in at 12,500 pounds, and we have to have all personnel evacuated under the areas we swing over.
BigDave, I'm sure you'd appreciate this control panel....Not as sophisticated as your elevators I'm sure, but just as fun to work on !!!!
The new units going in are gonna have variable frequency drives on all the motors. Motors are 40 hp on the supply fan. 20 hp on the relief fans.
Second unit coming off. Had my hands full and couldn't take too many shots. When we break these things loose from the curbs, it gets a bit hairy because of boom deflection, wind and a list of other things and there is always roof ventilators, antennas, duct or other units in close proximity and you don't wanna smash into them or squish one of the guys helping up against something.....
If the name of this forum is "off Topic", does this qualify as "Off Topic" enough ??? I noticed everyone was posting about the heat, so I thought I'd share my weekend with you. :lol: :lol: :lol: :lol: