Discussion Starter
·
#1
·
Come the Spring of 2007 Tiff and I had the tractor bug, all we had was the Farmall A we bought when we got the house the previous August. For some reason Tiff saw an M Farmall in a picture book or something and wanted to see one in person, I knew of a dealer down around Marlette MI from looking through Tractor and machinery for sale books so I called them. I spoke to a fella who said he had several of them and we could come out and take a test drive if we wanted. We loaded up the girls on a Saturday afternoon and headed south down a stretch of road we hadnt been on before. About 5 miles away from the dealer we saw an M Farmall sitting on side of the road for sale, I pulled over and looked at it pretty good. It was a wide front and had nice tires with some type of hydraulics and lift on the back. The owner was asking $2800.00! Holy cats I ddnt know they were that expensive :lol: :lol:
We drove on through to MArlette and looked at several M's, two narrow fronts and I drove another narrow with a snow plow on it. We didnt need a plow since our A had one but all 3 were priced at $2800.00 like that wide front and werent as nice in my opinion. We looked at an H Farmall that was so original it wasnt funny! even had one orginal tire still on it, they wantd $2800.00 for that! Popular number around those parts I guess
We left there not thinking too much of M's and their prices.....but drove up to that first one on the road anyways. I called the number and the ownetr said he could be there in a few minutes, he showed up and fired the tractor right up and it ran real well....I drove it a bit then Tiff drove it some more, about a half hour later we settled on $2500.00 and he would deliver it for free to our house the next Friday night when we came up. I had no idea where I was going to get that money but I called the credit union and that was settled :lol: We were so excited all week and Friday night came and I called the owner and he said he would start out when we left because they only had an hour to go but towing would double that, we had two hours to go and we set out. One hour into our trip I realized how excited I was...I forgot the money :shock: I called him and said "well i'm on the way..." I said I would be too but much later. With th girls in the car I didnt want them to take that long a ride so I finished the drive up, dropped them off, drove back down the two hours to home. Grabbed the cash and drove back up two hours to the ownetrs house, called Tiff and said is it there? She said it was delivered an hour ago....whoa it took them over two hours to deliver, I thought thats a looong time. I went into the house and spoke to the owner and his family, really nice people and I wished I could stay longer but I was beat! I asked why it took him so long to get there and all he said was "blowout" Eeek! I felt pretty bad that he agreed to deliver for 300 less and if I had more money I think I would have offered it, I called a week later and like the gentleman he is he refused "a deal was a deal" is all he said.
I got home that night and couldnt even see our prize, the next morning we woke up and before breakfast we were out at the tractor taking picks and climbing on it, Tiff and I both took our first rides on it and Thel got her first picture on the M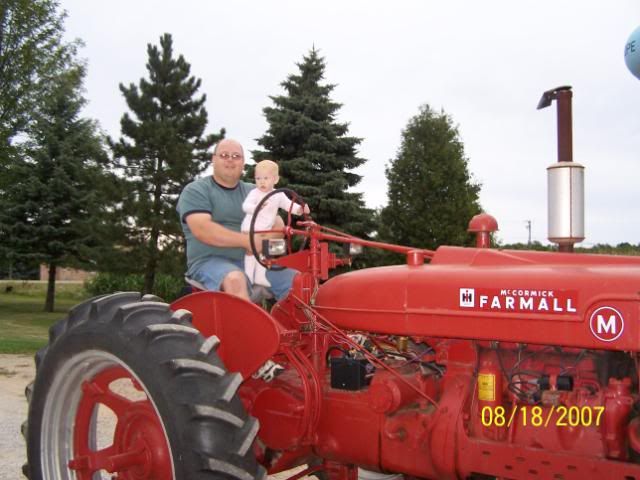 Over 3 years later
We are pretty proud of that M and even though we may have paid too much it fit our needs at the time, one froma show that I like
I had to rebuild the carb just last year and hats about it other than regular maintenance and putting in gas...ALOT of gas :lol:
A video of me coming back from making the gas station owner in town a very happy woman :lol: