Discussion Starter
·
#1
·
This old Mall two man saw was used on the home place until I was about 14 maybe 15 years old. Dad being strong as a bull would always take the "business end" of the saw...the end with the handlebars and the motor. Uncle Chippo (Davie) always used end with the handle. Being just this side of stone deaf, Uncle Chippo could never hear dad yelling at him to stop crowding the saw which inevitably would end up in a kickback of the saw's crossbar into my dad's shins. Didn't matter if he was deaf or not as there are many Harley's out there that don't have the bark of that big old motor....Uncle Chippo wouldn't have been able to hear him anyway with a GOOD set of ears, because I couldn't hear myself think over the horrendous sound !!!
It made for a funny sight, to a 8 or 10 year old kid anyway, two old guys approaching their late fifties wrestling this saw with a five foot guide bar and dad a yelling and Uncle Chippo grinning the typical grin he knew just fueled the fire and made dad that much more irritated !!!! Dad hardly ever left the woods without a good shin skinning and a stream of cuss words that's make the devil blush. I enjoyed every minute of it though.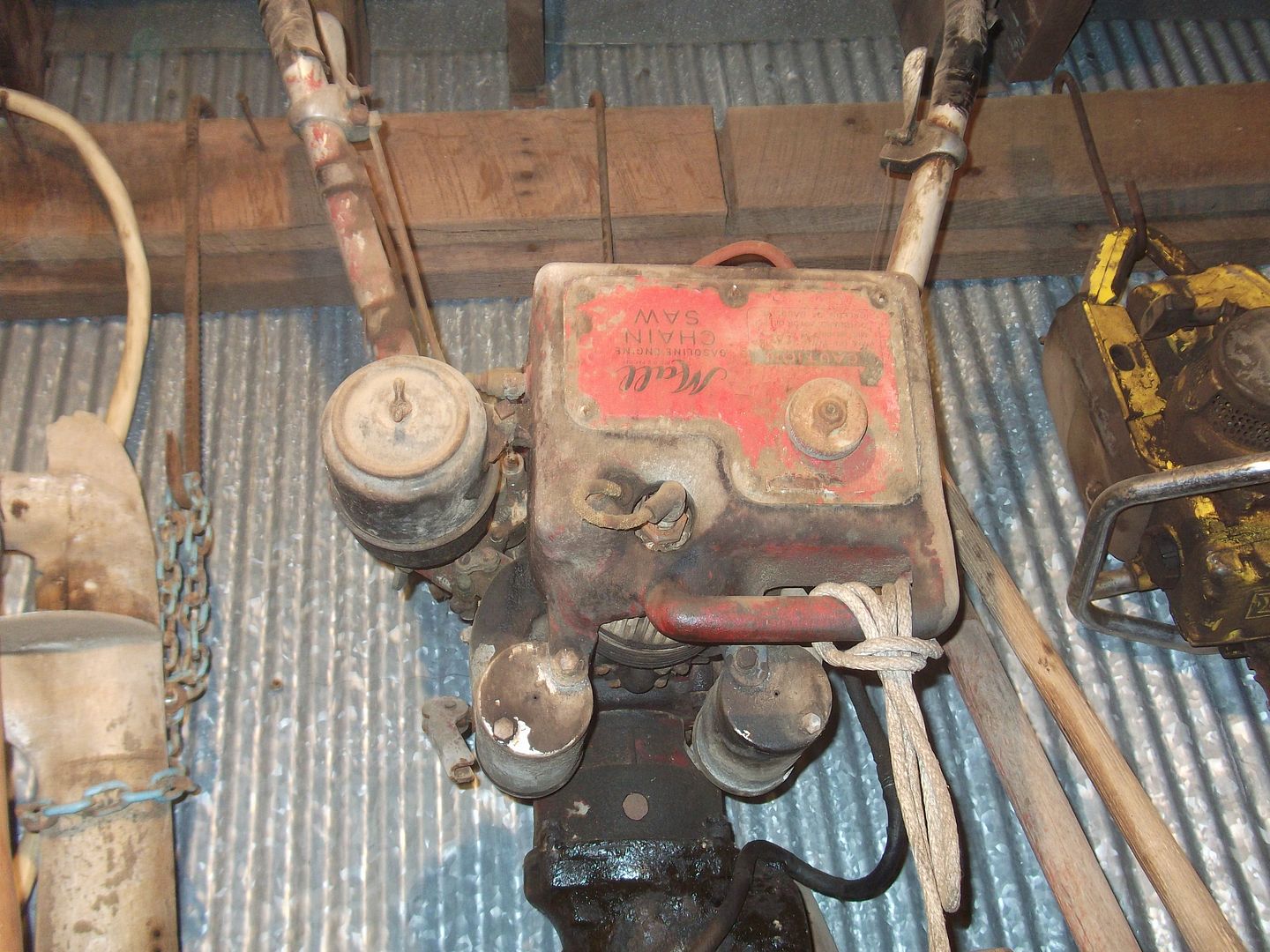 I didn't get too good of a shot of it, but there is a locking ring around the hub that when released allowed the blade to swivel horizontally keeping the motor and handlebars upright. The carburetors back then still had a bowl and float and would only deliver fuel in the upright position. Now think of this: Both guys on a two man saw have to agree on how and where to cut the notch to fell the tree.
Bear in mind they were both ahhhhh...shall we say cantankerous and a little hard headed and sometimes didn't quite see eye to eye...throw Uncle Chippo's near deafness and glasses thick as coke bottle bottoms in to the mix and you now have a recipe for a chuckle. Many, many times I got my education in foul language waaaaay ahead of time while in the woods with those two.
Shins bleeding and Dad a cussing up a storm Uncle Chippo would just act as if he didn't hear a thing and keep a grinning. Sometimes when Dad would taper off and slow down on his particular rant, Uncle Chippo would slip up behind him and turn his hand in big circles on Dad's back to crank him back up to speed. Then off they'd go again, cussing and tossing wood into the trailer. I'll NEVER forget how happy Dad was to get a new McCollough one man saw with a 24" bar. You'd have thought he'd died and gone to heaven. My much older brother is the proud owner of the Mall, still with the 3', 4' and 5' guidebars and also the big old McCollough that weighs an unbelievable 34 pounds (give or take a little) !!!!