Discussion Starter
·
#1
·
In September of 2010 our friend and tractor mentor Harold took the 4 of us to see a tractor he was going to buy that needed work. It was a Ford 8N with some type of noise in the engine or transmission, Harold asked me and Tiff specifically that if he bought it would I help fix the mechanical and Tiff clean and paint her up with him as a joint project. Tiff was way more excited than I was because we just finished a huge project on Harolds F-12 Farmall. Tiff was into it big time and we left that weekend thinking it was going to be at Harolds shop when we returned in two weeks. When we got back much to Tiff's disapointment Harold had decided to send the tractor down to a mechanic friend of his for the redo instead of us. Tiff was so upset that she couldnt hide it and Harold knew that he had made a boo boo. Harold and Tiff have a pretty special friendship and I think it bothered him that he thought he made a good business decision....maybe because he thought Tiff and me couldnt handle it, I dont really know. Soooo to make up to her he bought two non running Massey Harris tractors from the area and trailered them home with a bunch of parts. The first time we saw the trailer full we thouht he had lost his mind :lol: So in October of 2010 the 3 of us are staring at these two tractors on a trailer and he says to Tiff "which one do you want?" Tiff laughs and says "neither!" After a few minutes though she said she liked the bigger one of the two because the smaller looked like our MH20. We unloaded the trailer and I pushed the two inside with Harolds M Farmall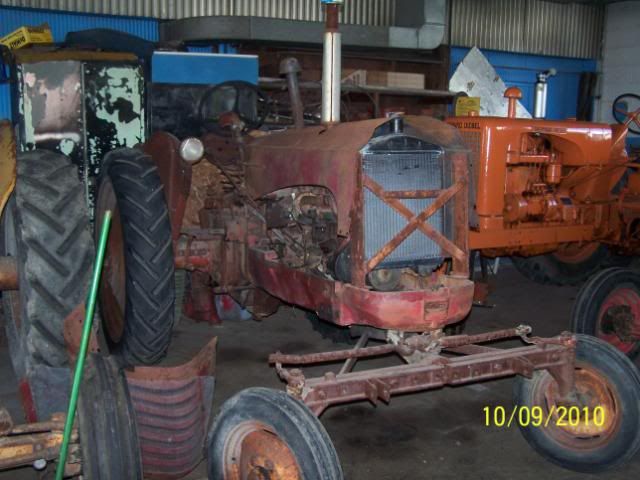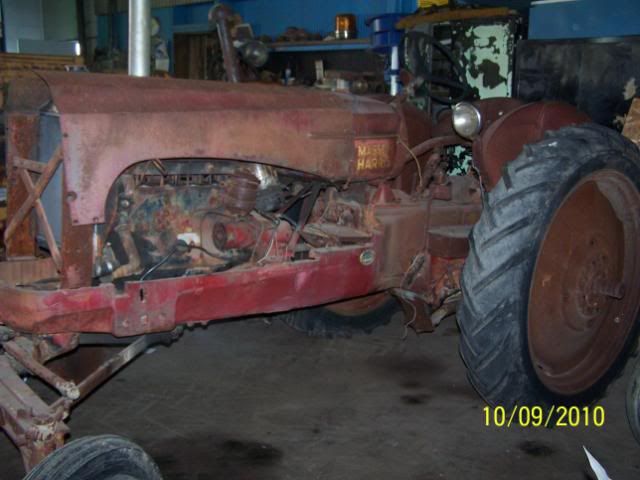 The tractor was a mess, the head was lifted off it, it was loose though, the wiring was a mess, and the clutch was stuck but Harold pushed on anyways. Harold worked on the tractor steadily until he left for FL in January 2011, and picked right back up in March when he returned home. In early April we came back up and Harold told me he had it running and for us to come by, sure enough it was still a mess but the engine was back together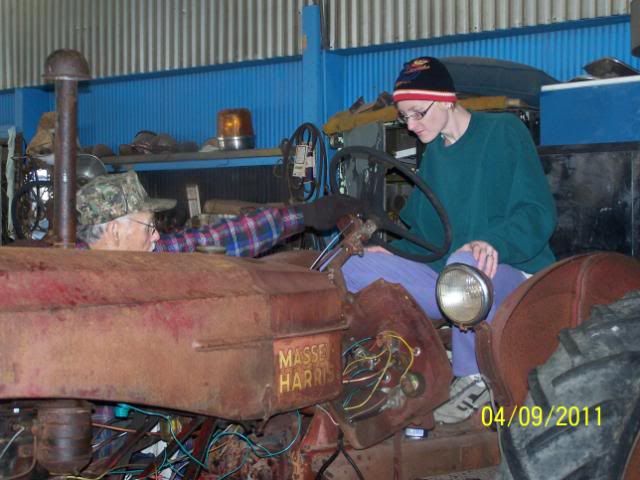 Harold hooked it up to an old battery and fired it for us, he had ground the valves, put on a new head gasket, new springs and stuff, and changed the fluids. It ran great and Tiff was pretty enthused but the tractor was still a ways awy from being done and to Harold the clock was ticking. Another two weeks passed and we came back for a visit, Harold told us it was done but the clutch was still stuck and we needed to do some work. Tiff and I went in late one night and tried working on the clutch, it was miserable work under that thing but we got through and got somewhere with it but not completely. The next day we drug it out and I fired it in gear and drove it and drove it and drove it....and one more clutch push and free she went! I drove her some more and made sure it was good before we put Tiff on it for the first time.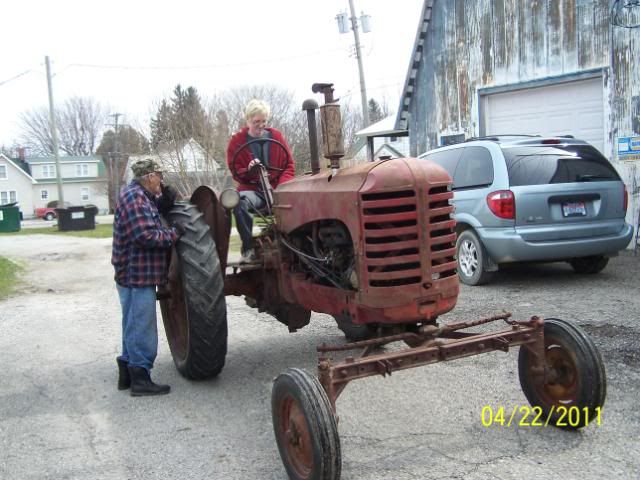 With some last minute instructions from Harold he got what he wanted to see since the previous October, he got to see Tiff ride the tractor he put together for her. Video here
The tractor ran beautifully and he did a great job getting it together in a short time, we took it home where Harold came by to take his own first ride on it. video here
The two of them made up over the Ford deal...which Tiff never really held against him but I think it hurt him more....I think he realized that the tractors and time spent with him means alot to more than just me and the kids. Tiff had him sign the tractor, she clear coated it...if the tractor is ever painted the signature on the original paint will always remain.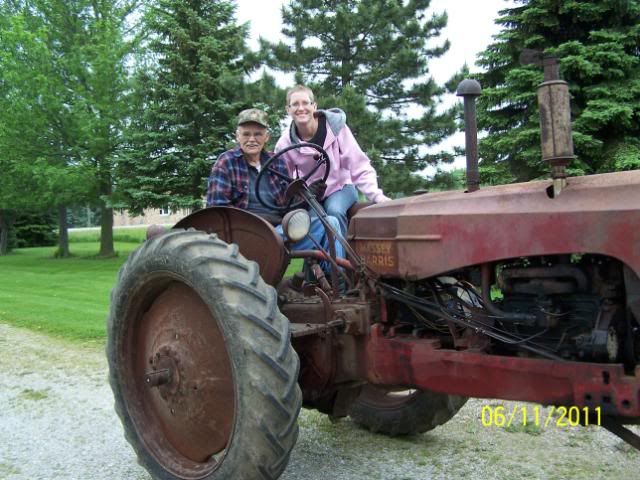 I paid Harold for all the parts and machne work he had done but he refused to take any money for the tractor or the time he spent working on it, I think he really did it out of love. Oh and since that Ford 8N went down to that crack mechanic....the MH30 was finished, the Allis ChalmersCA was unstuck, the Oliver 60 trans was fixed, the Avery A was painted by Tiff, and the MM RTI was put back together and started/driven. That Ford 8N is still sitting....some mechanic :roll: