Discussion Starter
•
#1
•
She says I'm sick and need help and I agree....I'm SICK of wrestling these chunks of wood by myself and I need HELP in the woodpile !!!!
Get a load of THIS one... that's a 6' ladder next to it and it almost goes to the third step...Gave the Stihl 440 a pretty good workout...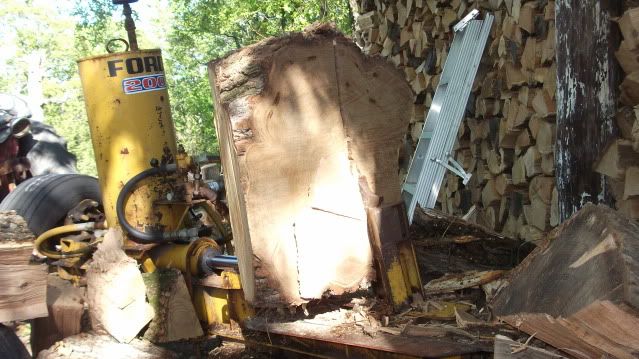 The wedge is 14", maybe 16" tall, and it is dwarfed by this fellow. Middle daughters co-worker needed this removed from her yard so she (daughter) and I loaded each piece with a two wheeled dolly up my tractor ramps. My dogs were barking for 3 days !!!
Whittling her down a bit at a time...I usually kneel the splitter to the ground, but these pieces argued with me and did NOT want me rolling them by hand up onto the beam !!!! Had maybe 12 pieces this size and one HUGE where the trunk split and went two directions, 24" each way. Then a lot of 24 inchers on down.
This is one of my small skidding tongs.. the big ones spread to 52". I eliminated the chainlinks that always bind up by heating a piece of 3/4" round stock and bent it into an oval, to let the small shackles slide open and closed without binding. After forming the oval, I ground the ends to a dull point then built it up with 7018 low hydrogen rod to make the connection. Sure is like dancing with the devil cutting this kinda stuff with the temperature in the 80's a couple weekends ago. I wouldn't hafta work like this if I had more'n two nickles to rub together...
:lol: :lol: