Discussion Starter
·
#1
·
Used to have records on this old girl on our first computer. What I paid for her, how much money I had in parts and the amount of time I spent on her. I bought her in July 1987 for $250.00 from a JD dealer.
She was quite the mess really and I wonder about her life on the farm(s) where she worked. She had a under belly bracket that said she wore a wide front at some point in her life. Her draw bar where the hitch pin to the equpment hook up area was only a half inch thick. Her PTO was gone and a ruff chunk of torch cut steel covered the hole. Both rear wheel hubs had been broken and fixed two different ways both awful poor way I see it. One rear wheel even had JD stamped in it and the other I am sure was from some oliver.
I can't remember to this day how I happened to be on M24 in Caro Michigan to find her but I did.
I had been looking for that just right Massey for antique tractor pulling. I was really thinking of a 101 Jr with the 162 engine as I knew it could very easy fit in the 3500 pound class and strong enough to pull with the 5000 pound guys.
Any way being a Sunday I took some pictures (old 35 slr camera) of her and had Kare write her location in my find a tractor book.
I called the dealer Monday Morning, found out he was totaly off his rocker but I was proud that he thought it should sell for as much as a much newer JD.
Kare and I contunied to look for that puller. Kares said I should start collecting them as I had seen so many I could tell storys about them from my youth. she said we should start with a Pony and restore it and give it to my dad for a gift either at birthday or at Christmas as he talked about it so much.
A month latter the dealer called me and said he was going to lower the price did I want it at $1200.00 I told him I had seen to many with way lower price than that and they wouldn't require as many parts and as much work for what I wanted it for.
Another month passed by and the dealer called again. This time he asked what I would give him for her. When I told him he countered with $500.00 I told him no thanks I was going Saturday to look at a complete tractor with fresh paint for that money.
He finally said I could have her for my offer of $250.00, he had had her for close to a year and I was the only one who express an intrest.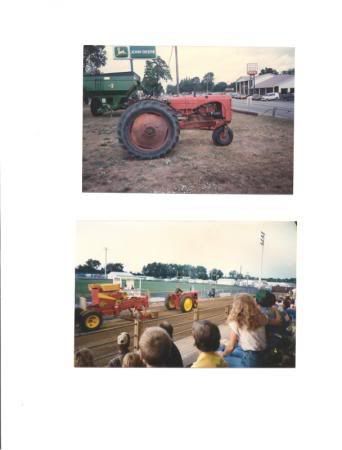 I took a battery with me to pick her up. She fired right up on command I drove her around the lot a little bit and discovered the brakes were really awful. I very gently drove her up on the trailer and brought her home.
First thing I did was to remove the brake shoes and get them sent out to reline. Second was to start shopping for parts and buy close to a dozen or more masseys along the way.
On a cold windy freezing Febuary day in 1988 I got a fellow out of his nice warm house to dicker on a broken down blowen engine full of ice Massey Harris 30. It became the parts tractor for the 44.
She was all painted up and just about complete for the Evart Michigan antique pull in early July 1988.
Dad pulled her in the 5000 pound class, funny she was to be my antique puller but I never did,. Any who dad took second place with her that day and several first and more seconds and one third befor the antique pulling floded Up. I ended up pulling a 1951 Model 30 in the 3500 pound class and adding weights to get her at 5000 pounds. Never could beat dads though.
Dad was 83.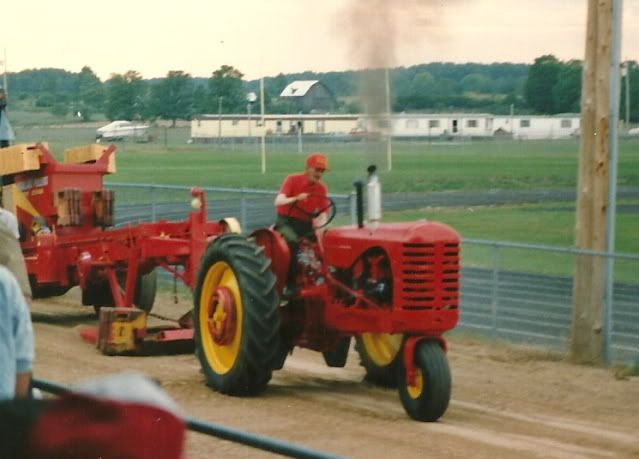 Al