Discussion Starter
•
#1
•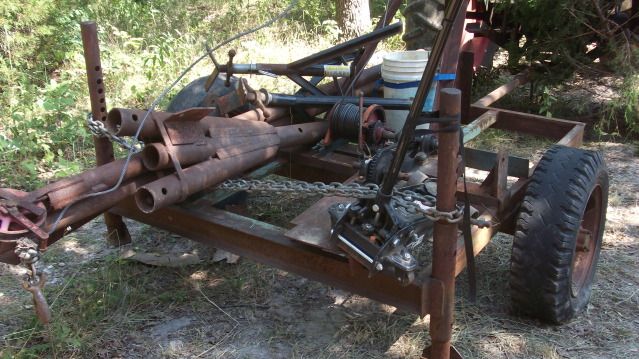 I've been hauling some old cars and trucks off for my little old neighbor lady because she needs the money and what happens !!?? Her well goes out and she needs to spend more money...
This doesn't look like much here, but it is going to pull her well.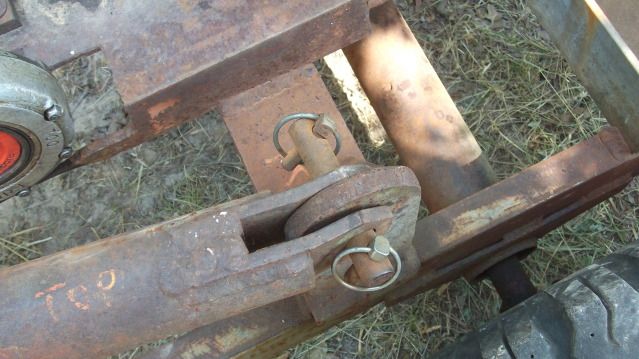 I used an old axle, made a channel iron frame and stuck some bosses out of 1/2" plate to hold the arms....Now a pre-story...back when MY well went out within 30 days of the warranty expiring, I had to pay $225 to have the installer pull it and fix some leaking threads caused by electrolosis. This was 1980 and $225 was big money to me. I swore I would NEVER pay anyone to EVER pull my well again. So promptly began the process to figure out what to build and how to build it and started combing the construction hoppers for materials and this is what I came up with.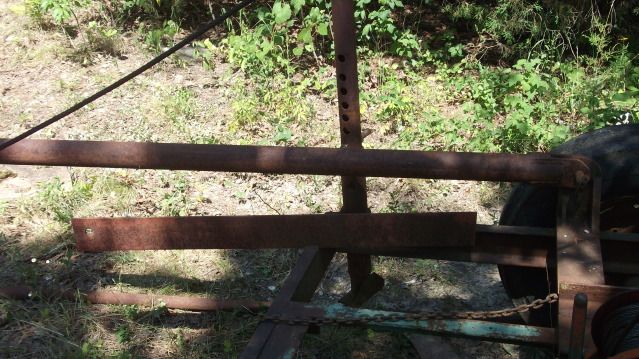 Sorry for the shade, but 2 1/2" pipe, 18' long are used for the arms that pivot on the bosses. They are assembled and set on pipe stands at thigh height. See the 2" pipe with all the holes, thats one of the two outriggers for leveling.
Next goes the three legged contraption, built out of 3" scrap. It slides over the two 2" arms and pins in place with 3/4" all thread.
Into the middle leg of the three legged contraption slides the telescoping pole with the pully on the end. 2 1/2" pipe with holes spaced to allow a total height to exceed 30 feet. I know, pipe lengths are typically 21' and schedule 40 pvc lengths are 20', but sometimes you have to lift out through a roof..
My neighbor lady's situation illustrated that point right here...gotta remove part of the roof. Now, see the short pole in front of the frame with the cable going through at an angle??? That pole has a snatch block attached to allow my power supply to raise and lower the entire tripod (so to speak).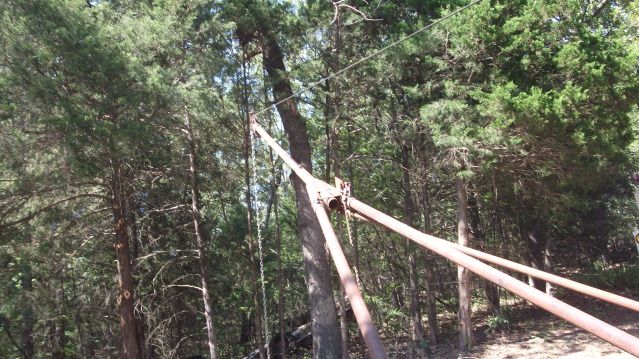 The cable pulling from that angle allows elevation with little effort on my part. When I first built it, I had to muscle the end of the rig above my head in order for the winch to start pulling it up, this way I don't.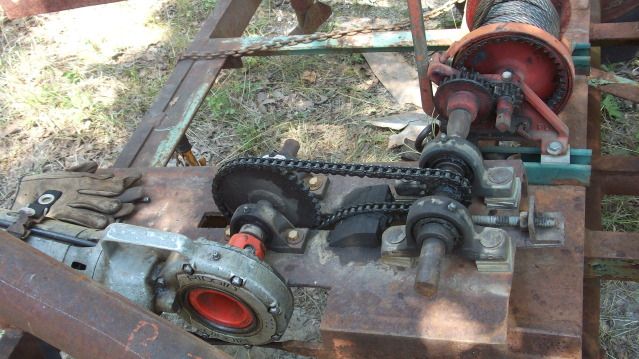 Anyway, this is the power supply... a pawn shop Rigid hand held pipe threader, a half ton cast iron bodied winch and some old blower bearings and gears. At first I just powered it directly off the threader, but at only 32 rpm, it was a little slow. So I took a 3/4" socket extension to attach to the square drive input shaft on the winch, and welded it to the blower shaft with the gear mounted. Using a 3 to 1 ratio on the other end I got the rpm up to 96 now, and that is a perfect speed. Note the poor boy chain tensioner...good old grease soaked oak works just fine.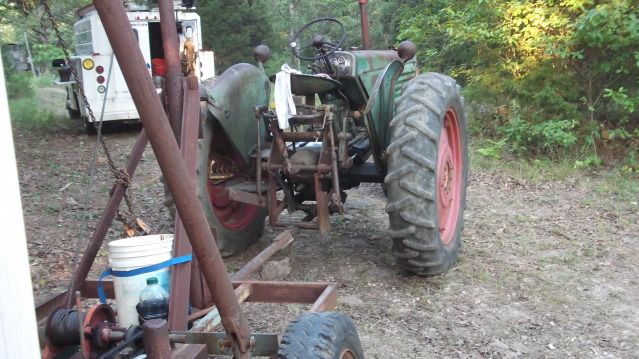 I try to use a tractor with a little weight for counterbalance, you know. However I did make 2" black iron adjustable outriggers...unfortunately not hydraulicly leveled, thats what the floor jack is for. Jack up one side or the other and drop the outrigger and put the 3/4" pin in the closest hole.
The three things I had to buy were the two gears and chain and the 12r one inch square drive die for the threader to power the input shaft. Ok, that's FOUR things, well, five if you count the master link... :lol: :lol: :lol:
Nothing to do but start a pulling....sit the casing jack over well casing thread on the home made swivel and push the button....up she comes. The swivel is a 1" black iron coupling with a unistrut square washer and 5/8 eyebolt. I reached inside the coupling and welded the nut to the eyebolt so there is no chance of a back off nut giving me a bad day by dropping a well to the bottom...Pull 'em and drop 'em back down to lay on 4 x 4's to keep out of the dirt, because after all, they gotta go back into the drinking water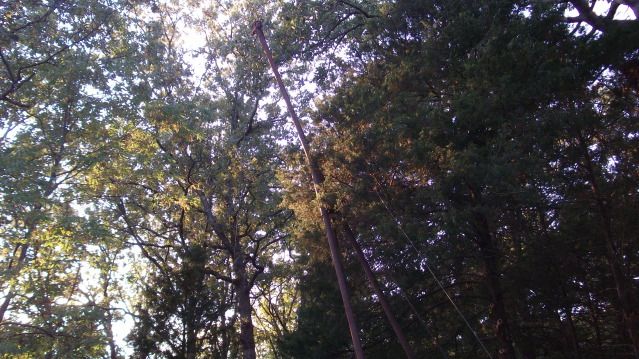 The evening before I had to cut down a couple cedars that were in the way and trim back another just to get the rig above the casing. You can't tell it here but it is on a pretty good incline... a 12" fall in 4' really throws a 30' stick off center and you want to pull as straight as possible. To make a long story short, her pump motor burnt up, so a trip to the local farm store netted a new one for install the next evening. Thanks to my daughter, Tessa and my sil, Mike for the exceptional help on the project. They are getting to be good help as this is about the 12th well they have helped me with. Not bad for a bunch of amateurs huh.. but true to my sworn word I haven't paid a well puller a penny since '81 or so. She sure was tickled to get water back on, having been out for three days total and carrying what was needed from my house in trash cans. Now if I can just get back up there and put that blasted roof back on.....
Packed up and heading for home still a little daylight left....