Discussion Starter
·
#1
·
Driving down the hill on the little Kubota, this is what you see first next to the old fallen down house right up the dead end road at my neighbor lady's.
From this angle, it does look surprisingly good, even though the two side windows and the vent glass have been shattered.
Bullet holes abound...I'm thinking that's what took out the glass, but maybe not because the other sides glass is intact.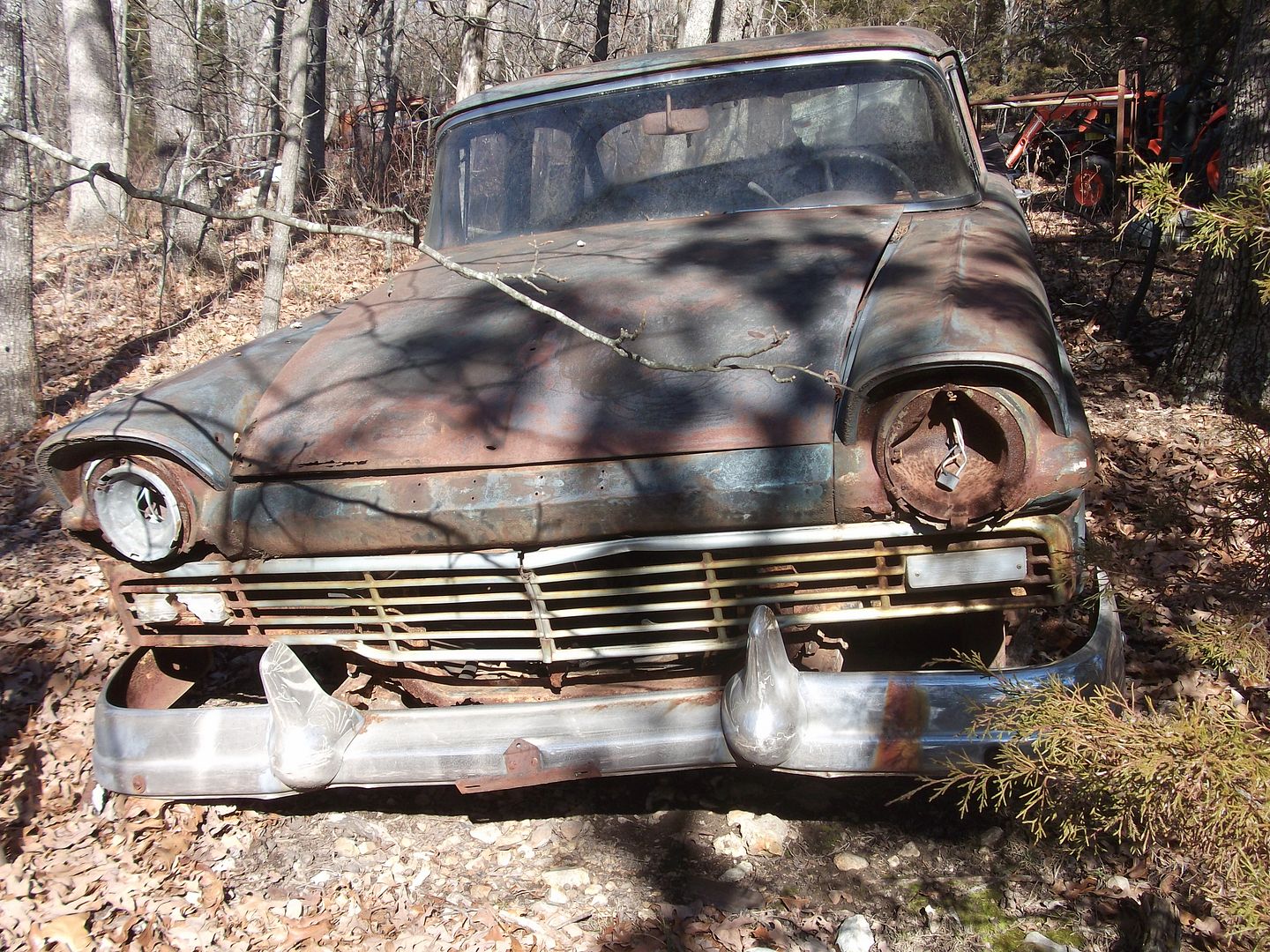 Almost a deal breaker here, the F O R D letters are missing off the hood !!!! Overall the front end is in really pretty good shape. Headlights are cracked pretty bad though.
Well now, we find some key components in pretty rough shape. I'm in a quandry about whether this is a 272, 292 or a 312. It is sure an awfully wide block. I have a spare 292 for Dad's old '56 F-250 that has a 272 in it now. I did not find evidence for sure what motor this is, but the valve covers ARE GONE !!! Oh well, I'm thinking time for a good old 460.
As luck would have it the mud-daubers have kept water from entering the oil pan through the dip stick spout.....if only they would've plugged up all the rest of the holes, maybe a fresh battery and a little gas and it'd fire right up !!!! Ok, ok no Pollyanna here, I KNOW it would have to have a carb too
Maybe someone here recognizes this motor for positive i.d.
Just look at the front clip's condition !!! And the most expensive glass, front and back are good. This thing's a tank.
Soon as the weather breaks, four wheels and tires are going on the old dog and it's gonna move out of this place its been sitting in since the mid sixties.
On to the '57 three door "Courier". It too has been here since the early '60's, driven here to be a storage spot for chicken feed and hog feed. His grandson is my age and remembers riding in it with his Grandpaw when he was just a little boy.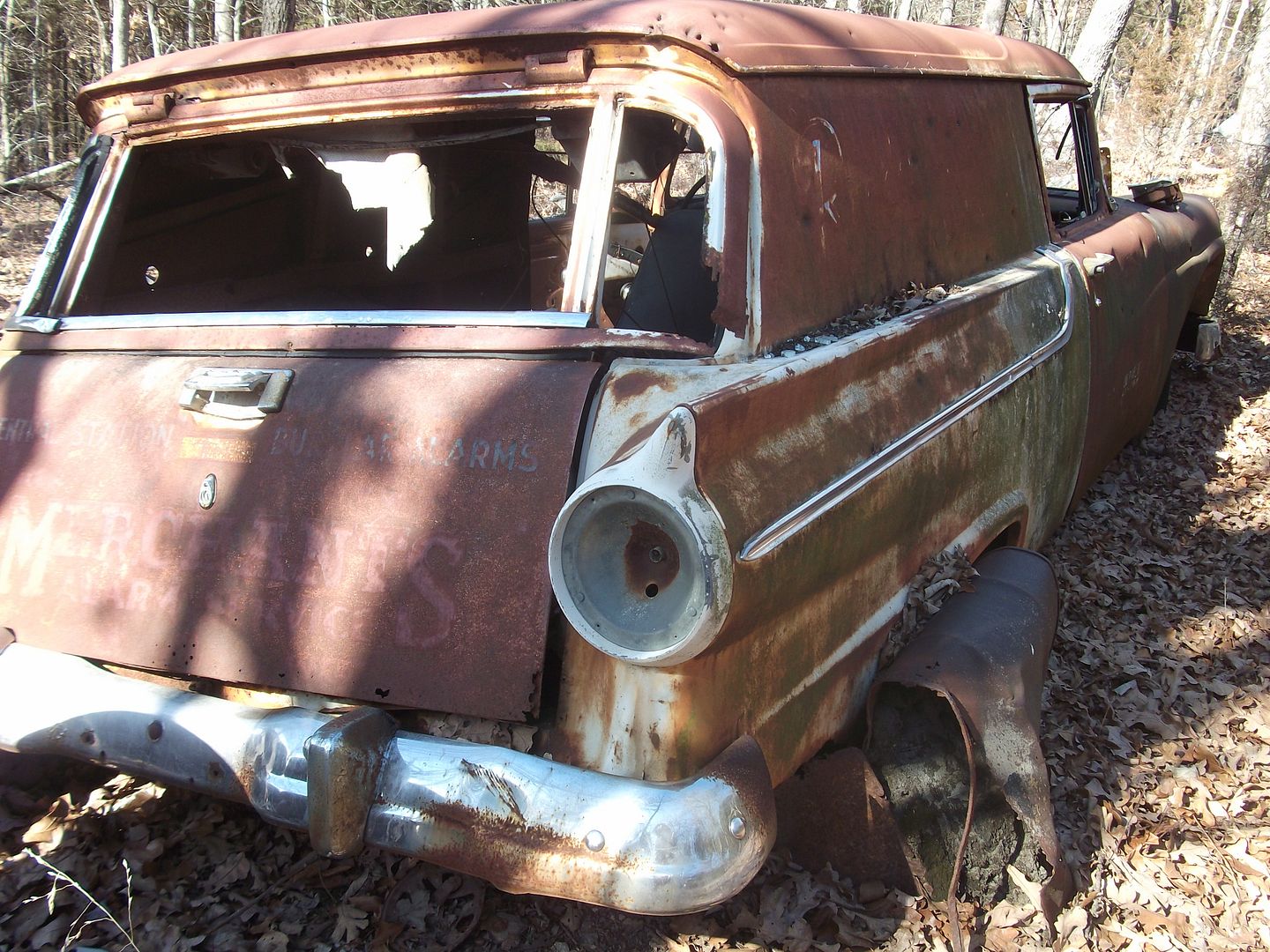 Definitely in much rougher condition, it really would have greater value over the four door because of its rarity. Man, it is in rough shape. Sad.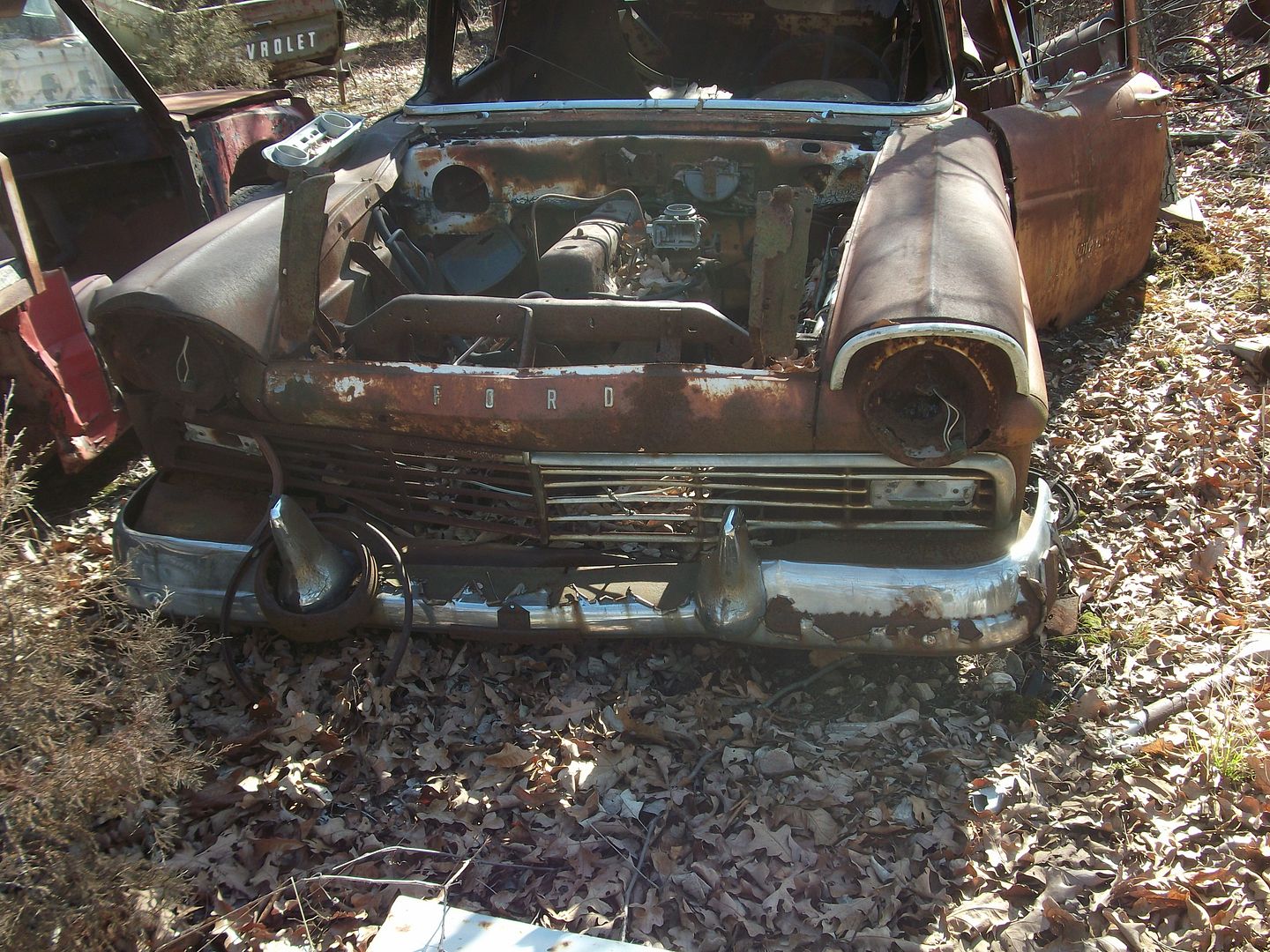 AHA !!! There are the missing F O R D letters off of the Fairlane !! Obviously a six-banger, I'm thinking 223. I had a '63 Ford F-100 with a 223 and it was a bulletproof little motor.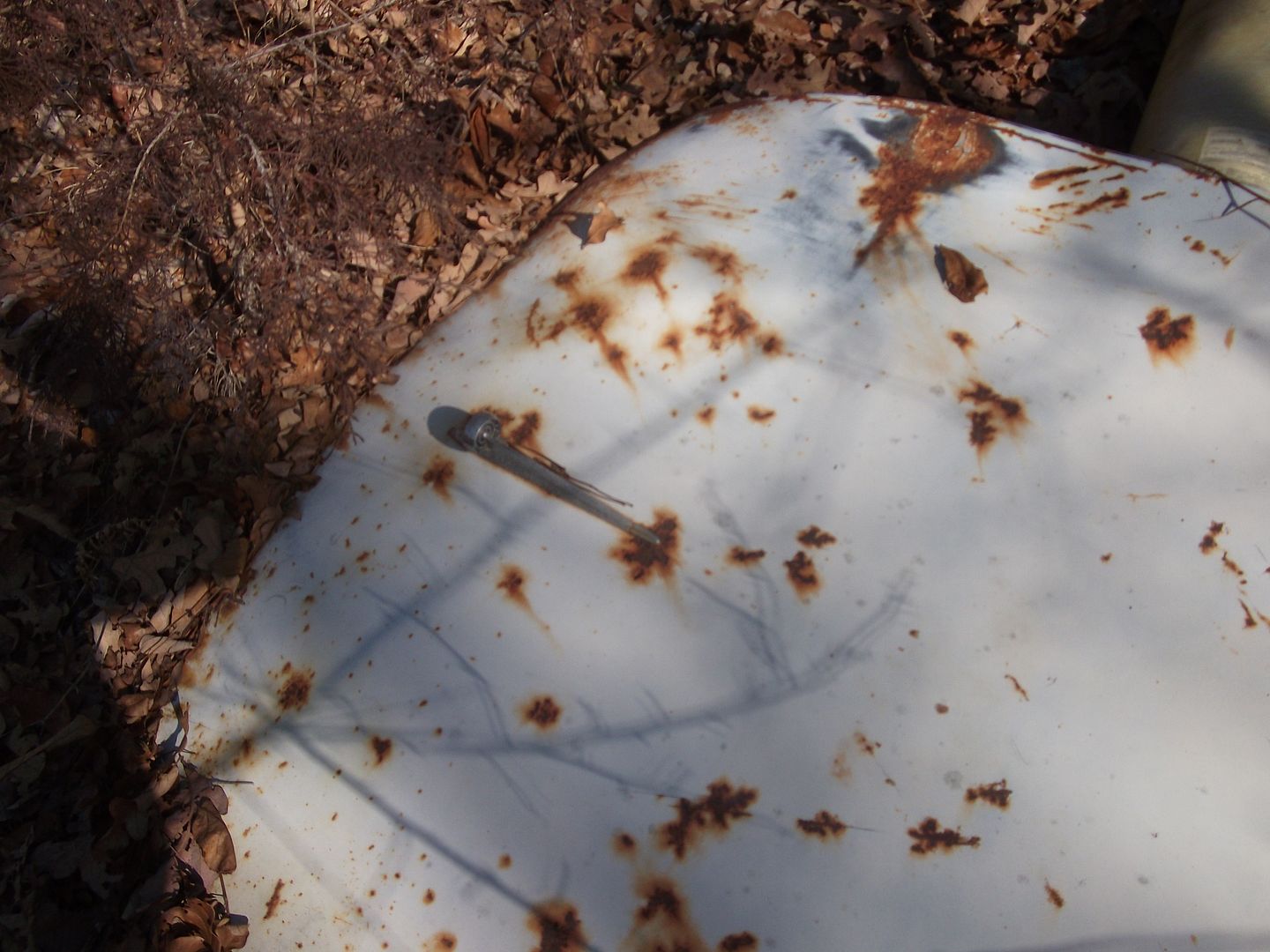 Though I don't recognize the hood ornament, this should be the hood off of this guy, tossed to the ground probably by someone nabbing the radiators years ago. The paint matches though. In between the rust spots anyway...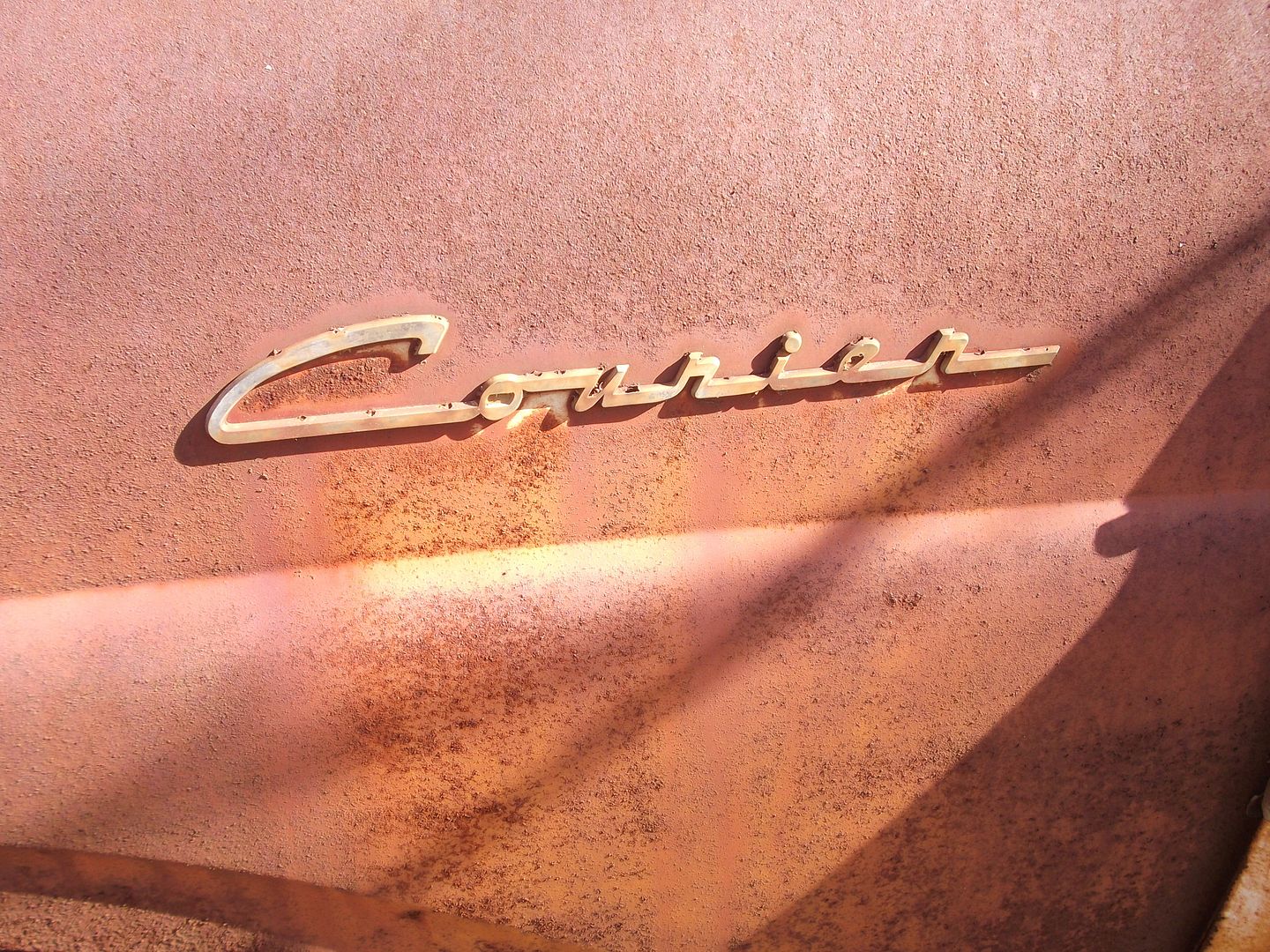 Someone earlier said maybe the three door was a "Sedan Delivery" and that may be actually what they called this body style, but on the front fenders are these "Courier" emblems. And oddly enough, the little red truck sitting right next to this is an '81 Ford Courier. What's the chances of that ??!!
So there you have it...a couple projects for the future...IF I run out of other stuff to work on anyway..... But I'm thinking the 3 door is way past gone. What do you think ??