Discussion Starter
·
#1
·
Sandblasting of all sheetmetal now completed, more parts and pieces being re-assembled. Ready for new rubber today, so I stopped by to help mount the 15.5 x 38 rears. My brother picked up these BF Goodrich tires from a co-worker that found them to be too small for his application. He'd plowed one field, removed them and went to 16.9's.
We barely scratched the paint on the rims mounting the rubber, continuing our lucky streak, mounting on the tractor also netted no scratches...must of been the good help, huh...
He is installing all new wiring but using the original wire looms...looking real good too.
Man that rubber looks good standing upright, I had to grunt a little bit getting them upright and off the tire changer (floor)...Good thing he'd stopped by the construction company where he works and borrowed the truck tire irons...our little two footers may not have been as easy to use.
Dee-luxe front rubbers too...I didn't need to help on them.
The black looking gooey spots is just where we got sloppy with Victaulic gasket grease...a water soluable "slickum" used for assembling Victaulic or Gruv-lock pipe fittings.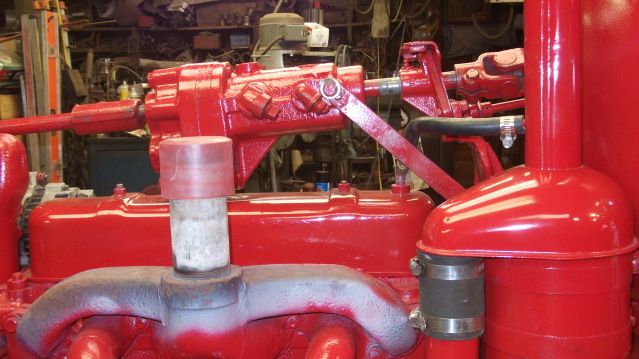 Power steering remounted and ready to go. Speaking of hydraulics, not wanting to start up the pump dry, we were trying to figure how to ensure there is oil in the pump prior to turning over the engine without making a mess.
These are the hydraulic lines from the pump over to the controls housing, so we decided to install a brass Schrader fitting up under where it will not be visible. Then we can use a refrigerant oil hand pump and prime the suction line and hydraulic pump prior to turning the engine over minimizing the potential for pump damage from starting it dry.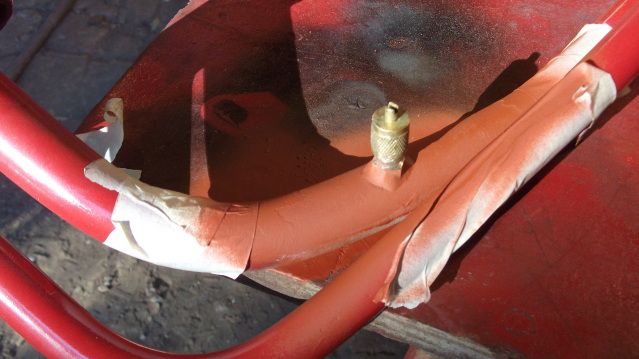 Heating the brass Shrader to melt the silver solder holding in the 1/8" copper stub, nets a solid brass stub that inserted into a 9/32" hole drilled into the steel suction line. Buffing both the steel pipe and the brass fitting and using white paste flux allows 45% silver solder to make a neat bond between the dissimilar metals. OxyAcetylene is required as 45% won't flow neatly with a small torch. Primered and ready for paint and hopefully it won't leak...after all it was just a worn out old (retired) pipefitter that did the soldering..... :lol: :lol: Maybe next time I stop in, it'll be ready to fire up and go get dirty !!!