Discussion Starter
•
#1
•
You guys probably ain't interested, but my little old neighbor lady asked me to haul some stuff to the junk yard for her...
Took ol' Blue up with the tag trailer and cranked up this thing and the frame broke in half behind the cab when I broke over center on the ramps. (Ol' Blue is my orange truck).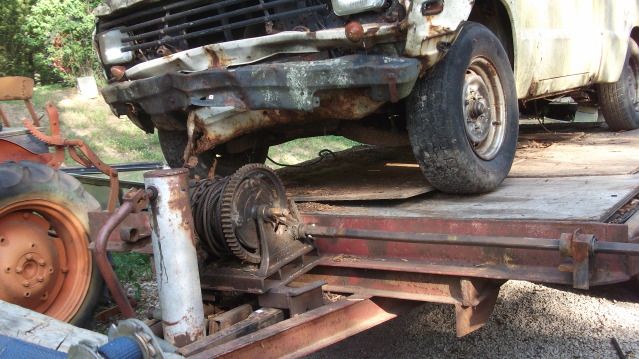 First official load for the new antique winch I put on this winter to replace the much older wore out antique winch....Worked good, but would've been better if the rear brakes weren't rusted stuck. :x :x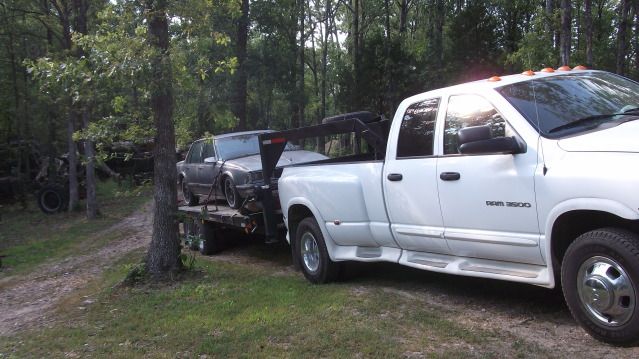 Went up with the gooseneck and the old Dodge to pick up this 86 Delta 88. 8000 lb electric winch is a snap !!! Especially with a snatch block...
Bound down pretty good from the rear, the front however is a different story...
I threw a grade 70 chain over the hood and bottomed out the struts and accidentally scratched the paint (and maybe dented the fenders).
Still have to get a 68 Ford 1/2ton, 66 Chevy 3/4 ton, and a 65 Galaxie 500 out for her. I'll post some pictures of them too if you promise not to
shoot me !!!! The good thing, is everything is ROUGH condition. Like I said, nothing to do with tractors or machinery, but what the heck taking pictures is fun.