Discussion Starter
·
#1
·
Doggone it, found this at a farm auction 40 miles south of me....she was so irresistible and begged to come home with me because she sat in the barn
for ten years or better and was full of mice and mud daubers...
Sure is bug-eyed and about as ugly as sin but the motor was supposed to have been freshened up by a mechanic, then parked waiting for cosmetics.
Man-o-man... Massey Harris WHEEL WEIGHTS... what a bonus !!!!
The old- timer just passed on at 93 a few years back and it just sat and sat some more...until Saturday's auction. Oil was clean as is the oil filter, you
can see the new head gasket, valves were to have been done and new brakes. We'll see, won't we now...
Hydraulic reservoir full and you can see the cylinder and the cultivator lift arms here. Rubber is brand new, though mis-matched.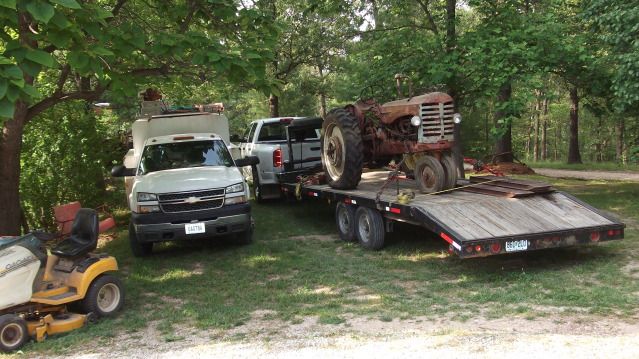 Actually the farther away, the better she looks...Still has those eyeballs, no matter how hard you try not to see them !!
Some super dee-luxe re wiring here. See the solonoid?? There is a momentary push button on the dash (in place of the temp gage) that engages
the solonoid to crank the starter. Positive ground 8 volt dead battery.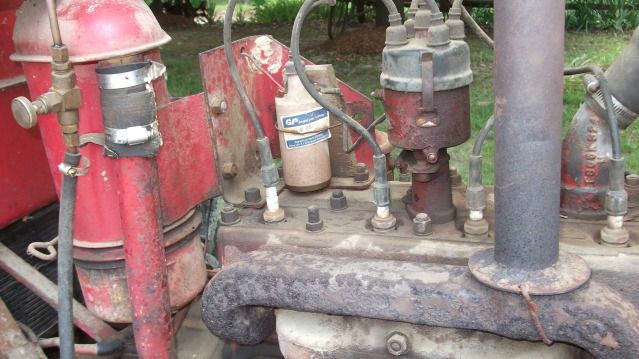 Here's a shot of a plastic bodied coil that replaced the original. I cleaned and checked the points, cleaned and gapped the plugs to be sure, hung
a temporary tank off the breather pipe and used an 8D 12volt battery to spin her over. Man it blew tons of chaff out of the smoke pipe and wouldn't
hit a lick. Thinking it was the carb because I didn't do anything to it but turn on the fuel line, I went to the shed for a fresh rebuild for another
162 Continental to hang onto the old gal. When I climbed onto the side of the trailer to slip the rebuilt carb on in place of the original....
guess what was sitting on top of the gas tank !!!!???? THE ROTOR !!!!!!!
You guessed it... I put the rotor in and hit the starter button and within 8 to 10 revolutions, the old gal decided to fire off and now shoot
some burning and smoldering chaff out of the smoke pipe !!!! This is the first shot at the bottom of the ramps literally within minutes of
firing up. See, I was so confident it was going to be such a simple job I did all that while on the trailer, just so I could DRIVE it off !!!!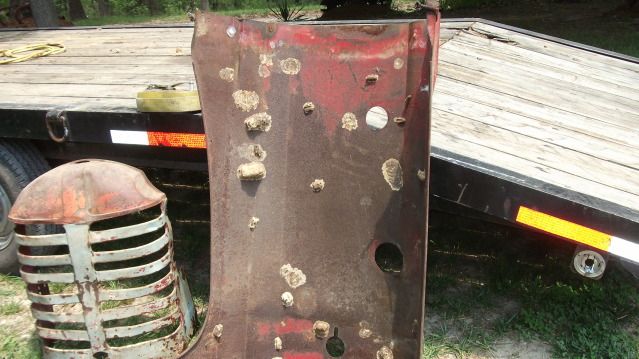 I really disrupted a pile of mud daubers, some didn't make it all the way here and flew the coop with some of the mice while flying up the hiway
at 65 or so..
A couple of diehards hung quite well to the breather cap...as a matter of principle, they can stay until they fall off, just because they made the trip.
So now, where will I park this bug-eyed baby ?????