Discussion Starter
·
#1
·
Well I figured I would start sharing some of my tractor stories. For the record these stories are as accurate as I can make them for the moment though I will add other details if I do think of something.
ANYHOW I think I will go in order of acquired. That means starting with "Big red" or "the big grumpy red tractor" the Farmall Super MTA
Sadly, as far as I know so far, there are no early pictures of this tractor. The oldest I have are from 1999 which I will post later in the story. Also the information I do have about the tractor is limited and many specific variables I do not know. I will just let yall know that from the start so please excuse it. I will tell this story to the best of my knowledge
So. Chapter 1: "Big Mean Red Machine" The story of my 1954 Farmall Super MTA
East Bell county, Central Texas. I believe near Zabcikville. About all I know about this tractor in it's early years is it was used to pick corn and was owned by a Banker by the name of Willard Green. I do not know if he was the original owner or not. I also do not know when the Saginaw (Credit to Luke) 3 point hitch was equipped.
Sometimes in the late late 1960s or early 1970s I believe my great grandfather purchased the tractor. I was always told it came around in the 70s sometimes but I think it is possible to have been the late 60s. I think this was either his 2nd or 3rd tractor. Wanting to move round bales with the tractor it was possible the 3 point was added by my great grandpa but I have no record of such a event as I do not have a record of the purchase of the tractor. Anyhow the attempt to move the bales using the tractor didn't work out so great and the tractor enjoyed not doing much of anything sitting in the shed with a certain 1955 chevy (that is another story) although it was repainted at some point along with the 730 D if I remember correctly (that JD had the bale moving job but I don't know if it came before or after the farmall)
Short of the bale moving for the cows the only other agricultural activity going on about this time that I know of (I don't know when they stopped doing the hay either. I suppose they just hired it out in the later years) was the garden which was handled I think entirely by the JD 1050 (so 1982-1992) My great grandfather died in 1992. My Dad started growing produce probably mid 90s and selling it. What does this have to do with the MTA? Well the MTA was pressed back into service for some tasks such as hauling the tank trailers and some 3point work. I do have one picture from this town. Year unknown just late 90s sometimes.
What was attached at the moment we can only wonder. I do believe the 1050 (sitting to the right of the MTA) was probably pulling a transplanter. MTA was likely on water duty as you can see the yellow water trailer (to the left of the MTA right next to the building) if you look real close. From what I understand the MTA did not come over to this location (my great grandpas house) very often although it does happen to show up in one other picture. Probably taken about the same time.
Again I have absolutely no clue what it was doing which is why I assume it was at the same time as the picture before.
It continued carrying out odd jobs around the places for a few more years as shown in this early 1999 picture.
Where we find it hiding out to the right of the 55 chevy behind the shed. Needing more storage space the shed was having a addition added to double it's size. The MTA was coming to the end of it's service though. This was likely soon before the end. Sometimes in either 1999 or 2000 the tractor suffered some sort of ignition problems. The tractor somehow was getting out of time and every attempt to fix it did not work. (looking back now I think it was a combination of built up carbon, partialy off timing and a rich gas mixture) My grandpa looked at it one Sunday afternoon but before he could ever take another look the farmall was dumped down the hill north of the shed out of sight out of mind and replaced with a 1978 JD 2840. They lacked the time to repair it and quite frankly it seems my dad was just fed up with it in general. The 3point and a few other usable parts (and for some reason the lightbar mounted tool box!) were taken off and put into the shed. Looked like the end for this tractor.
The 3point got a new home on a certain 1944 M (featured in the next story) and I remember my grandpa driving it over and getting it. Do not recall the MTA being in the shed at the same time so it must have been dumped already.
As time went on the tractor still rested down that hill next to a also retired IH side delivery rake. The produce company later shut down and the farm was abandon for most of the rest of the decade only having the 2 JDs antifreeze checked every year and the 1050 sometimes started and taken to mow somewhere else.
This picture taken 2007 (by yours truly) shows us how the tractor was at the time. This was the first time anyone had even thought about the old farmall in a good while.
My dad just called it the "red bomb" but never cared to talk about it. "don't mess with that red stuff. Stick with Green"
Now about 2007 at about the same time me and my grandpa discussed finding a way to move the tractor to his place and get it going "unless there is no rain cap on it. Then you have a lot of water in that engine and I don't want to mess with it (if he could see himself now haha) We never could though find a way to get it out of there since we had no trailer . This was the first attempt at what seemed would never happen.
In winter 08 we returned to the farm and happened to be building a new fence straight next to the MTA. I each day went over and looked it over. Fence went up around it and a building behind it. It seemed to look increasingly worse with each passing day. At about this time a old manure spreader I had lying around was restored (this being my first restoration)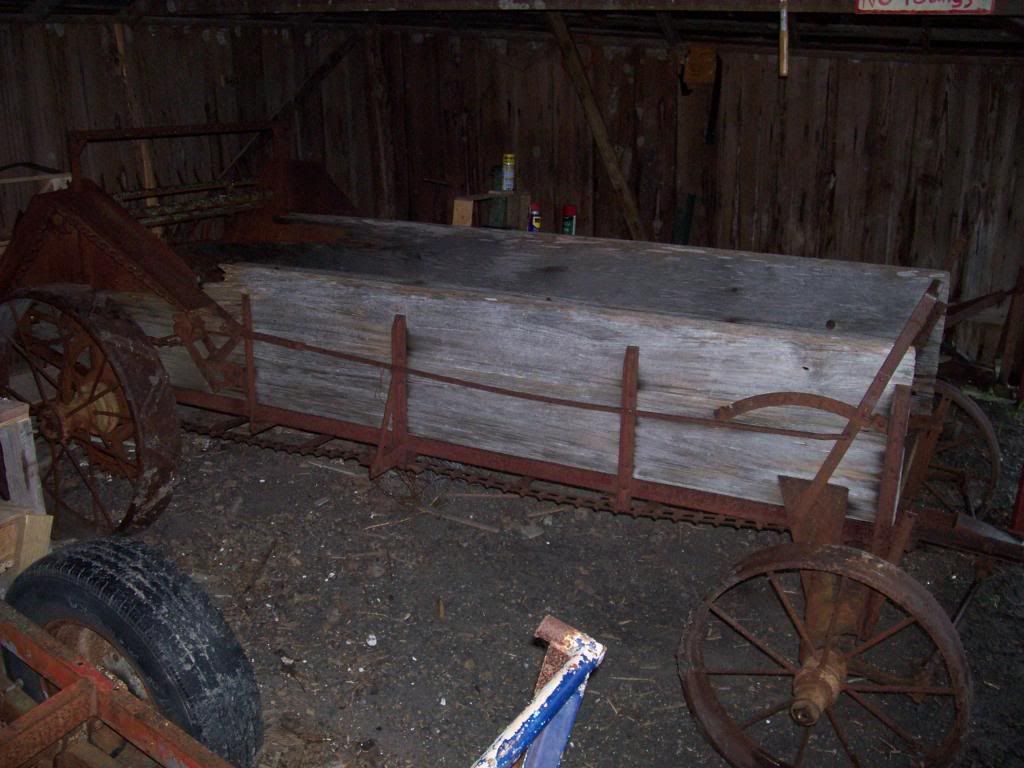 (I can dig out a little better picture later)
and I joined this forum in October. Looking around the forum at restorations done it seemed like it would be possible to restore this tractor. I had after all been saying I would someday restore both that tractor and that truck.
"right…" it seemed no one else agreed with me too much however. After a while I suppose of annoying my dad about this he said I could move it in the barn and work on it "although it is not going to run" About this time it started raining a lot (gee wish it would now!) so I didn't have a opportunity to attempt pulling it out until later.
Here is how it sat 10/30/09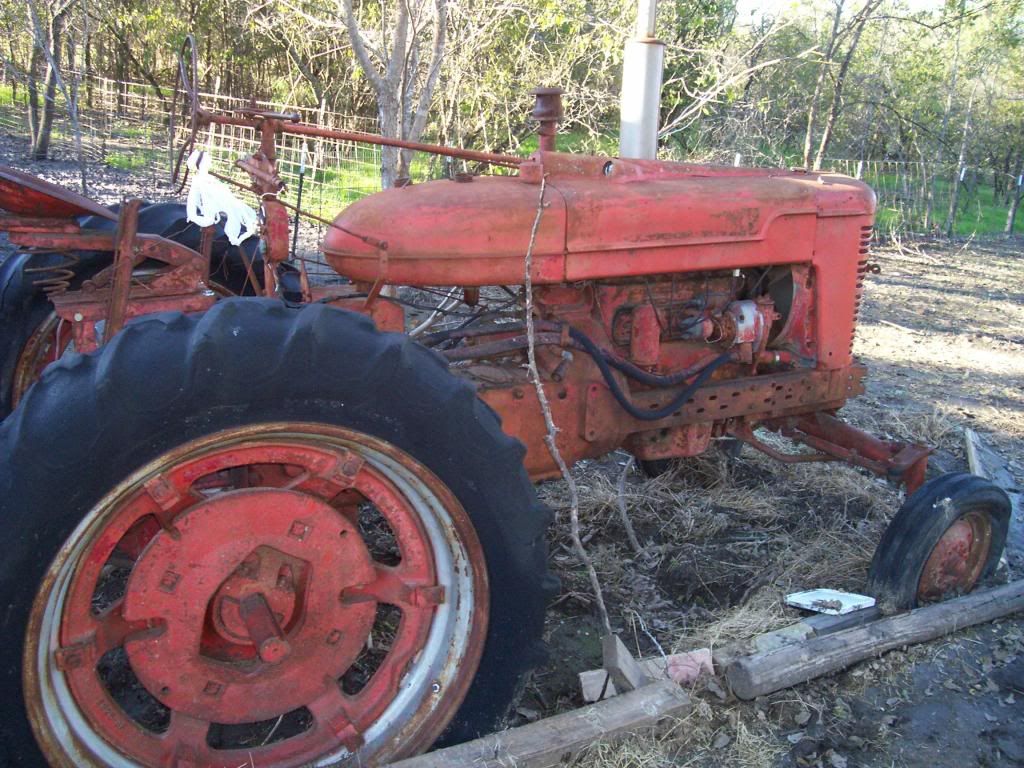 In the mean time I did try to do something on it. I got the farmall M's old hitch assembly from my grandpa and mounted it on here (as the MTA's is not on the M)
As it dried a little we tried pulling it with the 1050. Wouldn't move at all. 1050 just spun out. I suggested using the 2840 (which had just plowed the previous day) and it just so happened to have been ran low on fuel and would not start. After getting more fuel and repriming the engine ( my dad did not enjoy having to do such a task for such a purpose) we were off. The 2840 moved it but as I recall the right wheel was not turning. Regardless it left that resting place of almost 10 years on that day 11/28/09
Until it got hung on a tree because of that locked brake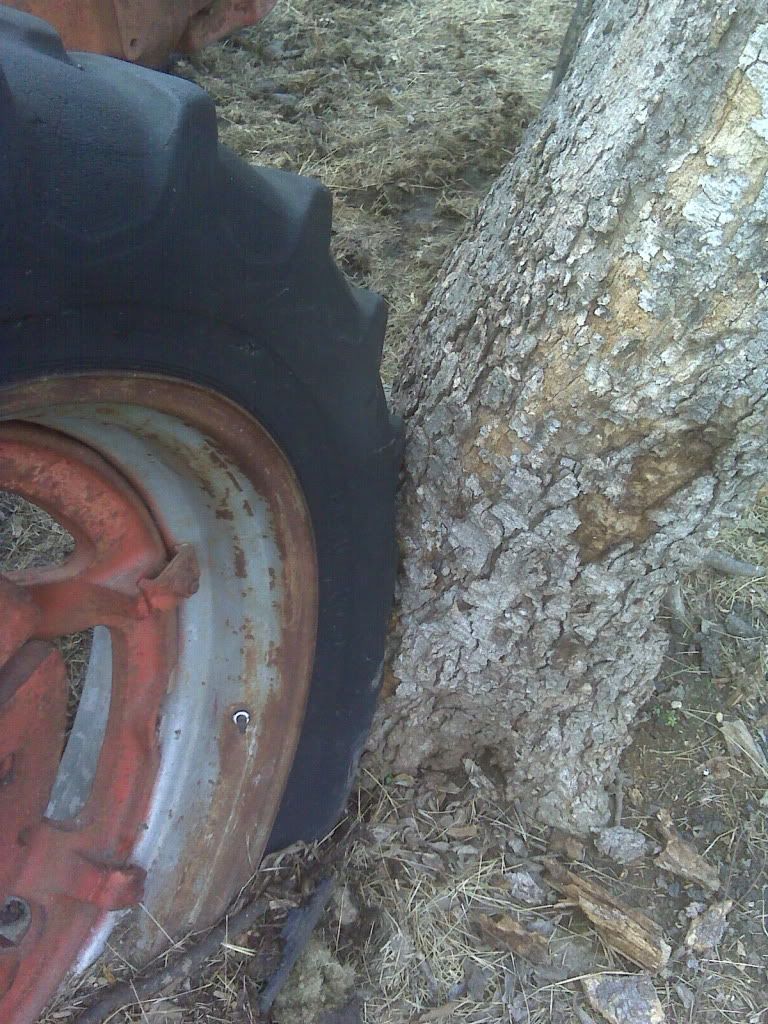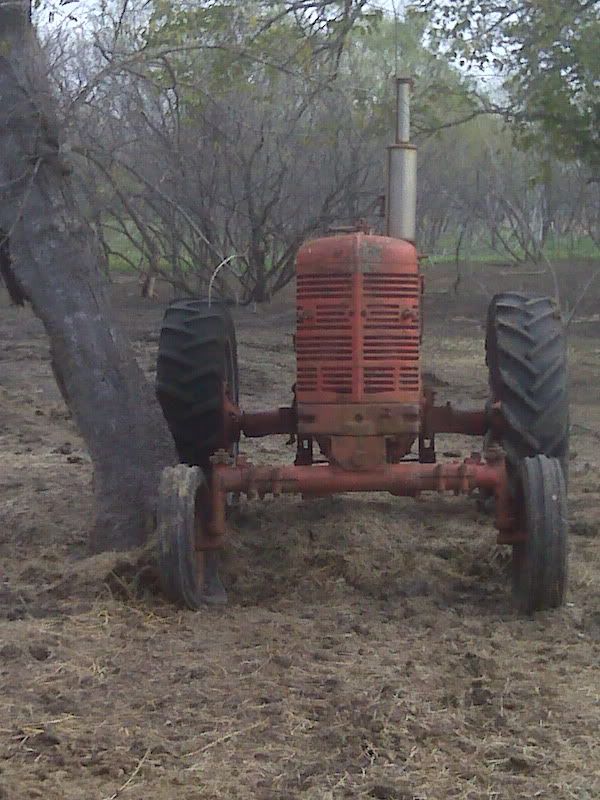 Sure enough though after unlocking the brake we had it in front of the shop just before Christmas (December 23) where we see the MTA and 55 chevy back together for the first picture since 99
And by golly one tire was holding air! Not the rears though…they kind of made a loud KABOOM when such was attempted. Quick side not to clear something up my dad at some point along the way decided I could put the tractor in the back of the shop if I cleaned it up.
I was told after we got it inside I was not to take that tractor apart until that spreader was finished. It appeared the suspense was killing us all (including my dad) as we took the hood off for a look that night.
http://s835.photobucket.com/albums/zz27 ... 0_7620.jpg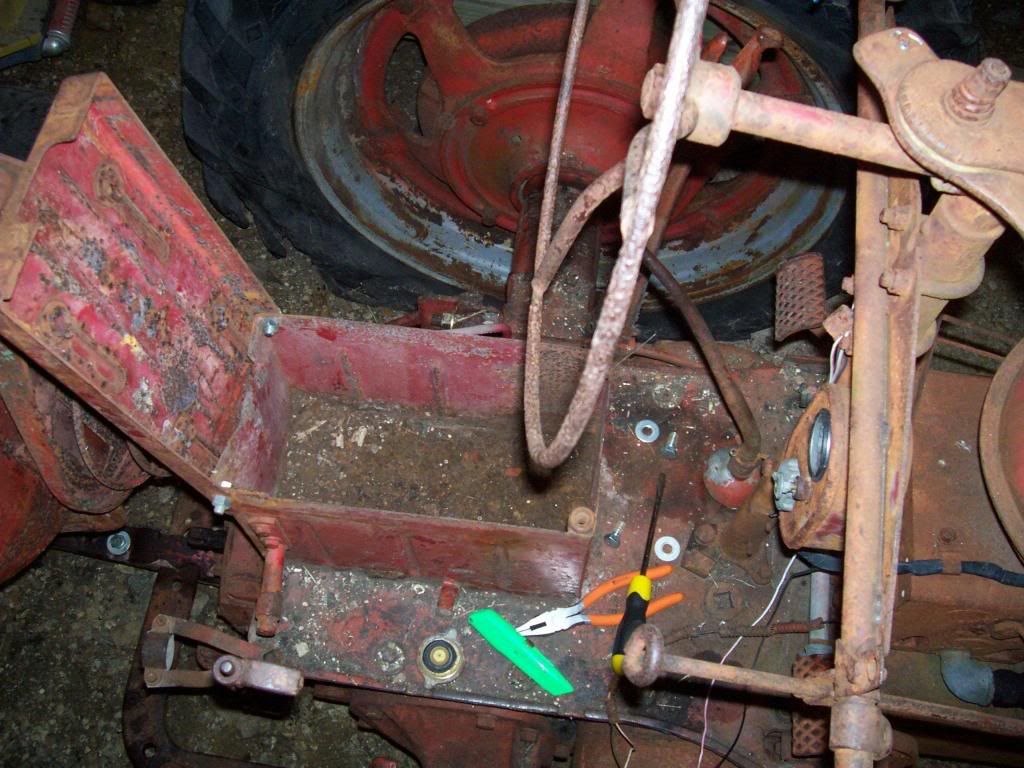 After borrowing we the 1050 battery and hooking it(it was converted to 12v during the produce days) up we tried the starter…only to discover the engine was STUCK. Being new to this I was kinda upset about the fact but folks here on the forum told me it was not that uncommon to have such a problem.
After soaking with ATF/Acetone/mystery oil for less than I leak I think we had the engine broke loose. It really was not stuck bad.
*side note: about this time a 1939 AC B had shown up at my grandpas place. As almost a response my other grandpa bought a 1949 H at the beginning of 2010*
But so the game had begun. It seemed my dad had gained some interest in such a project. Or atleast decided it wouldn't hurt to mess around with it, although no one was still a believer that this tractor infamous in its later days for being constant trouble would ever run again.
Things moved along however
MY grandpa seemed to have gained interest after getting that little AC. Although lacking any buildings to put the things in the M which had been there for over 25 years gained a red friend at some point. 1941 H.
For some reason I found that this song
http://www.youtube.com/watch?v=GSGmXAsK ... DB0D436EA3
seems to go well at this point.
Meanwhile back at the shop
(you can dig back in my youtube to find vidoes of this as well)
Although side projects went on as well
First primer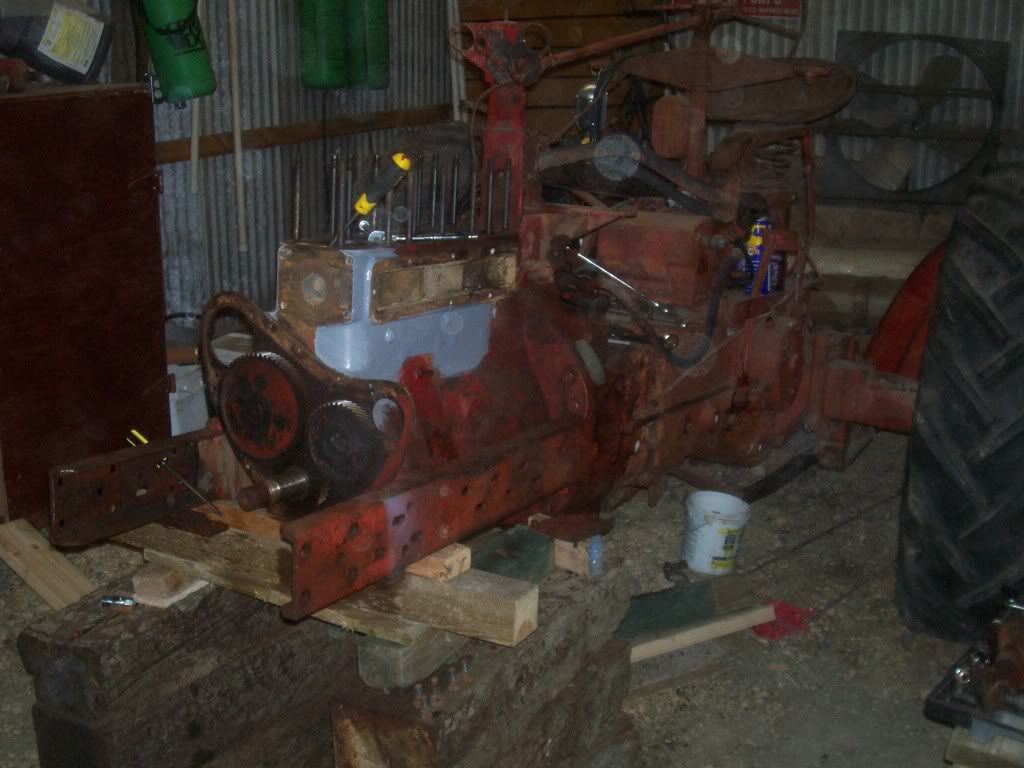 And things started to go back together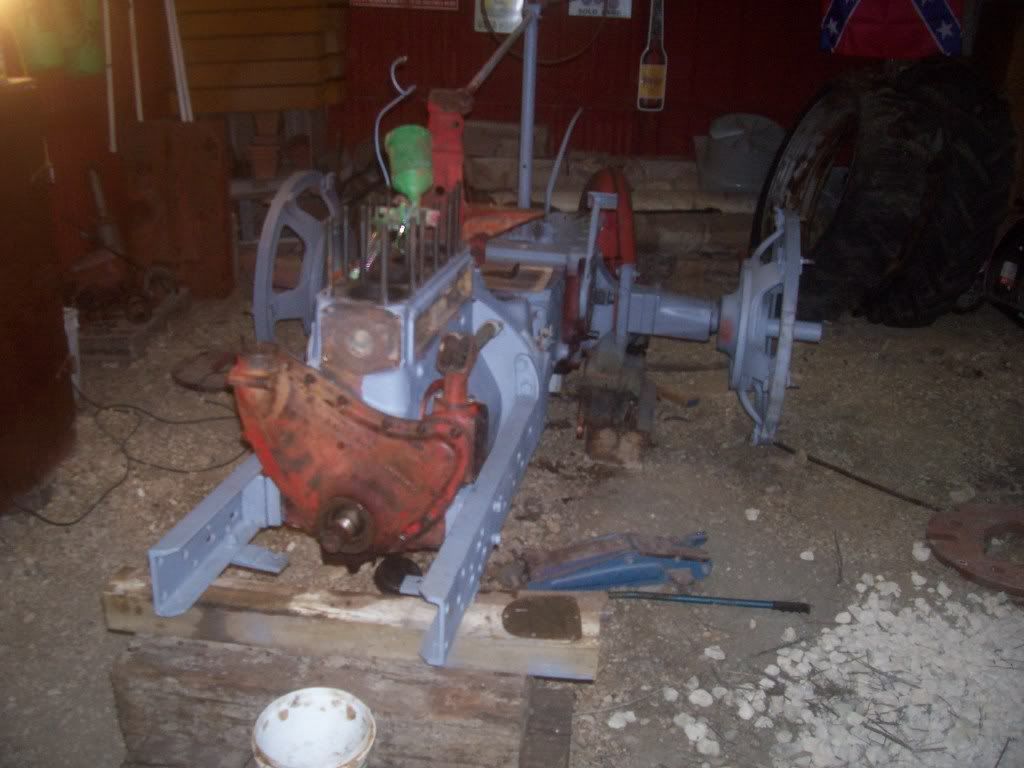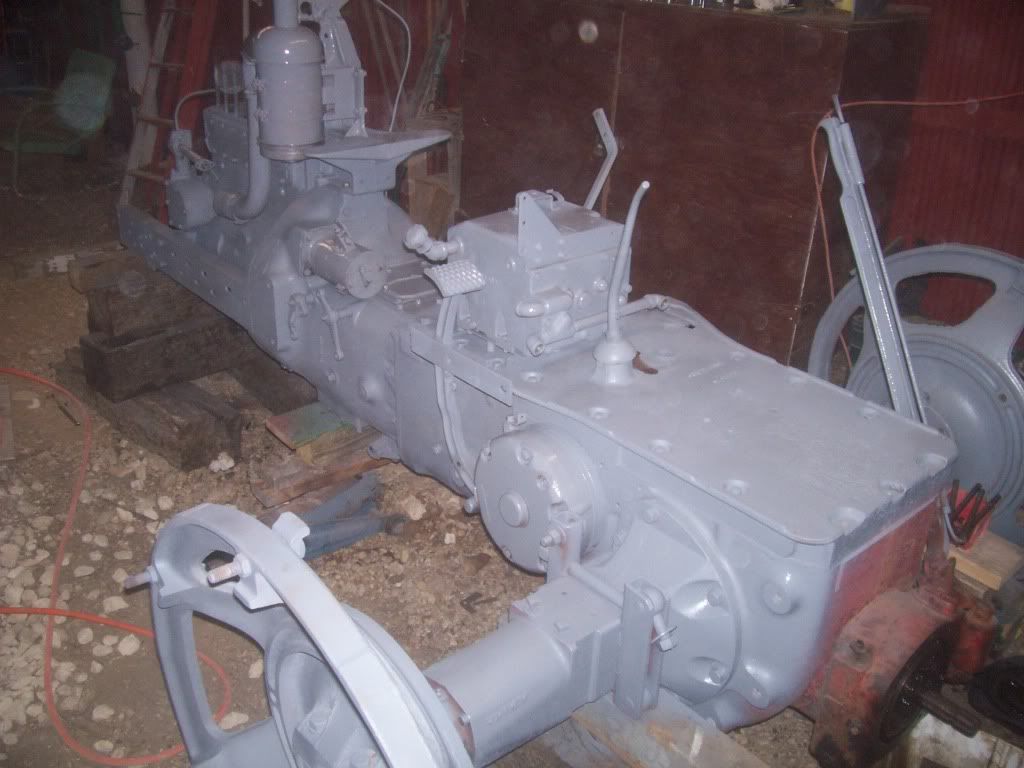 For a good while progress stopped. Didn't last for ever though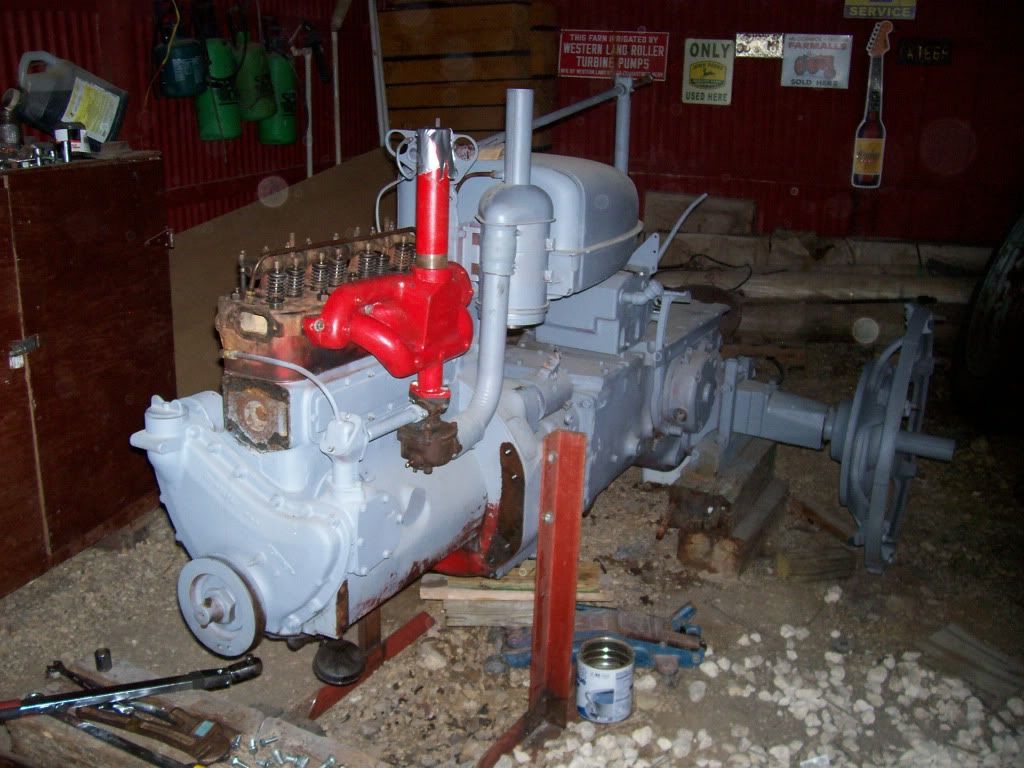 And at this point we finally got to the first coat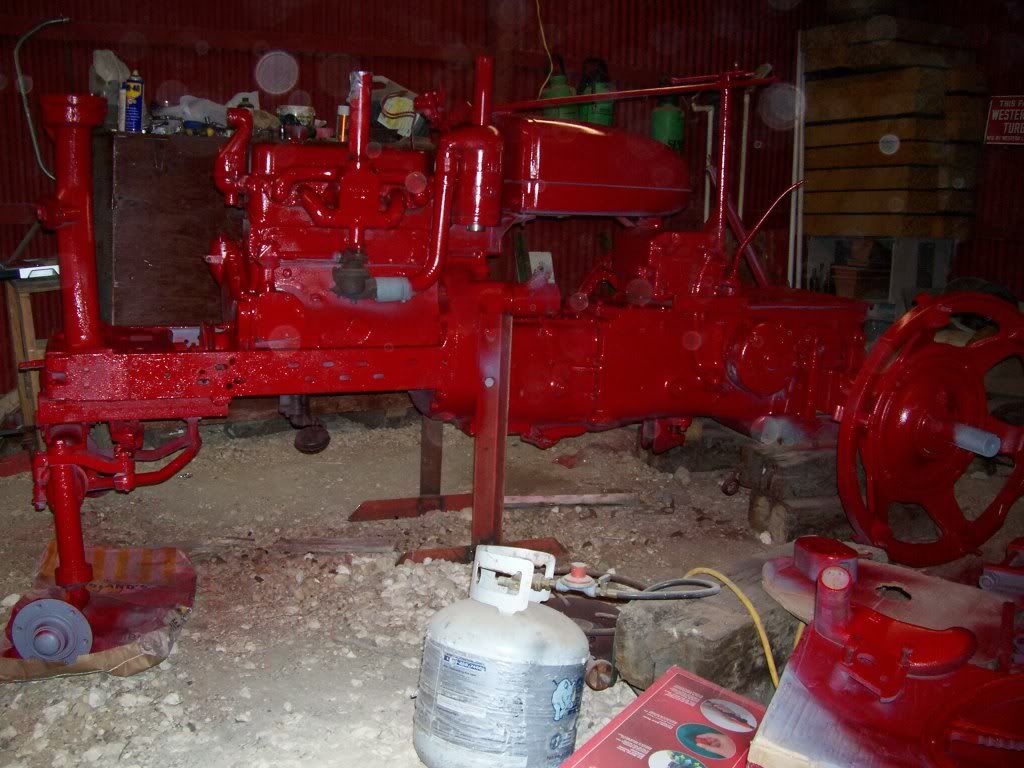 It was high gear to get it ready for the coming show!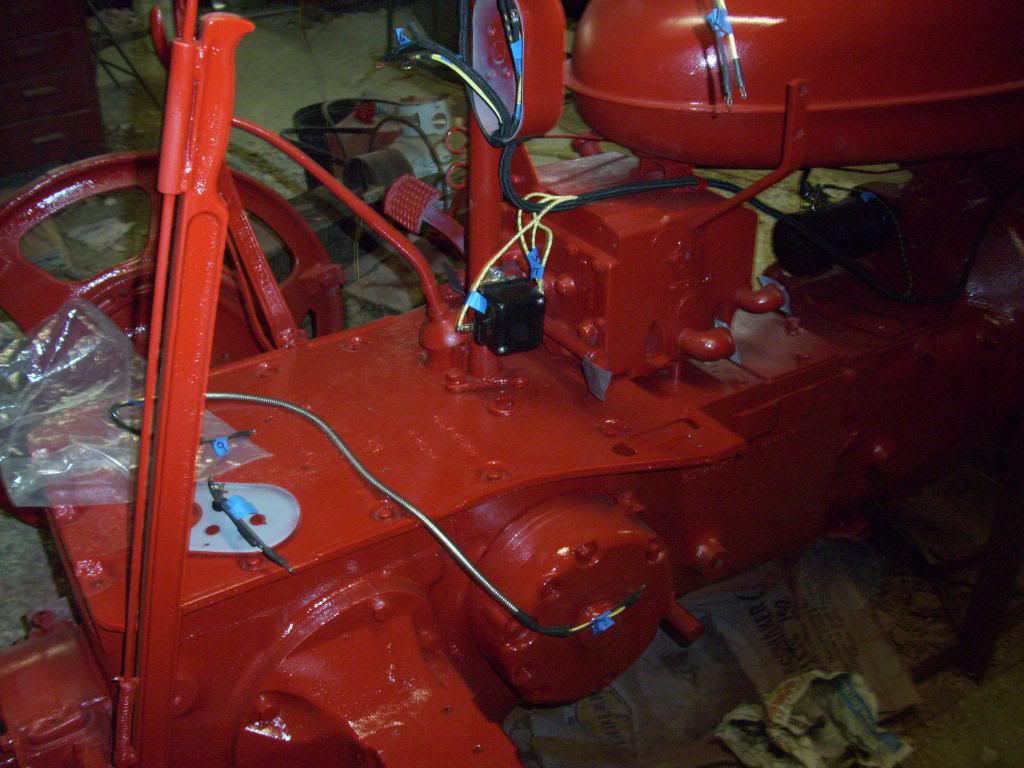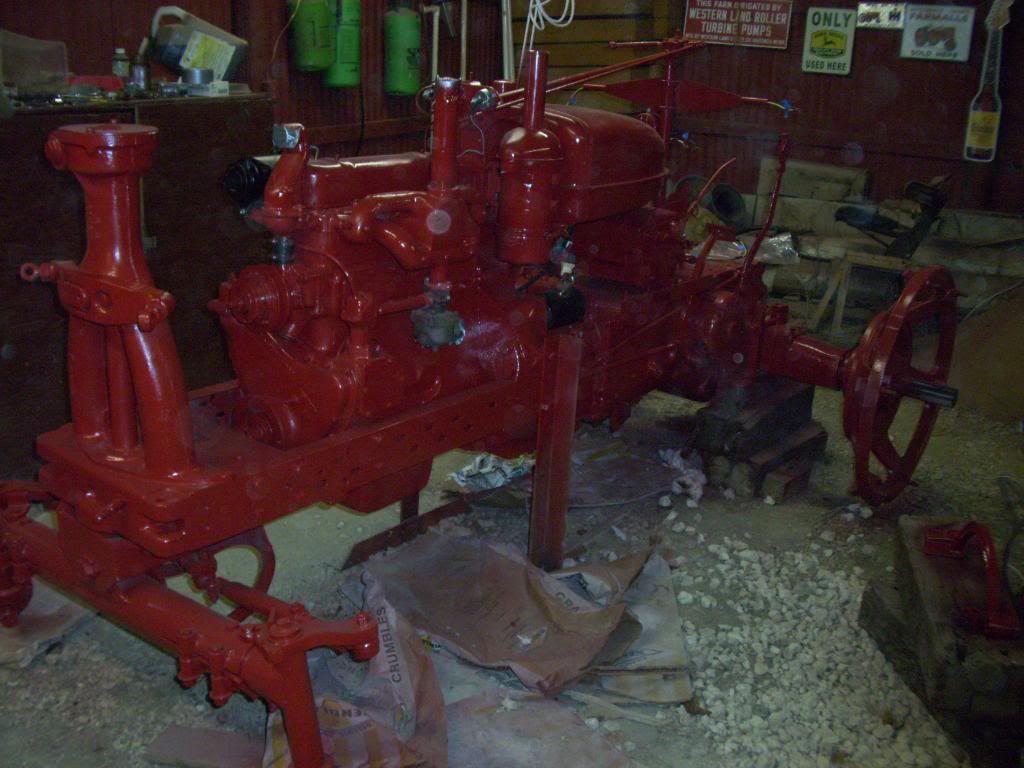 Toolbox I mentioned earlier which was painted and had the decal put on thought I never mounted it. Still on a shelf in the shop. I need to put it on since it is original to the tractor.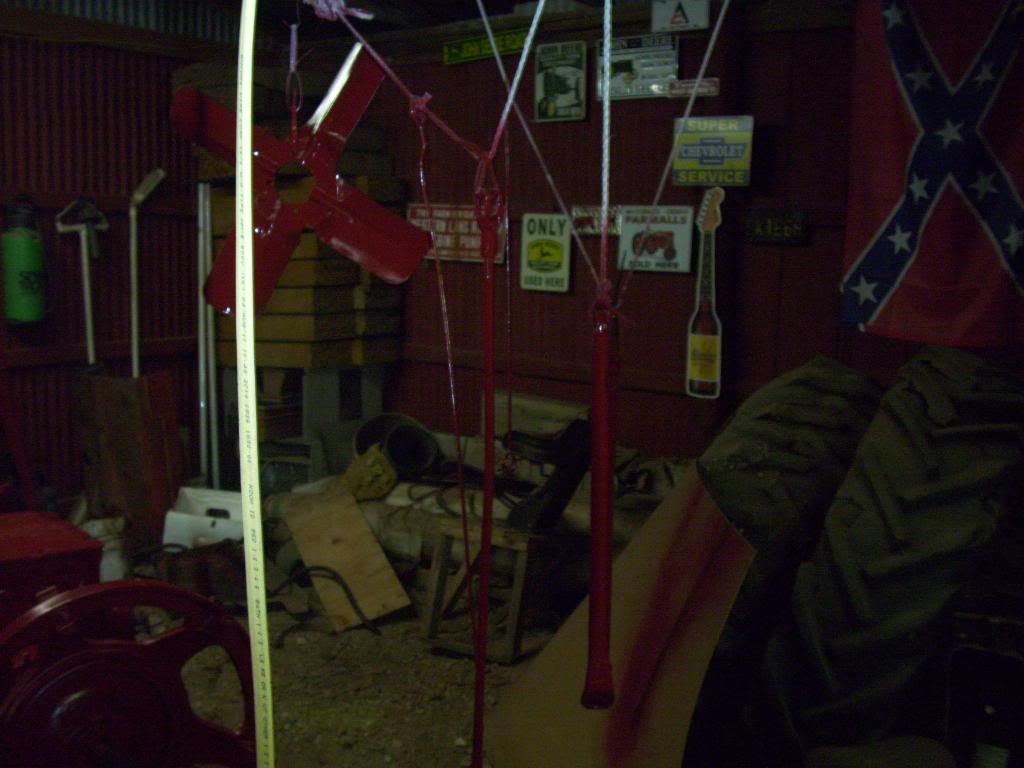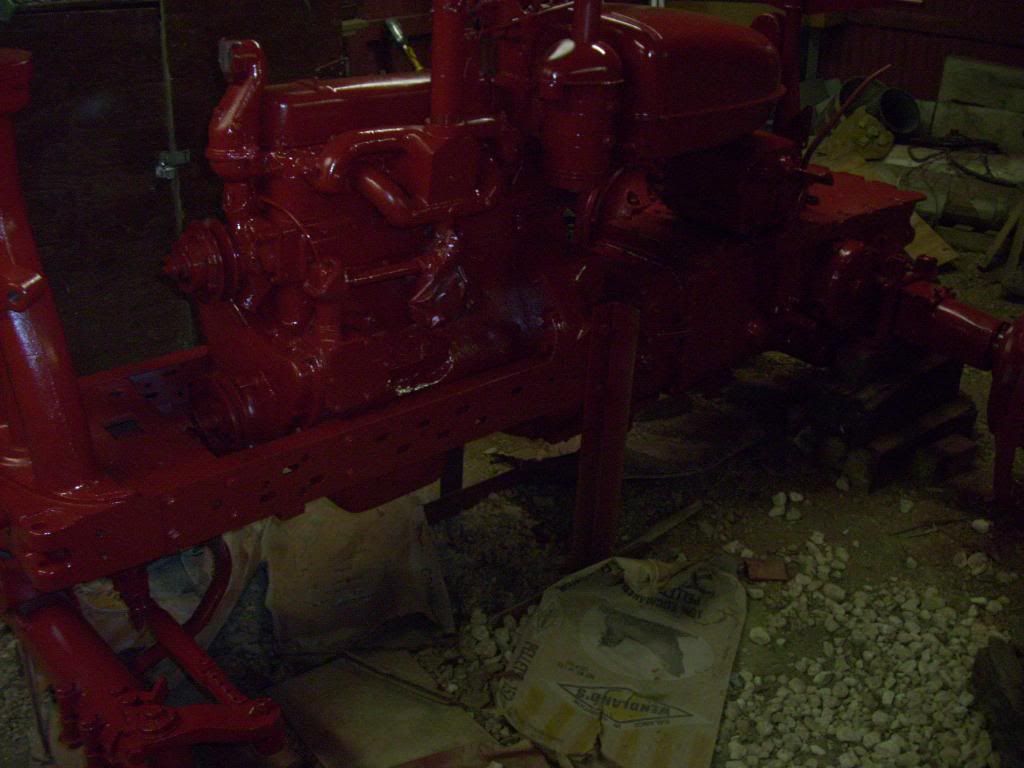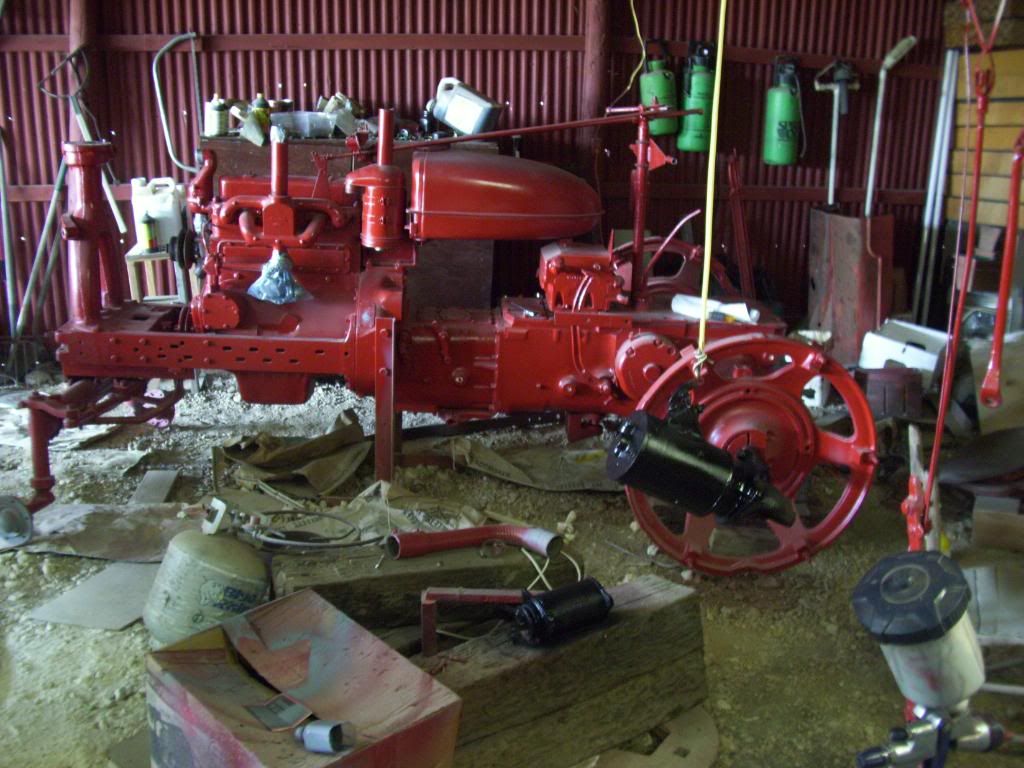 New radiator and more parts.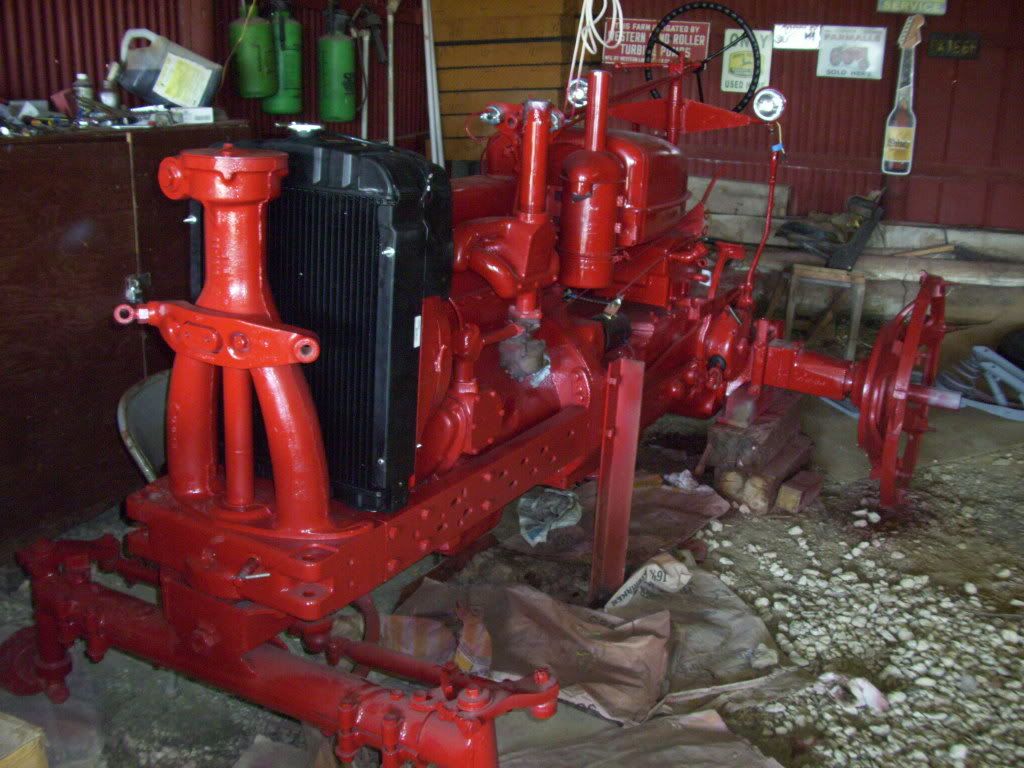 Also at this point things had really grown at my grandpas even with the purchase of a new truck simply because we wanted to haul tractors easier
Old battery box deemed un useable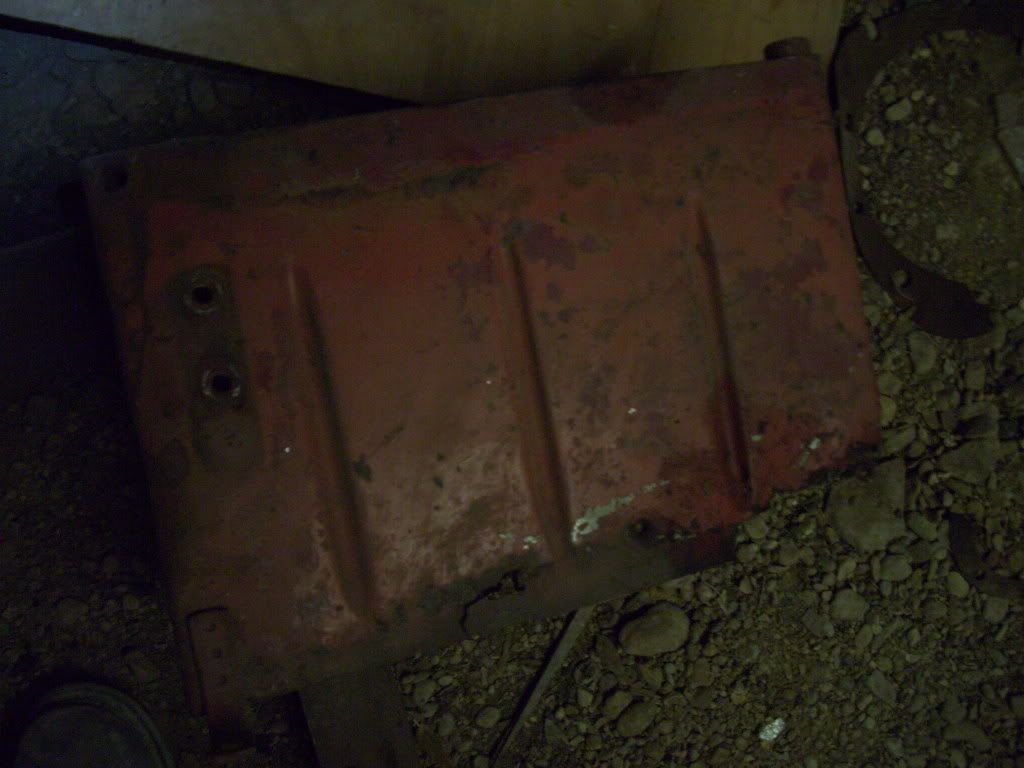 Shes looking like a farmall again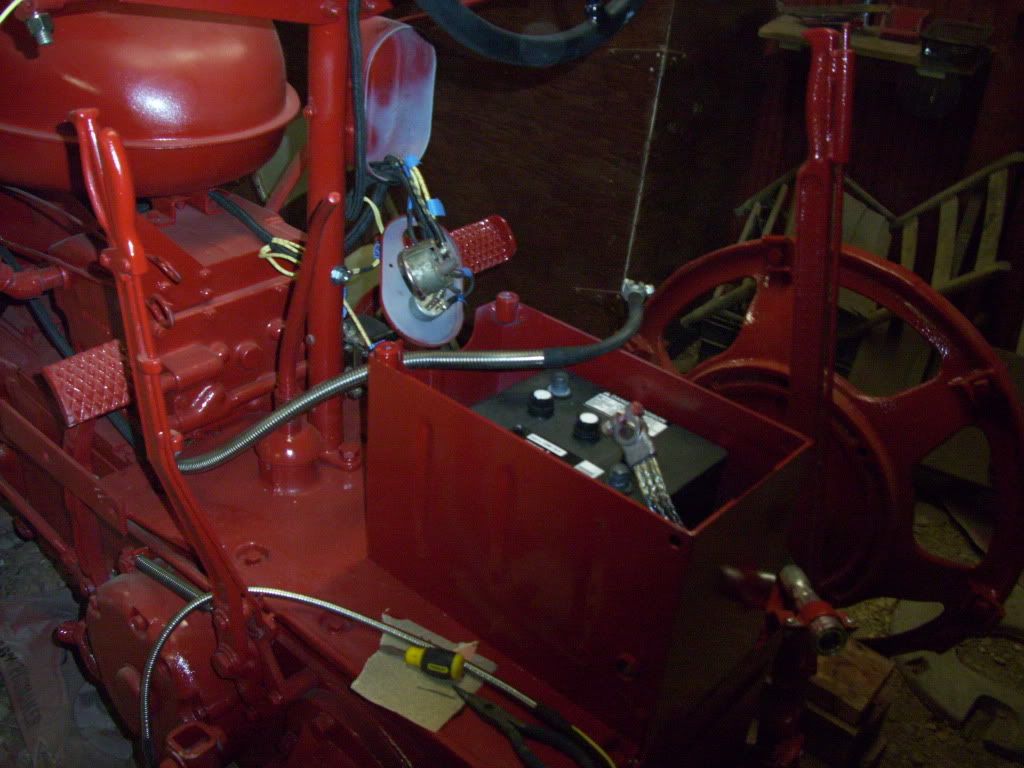 Finally at the cost of $$1060 the super MTA rode on new rubber since the first time since…..54??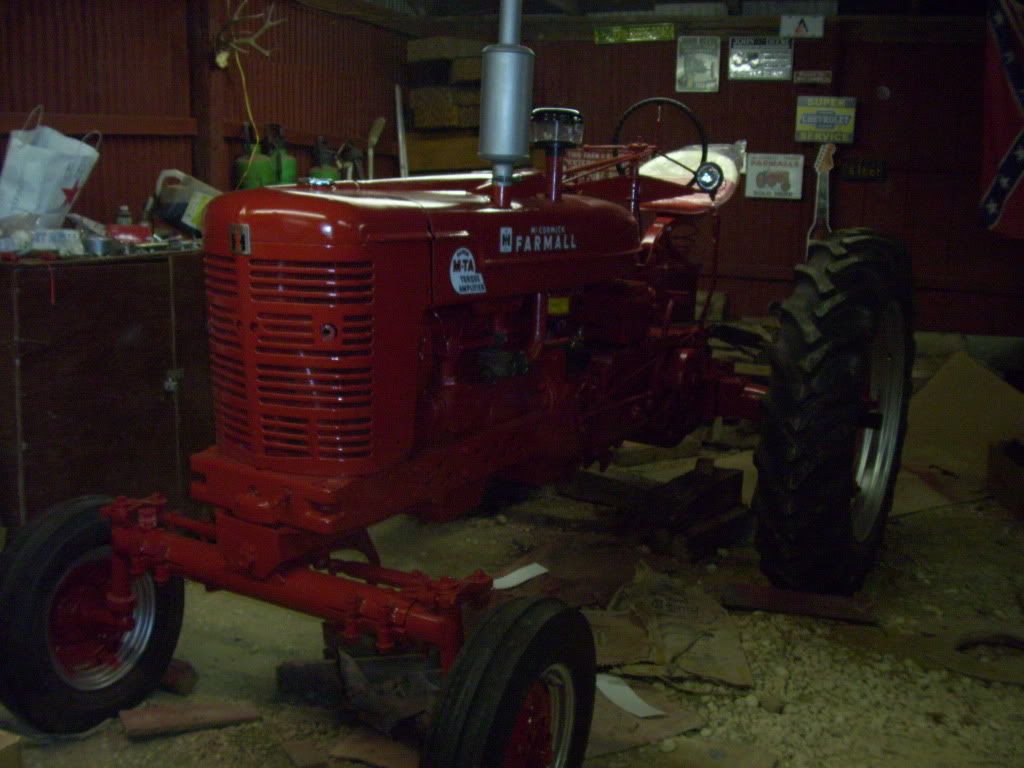 I had to sit on it for a picture. Yes I did catch some heck from some IH people for wearing the JD shirt in this shot. It just happened ok?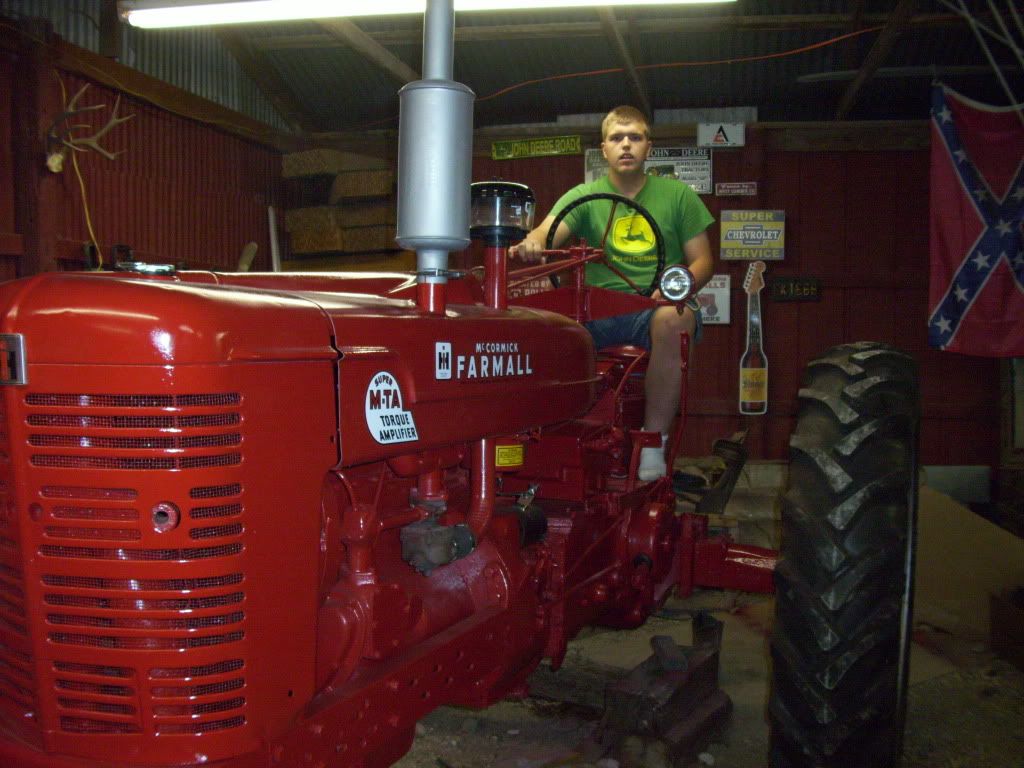 It was soon time for the first start up in over 10 years (it was 2011 at this point)
After fixing some leaks that always love to show up I got the distributor on and gave it a shot. Pulled that starter as my dad stands watching. Suddenly POW. It backfired. Just like old times apparently because my dad was not to happy saying see I told you so. "just let me give me some time to tinker with it. Ive never timed a engine before" so I adjusted the distributor. Pulled that lever and choked. And sure enough that MTA roared to life. That cursed never running tractor was back and better than ever.
http://youtu.be/KkG4yDgXC9w
The look on my dads face was priceless. He didn't waste any time hopping on and taking it for a ride either. LOL
Looking back though my dad didn't like this tractor at first and didn't believe in it it was apparent he got to liking it later on. He enjoyed painting it I know. The project never would have been possible without his help of course. I had no way of paying for all of it and I couldn't take on such a task solo. The tractor made its maiden voyage for the October TEDTEA show in temple texas. I would say she turned out just fine wouldn't yall?
Not only but the old MTA gets to turn that black dirt once again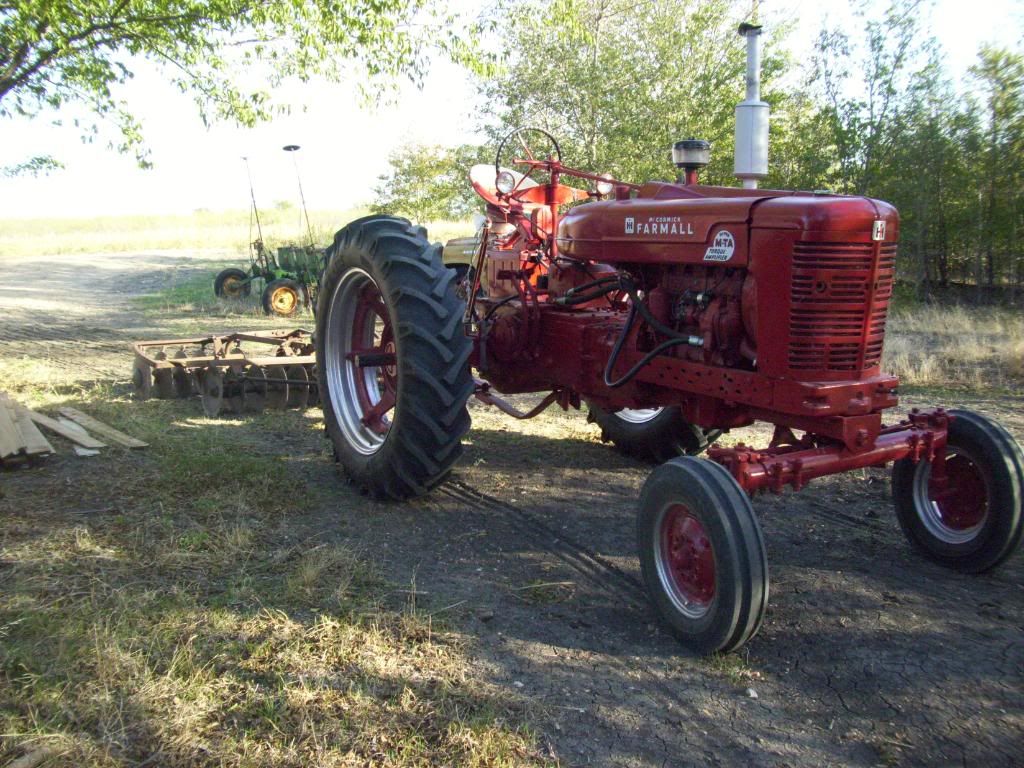 And go on the annual tractor drive where she was one of the best looking tractors there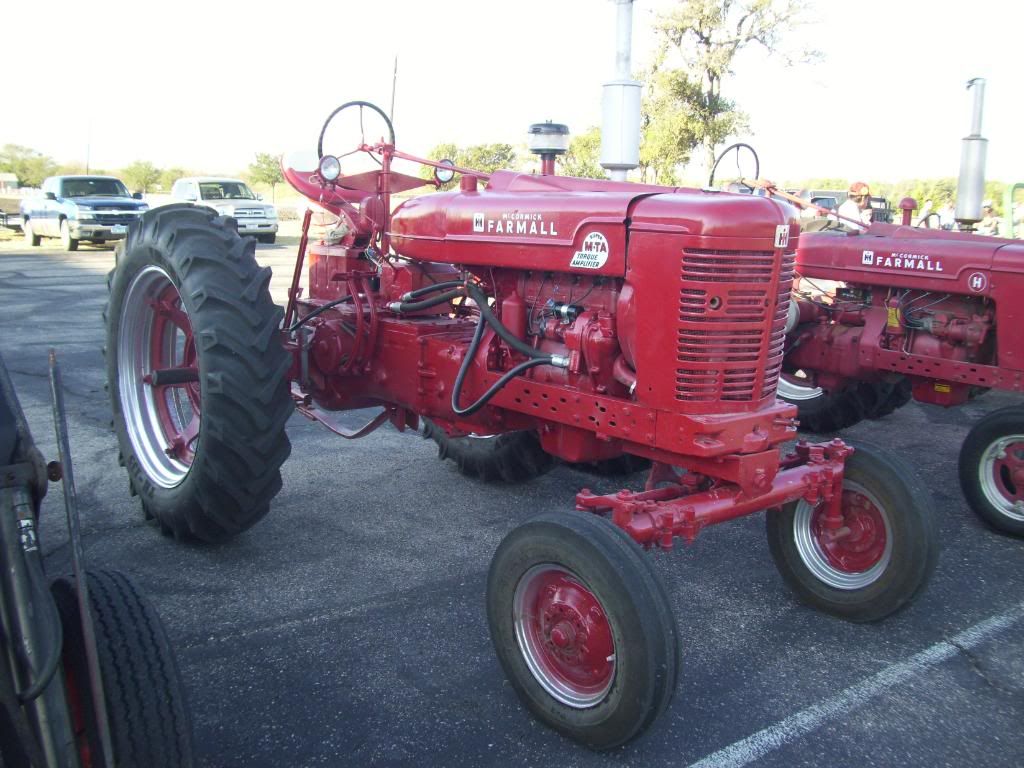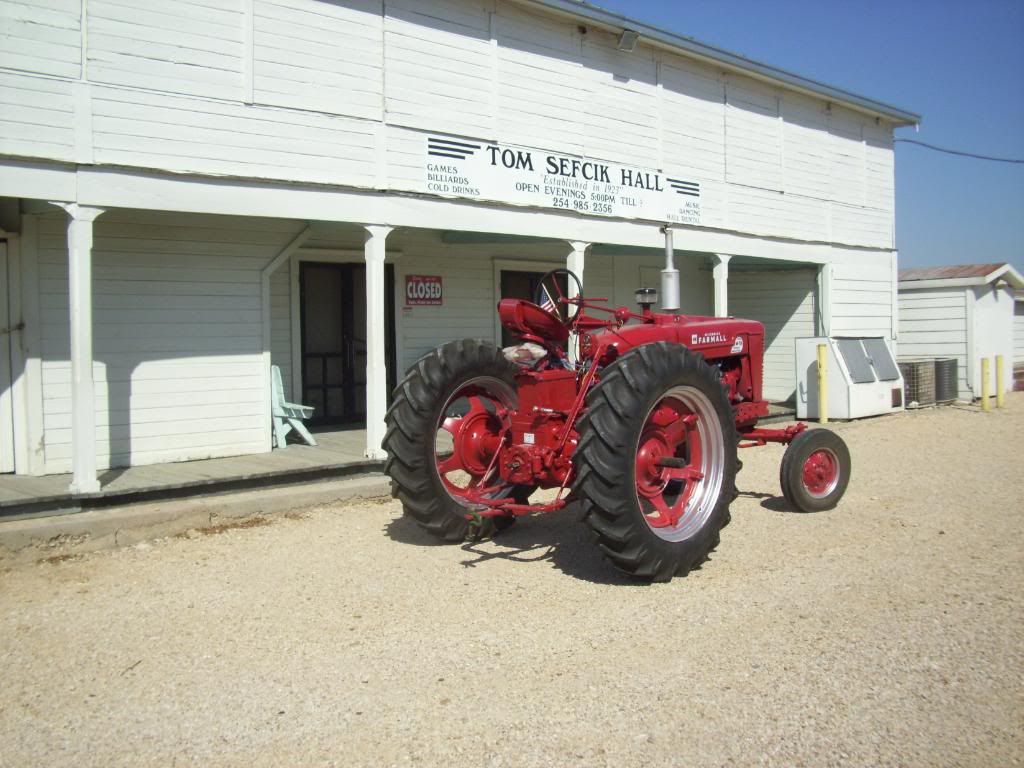 At the moment the MTA is hanging around in the shop keeping those JDs in line. The 2840 and 1050 are both still around but now they have to share the shed with the most prized thing in all of east bell county.
I truly hope yall enjoy this story as much as I enjoyed writing it. As for now it is after 3am. I have been writing this and digging up pictures and dates for the past couple hours. Im am heading off. Thank you so much for reading and of course to everyone else who helped me along the way. My friend the Masseymechanic being one of those people.
Next story to come: "The reliable but stubborn M"