Discussion Starter
·
#1
·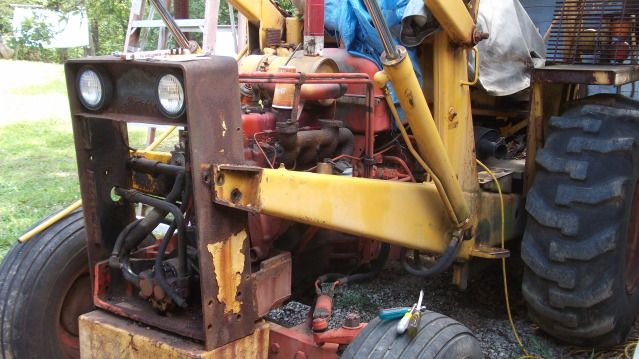 Radiator on the '73 580B shot craps last fall... Took six months to let loose of 592 big ones to get a new aftermarket replacement. This one has shuttle shift and oil cooler built in.
Talk about threading a needle with boxing gloves on ?....Try slipping the radiator out without damaging it. I was careful removing it because I sure didn't wanna bugger up the new one going back in. Needed to know how to slip it to and fro and twist it just right. The old one here don't look too bad but the radiator shop wouldn't re core it and guarantee the top and bottom tanks, plus it was within 100 bucks of the new price.
I actually slipped it out with a sideways twist out the opposite side.
Just a shot showing the loader held up in case the hydraulics bled off....
New one sitting in place, barely a scratch going in, but man o man was it a tight fit !!!
Had to drop the front weight to get to the bolts on the bottom of the radiator easily.
Time for new grade 8 nine inch bolts as these guys are 1/3 or more rusted through...man that weight is heavy, lifted it back in place with a floor jack.
All put back together and ready to fire up....tomorrow is another day.....