Discussion Starter
•
#1
•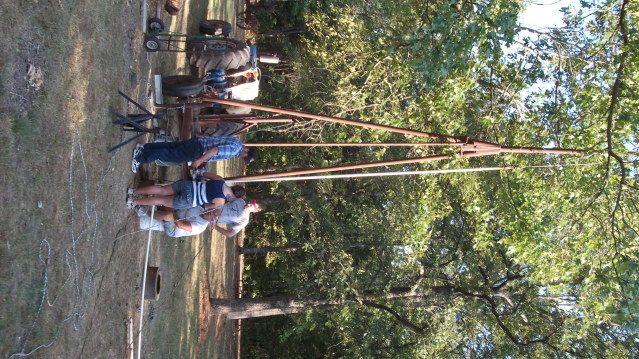 Just a month ago or so, my neighbor lady's well went out....well this Sunday the 22nd at 2 p.m. MrsMassey informed me that the well stopped in the middle of doing laundry. Grabbed the meter and checked the capacitor, its good; checked the relay, its good also; reset the breaker and pump draws 32 amps each leg (locked rotor amps) and trips the breaker again. Bad news, pump is bad. Sorry for the sideways picture, I don't know how to rotate it.....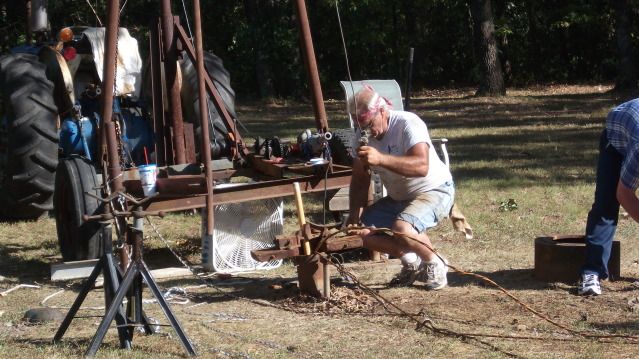 Son in law lives 499' from my front doorstep, (we measured it one day) called him to hook up the new 4000 to the well rig and start setting it up while I run to town for the new pump. We have a local farm store that stocks them and gives 10% discount with a military ID or a DD 214 (discharge papers). Couldn't send MrsMassey alone, we'd lose the discount. I could squat down a little bit farther if MrsMassey wasn't such a good cook.... :lol: :lol: :lol: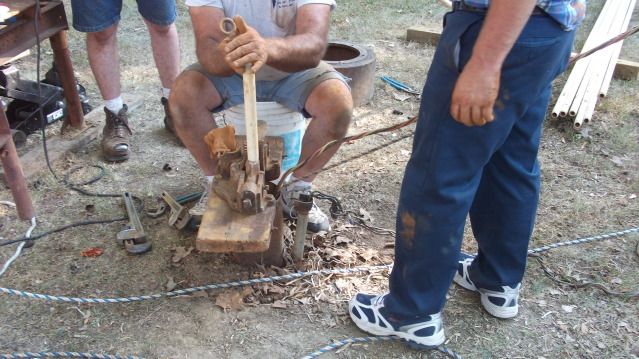 At 400', it is entirely too much to attempt by hand and not wanting to risk dropping it back into the well, we use this 'casing jack' to hold the pipe in place while disconnecting the raised section. This is my Dad's old casing jack we used many times when I was a kid with a pipe tri pod built on the back of an old '56 Ford F 250 and hand cranked winch.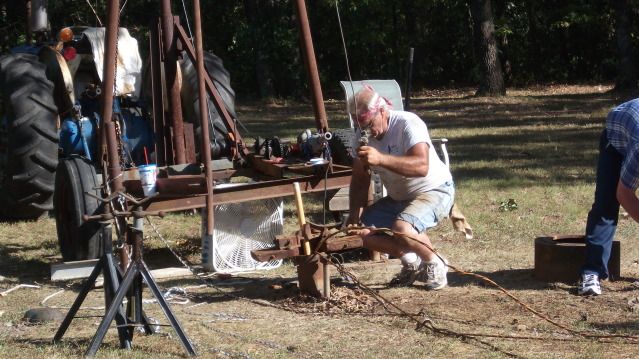 My crew is getting quite well trained, Tessa handling the wire, Tyler and myself doing the piping, SIL Mike laying down and disconnecting the swivel and MrsMassey on the power switch. Beginning to lose track now of the number of wells we've done as a crew, but its at least a dozen....
All out, well casing empty, the old pump on the pipe vise disconnecting the foot valve to go into the new pump.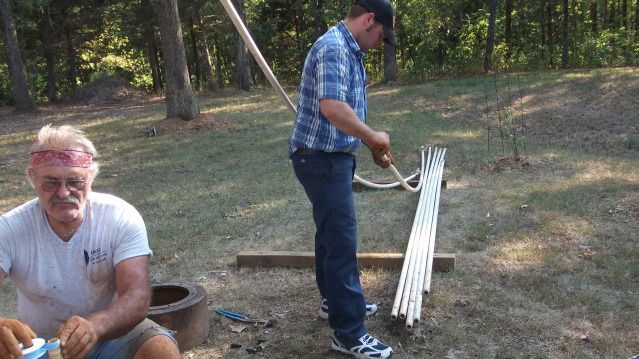 This pic is out of secquence, only about 6 sections from completing the Sunday afternoon task.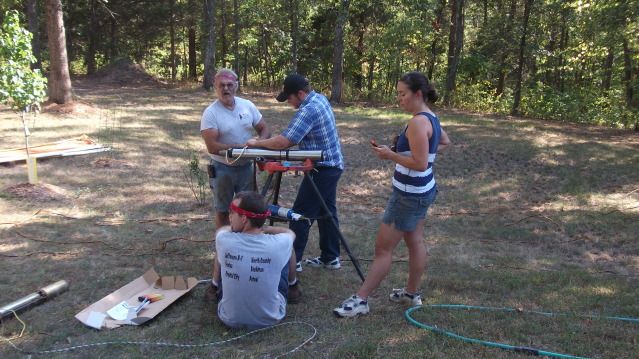 New pump on the pipe vise, installing the foot valve and wiring it up. We use heat shrink plus amalgamating tape over the heat shrink to make as close to a waterproof wire connection as possible. At least on an impromptu Sunday afternoon 'walk in the park' pump replacement.... :lol: :lol: :lol: I think MrsMassey just commented about how handsome I was that afternoon...that must be the reason for such a startled expression.... :lol: :lol:
Should be able to count (20) 20' sections of 1" pvc laying on the 4x4's just a waiting to go back in the hole !!! We lay the pipe on 4x4's, but still we have to clean them with rags as they are dropped back in the hole.
Sorry about having another well related story so close to the last one, but... it's different this time because it's at MY house. So all the pictures are NEW.
I don't remember on the last story if I got a good shot of the 3 to 1 ratio increaser by using a jack shaft or not...but here it is, complete with greased oak adjustable chain tensioner... From start to finish including the 24 mile round trip to town, it had taken 5 hours. 2:00 p.m. start and was in the shower by 7:00 even with a new filter cartridge in the whole house filter. It'll be changed within a week too because of the sediment in the pipes that's knocked loose.
Even had a little help from the little guy. The next picture will show you how much this story differs from the last, please don't proceed if you have a weak stomach for a little scrape on the shin....
This is why I shouldn't work in tennis shoes. My feet were wet and I slipped out of the back of my truck and I found out that the trailer hitch is just slightly tougher than the skin on my shin... :lol: :lol: :lol: :lol: :shock: :shock: :shock: Today, it is really starting to feel reeeeeeeaaaaaalllllll good !!!
Ok ok, no more well stories for a while.....I hope. Man this is getting old !!! I have a whole row of tractors waiting on me to get busy.....
I just previewed the pics, and you are RIGHT, that last one is GROSS !!! But what the heck it'll feel better when it quits hurting !!! :lol: :lol: :lol: