Styled has extended sheetmetal to make it look more sleek. Note especially the grill around the steering mechanism.
Parts should interchange about like anything other model that have been around awhile. Some parts will, some won't. A models 1938 and 1939 were mechanically same as the unstyled years. After that there were minor changes in transmission and transmission in 1940. 1947 brought more changes in frame, electric start, battery location and other changes evolved over the years. The B series had an immediate change in engine and transmission and other changes were made through the years.
The other models followed similar changes. Not really different than any other manufacturer.
Unstyled
A - 25 hp
B - 16 hp
C - 20 hp
D - 27 hp
D - 42 hp two speed & three speed
G - 35.9 hp
GP - 20 hp
Y, 62, & L - 10.42 hp
Styled
A - 29.59 hp
B - 18.53 early, 23.53 hp late
D - 42 hp
G - 38.10 hp
H - 14.84 hp
(Data from
The Field Guide to John Deere Tractors
, Don Macmillan)
Styled B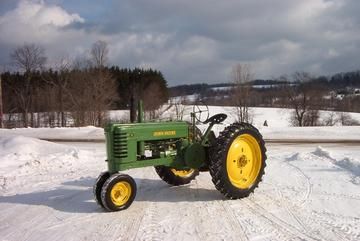 Unstyled B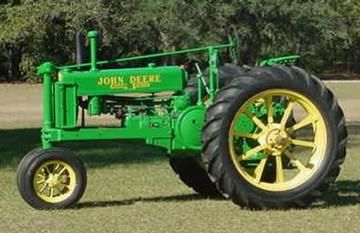 Images by F-I-T