Discussion Starter
·
#1
·
I posted a shot or two of this old Fordson sitting in the woods at my much older brothers house and said I'd get some more when I bring it home....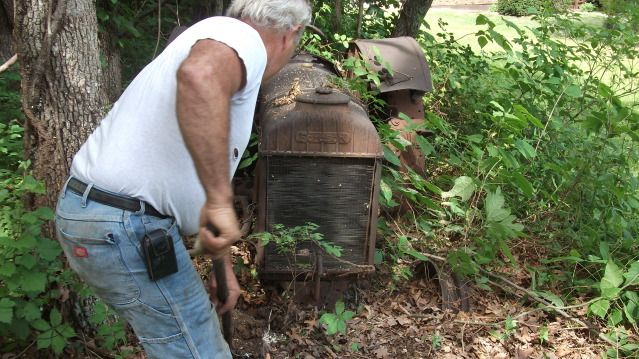 Started by digging below the axle so the chainsaw can be used to cut the small 6" diameter tree below grade.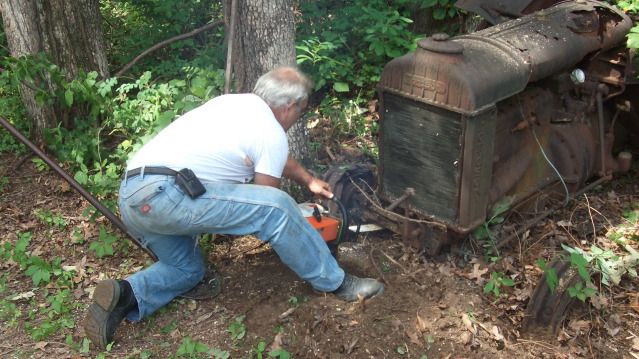 Picked out the little 026 and put a worn out chain on it because I know there will be plenty of dirt to cut and probably a whack or two on the rim or axle....by the way, good call. Prophecy came true on both counts... :? :? :? :?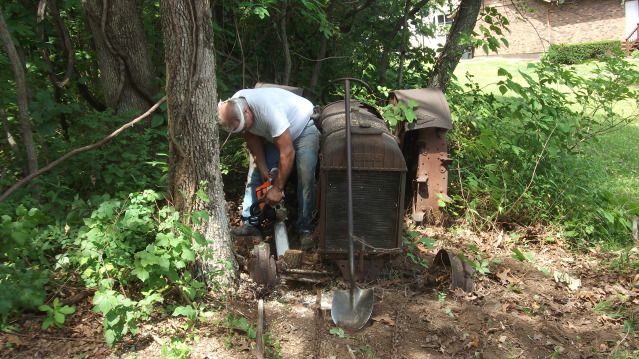 Whack a little here...chomp a little there, covering myself with poison ivy chips and the occasional spray of dirt and oh yeah, the sparks from the axle too. :lol: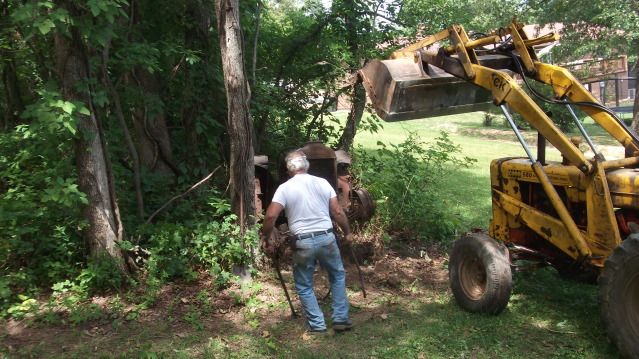 I'd backed the gooseneck in and hooked up the 8,000 lb winch but Mother Nature was trying to reclaim this valuable piece of machinery because it was sunk enough in the dirt to drag the truck and trailer backwards, so the OLD fellow on the 580 Case suggested we tug it up by the axle to rip it from the constrains of Terra Firma.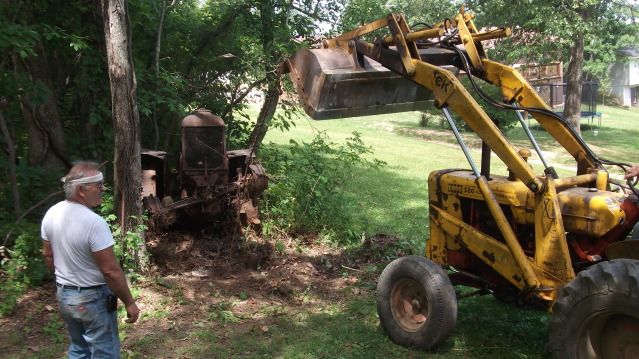 No match for the power of a mighty Case 580, the Fordson broke free without even a creak or a moan....
Notice how I manage to keep my GOOD side pointed to the camera.... :lol: :lol: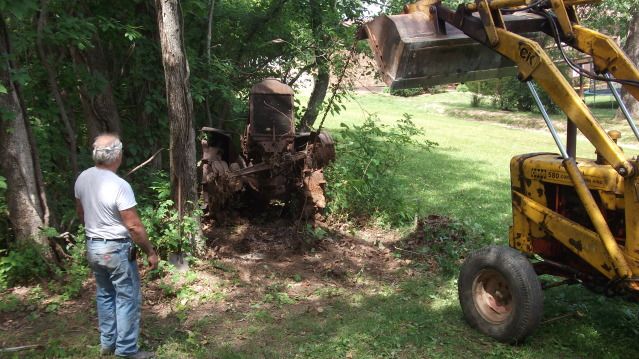 Think this old Fordson EVER got up on her back wheels before ???? I'd bet not.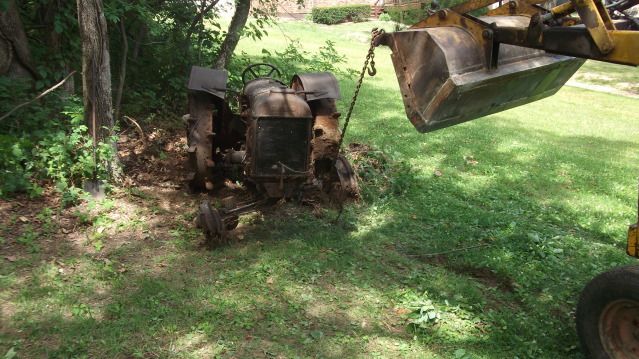 Wheels rolling for the first time in close to 40 years... This was sitting here when I came home from the USMC in '75.
Gotta stop and give the old gal a break...actually my brothers radiator popped a cork this week and he had to go for a quick refill before continuing. It must be 'catchin' because my 580 also blew out last fall....but THAT's another story.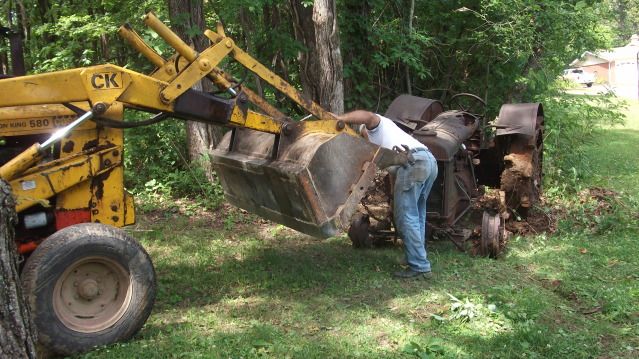 Time to hook up from the other side and drag it a bit closer to the gooseneck. Kinda hard to wind in around so many trees and I kinda like my fenders like they are.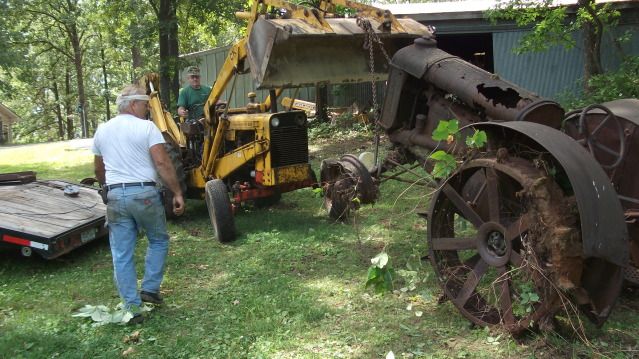 Here we are, real close to the ramps now.
I guess we could drag this around on plow day...look at the way those spades are churning up the yard !!!! Maybe hook up to the disc next....
We'd slipped this thing into neutral but the back end just won't budge loose.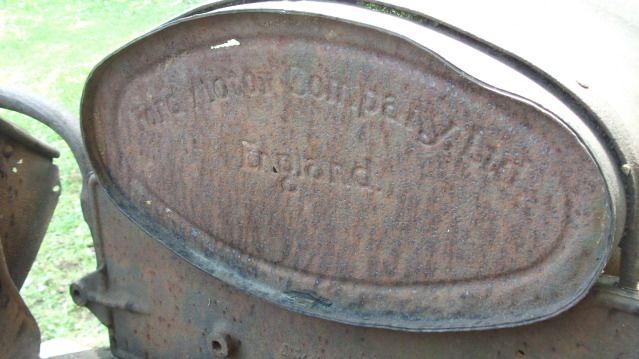 Bona Fide proof this is really a Fordson and NOT a rusty old John Deere...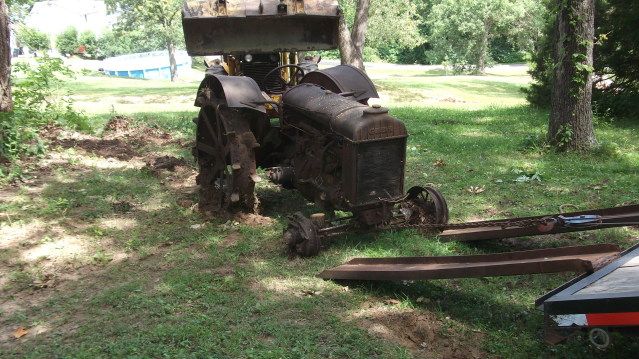 Just couldn't get her lined up just right, so my much older brother just picked up the back end and shifted it over a bit.
Boy I like the push button winch....up she comes creeping off to the side a bit. I think here I stopped and hooked the snatch block to the front right side of the trailer to shift it the other way.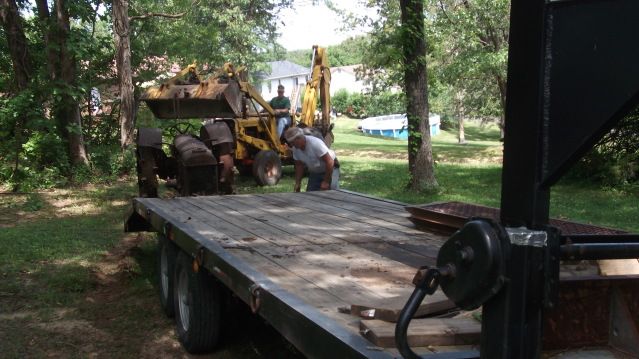 Almost to the break over point, just about there. I think my son in law's finger is getting worn out from snapping pictures....
She's sure fighting us all the way...It's almost like she didn't wanna move to a new home.....Just about now, the differential broke free and the rear wheels began rolling across the trailer deck. WOOHOO !!! About time, I say.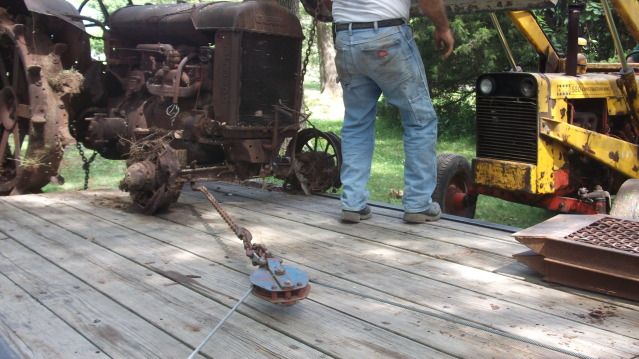 I shoulda reset the snatch block to fully divert the direction of pull as it didn't shift it enough like this...The front wheels are stuck in a slightly left direction. I didn't want to put too much pull against the fairlead or maybe ball up the cable on one end of the winch. Oh well, we're getting there.
No big deal, we just lifted the front over with the loader and set it closer to straight.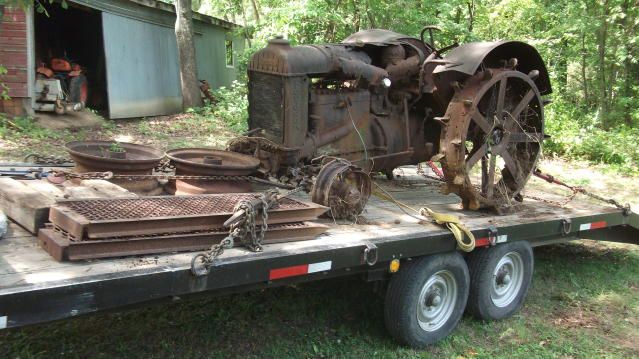 See, the old gal didn't stand a chance so she should NOT have fought so hard.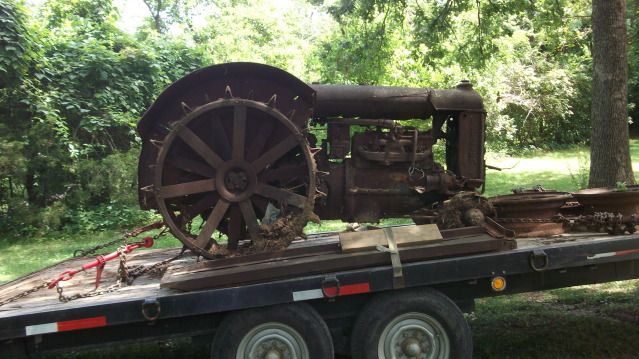 Bound down and ready to roll, ramps tied down, binders all around. I'm only going 3 1/2 miles, but hey accidents happen at the most unexpected times, don't they!!!
Just a shot of her former home...maybe she won't be so homesick if I stick a pic on her gas tank.
Just what is it that makes an otherwise normal person have such a great desire to wrestle with an un-yielding hunk of junk ????? :? :? :? I just can't figure it out....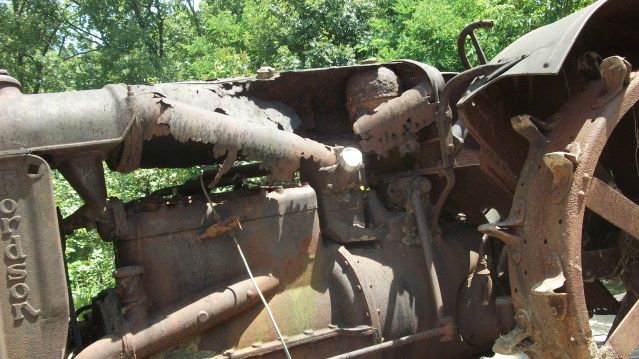 OOOPS, we dented the gas tank. Dang it, now I gotta fix that before we can start it !!!
I'll post a few more later....it's supper time now !!!!