Discussion Starter
·
#1
·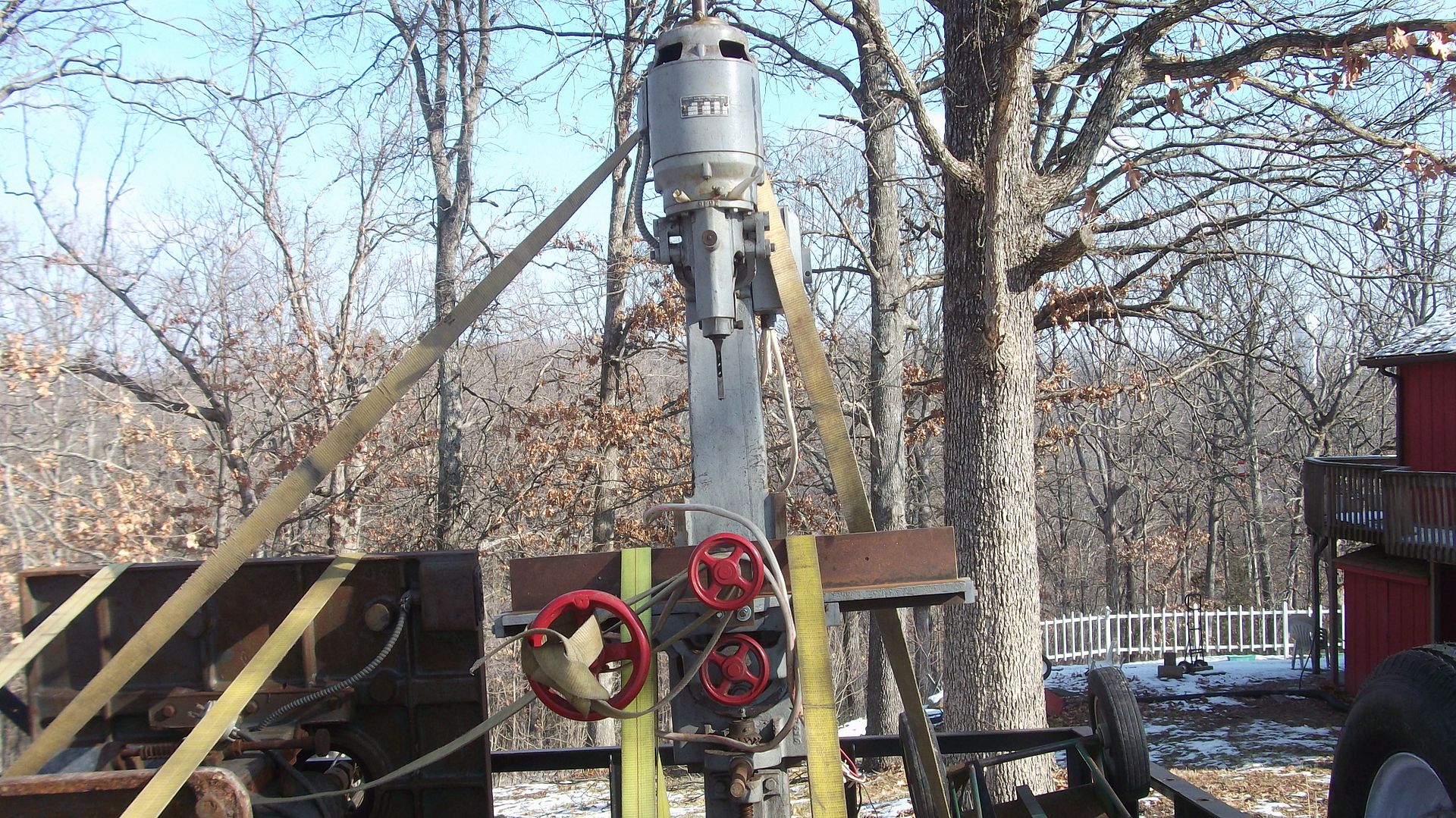 Really not a good picture showing the size and girth of the huge cast iron base. This mortiser weighs in at 600 to 700 pounds. So my son in law says the other day he was going with a friend to a tool auction 100 miles away. I looked at the sale bill and told him maybe I'd drive over too and bring the little trailer....just in case. Sitting outside on a trailer was this 3 phase mortiser and a shaper, with a 12" jointer laying on the ground, all as though they were dropped off by another seller and not part of the tool auction inside. These items were NOT listed on the sale bill.
Can't believe I took such poor pictures showing these machines on my trailer. This is a 3 phase shaper, 36"x36" cast top and base. It rivals the moritser in weight and I think it is actually heavier. We are guessing 600 to 700 pounds each. We waited the entire day with the auctioneers droning on for SEVEN hours in TWO rings selling stuff WITHOUT selling the first power tool...(excluding handheld). Nearing dark and literally the last items to sell were these three items outside. This guy had over 200 hand planes of every shape, size and description, every handsaw known to mankind, at least three of every drill, jigsaw, sander and hand tool. Dozens upon dozens of files, screwdrivers, wrenches and wrench sets, welding rods, torch sets.....the list is seemingly endless !!!! This was a private owner, not a contractor or a business selling out !!!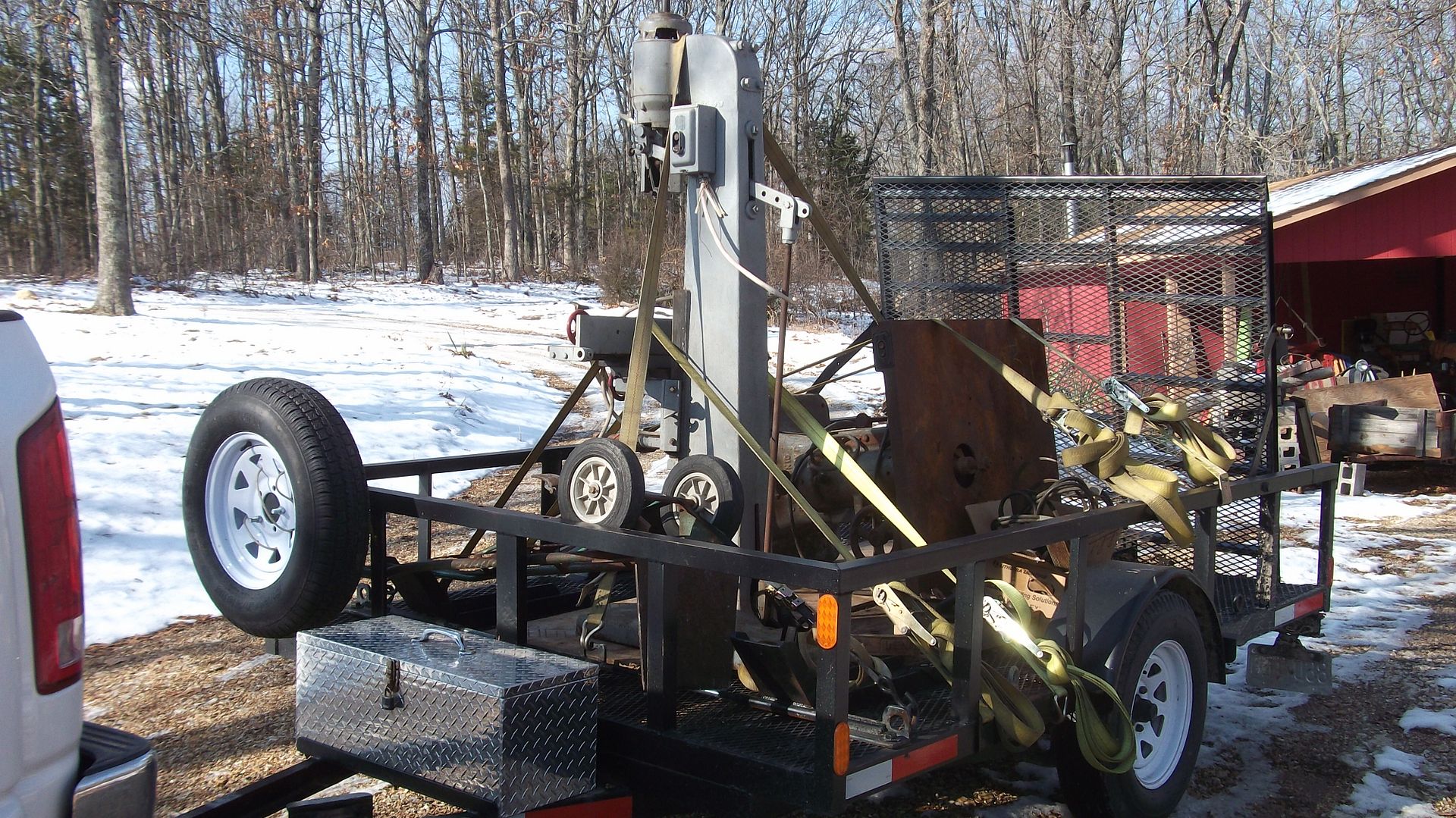 Ready to back down the slight incline to unload at Mike' shed.... Back to the auctioneers....they literally sold the threads off the bolts then sold the threadless bolt separately !!!! Ok, slight exaggeration here, but they'd hold up 5 crescent wrenches in each hand then sell choice, over and over until gone....painful and excruciating was the wait for the good stuff. Anyway, darn near dark and here we go, Mike buys 16oo pounds of stuff that has to get relocated to my trailer. Long story short, I met this really cool young man, Tim, with a Minneapolis Moline tattoo on his shoulder (he was the auction helper). He'd said a loader tractor would be available. Well he jogged up the street and came back with a 4000 Ford so we choked the machines one by one and transferred them to my trailer. But before I ran Tim down, we'd already begged help from 3 other guys and muscled the 800 pound 12" jointer upside down into Mike's buddys Cimarron with a 5 1/2' bed. Yep, the suspension squished down a bit as the bed of the jointer rested at least a foot onto the tailgate. I failed to take a picture of it...bummer.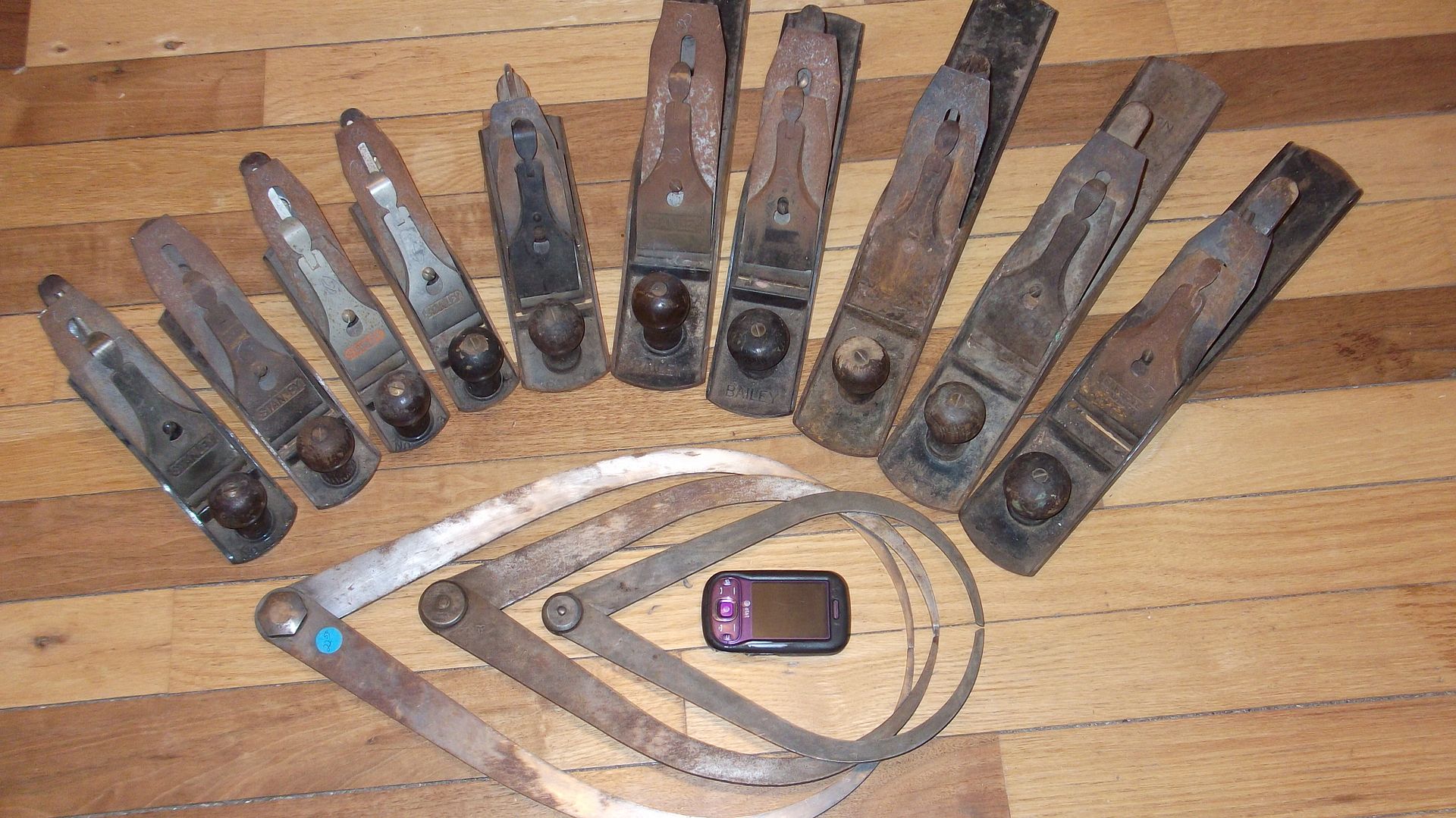 Now not EVERYTHING purchased that day required a loader tractor. Mike can't help himself when it comes to hand planes and the calipers were just a bonus. The cell phone for size comparison, the largest opens to just over 26". They'll come in handy for his wood turning projects.
All in all it was a good day, I got two 25 ton hydraulic jacks for one dollar each. And a couple other bargains. The coolest thing I got was a son in law happy as a lark because his father in law brought a trailer. Oh yeah, I almost forgot the BEST part. Mike got both of these machines for less than $60.00 !!!! Now, on to the unloading....that lucky dog.....