Discussion Starter
·
#1
·
When we first stared collecting tractors it was pretty random, some have practical uses and some we bought just because we liked them. I always said i'd stop when we got at least one of every major vintage tractor brand. Well we got 2 Farmalls, 2 Massey Harris, 2 Allis Chalmers, 1 Oliver and 1 Minneapolis Moline. So in my mind that left us a Ford/Ferguson(either will do), a Case(got one in the works), and a John Deere. Well 3 years ago a friend told me that he had a fella storing a John Deere in his shed in northern MI and that it was apart, I told him that if he ever sold it have him call me. Well as most of you know my brother Steve passed away last August and while at the funeral wake with all the grief, shock, and confusion my friend Pauly looked for something comfortable to talk about and told me that the fella wanted to sell THAT Deere. So I spoke up after looking at some grainy cell phone pictures and told Pauly that I'd give the fella 500 bucks for it, Pauly told me that he wanted to sell it to a good home where it was going to be loved and used. A few weeks later Pauly called me and said the fella took my offer but that I should know the tractor has some issues with the trnasmission not going into gear. I agreed and gave Pauly 100 bucks to tow it to me 3.5 hours South of where it was stored, we bought it sight unseen. And here it is when it arrived
http://www.youtube.com/watch?v=6WjFK9D1URk
http://www.youtube.com/watch?v=PnjlAcrU-3o
I didnt know what to expect but I guess I didnt expect it to look like this!
The instigators with their prize
Right away we knew we were in over our heads because the crank snout was trashed and so was the clutch drive, so i enlisted the help of a friend to start working at it over the winter. Well a new clutch drive, new battery, new valves, cracked head, welded crank later etc etc....the list was staggering. But this Spring we got the call to come get THAT Deere! So here I am after suffering a heart attack at the bill....dont I look happy?
Someone was happy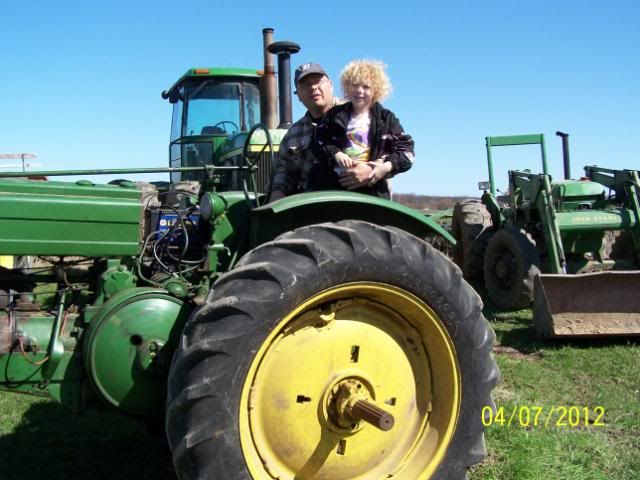 Well after getting aquainted with THAT Deere
I was off on the 8 mile trip home and with a severly bent left front rim I felt like a bobblehead doll by the time I got home(see video)
http://s168.photobucket.com/albums/u184 ... 1_2011.mp4
Here it is in the driveway at home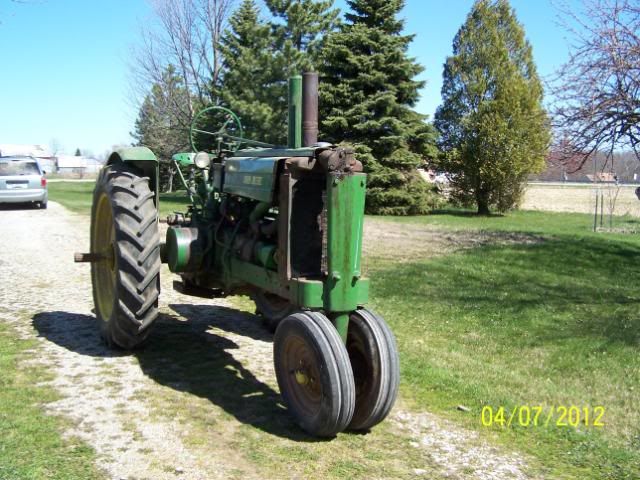 Here it is after the metal was put on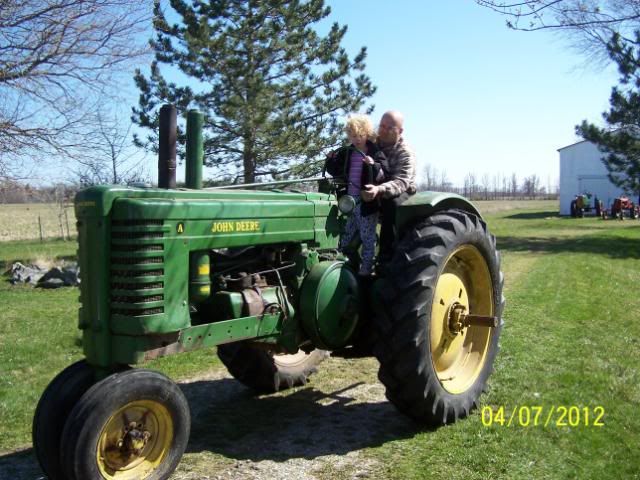 And as promised the family loving it and using it
http://www.youtube.com/watch?v=dEL_EkRKdHo
Well thats the story of THAT Deere....still more yet to come after we start cleaning, fixin, and decoratin it for Thel to her liking...still needs a radiator too but were outta cash! This experince really makes it hard to pick up that Case and Ford in our futures