Discussion Starter
·
#1
·
Any of you home butchers or deer hunters out there ever face the dilemma of a dull knife and face plate in your hand or motorized grinder? Just when you need it to be sharp as a razor its so dull its just mashing the meat through the plate? Well, our Dad spent countless hours honing the knives and faceplates by hand on the workbench in a circular motion to end up with them sharp but sometimes just not quite right.
Enter my much older and innovative brother to the scene. Now he's never been accused of being lazy (like me) but he got tired really quick of doing the sharpening on these items by hand...because the knife HAS to have a properly surfaced plate in order to do its job. That too for decades has been done by hand and requires much more time on the stone and with "ants in his pants" my much older brother always wants to be doing something more important....
Start with the knife...simple enough, the trick is holding it square to the surface, speed (but not too much) and pressure. Speed is the key....
Take 1/4" allthread and a 1/4" square nut that measures 7/16" across and lock it to the shaft with any other 1/4" nut then...Whoops, proof reading this I think I remember it is 5/16" allthread and nuts, the square measuring 1/2" across the square sides....
Chuck it into the drill press, grab an old perfume bottle you stole from the missus and fill with water and have a go. Of course a perfectly flat stone is a must, not too much pressure is a must and the proper amount of water is a must. Just a moment or two and you have used your drill press as a surface grinder and successfully and perfectly sharpened the knife....now on to the back plate.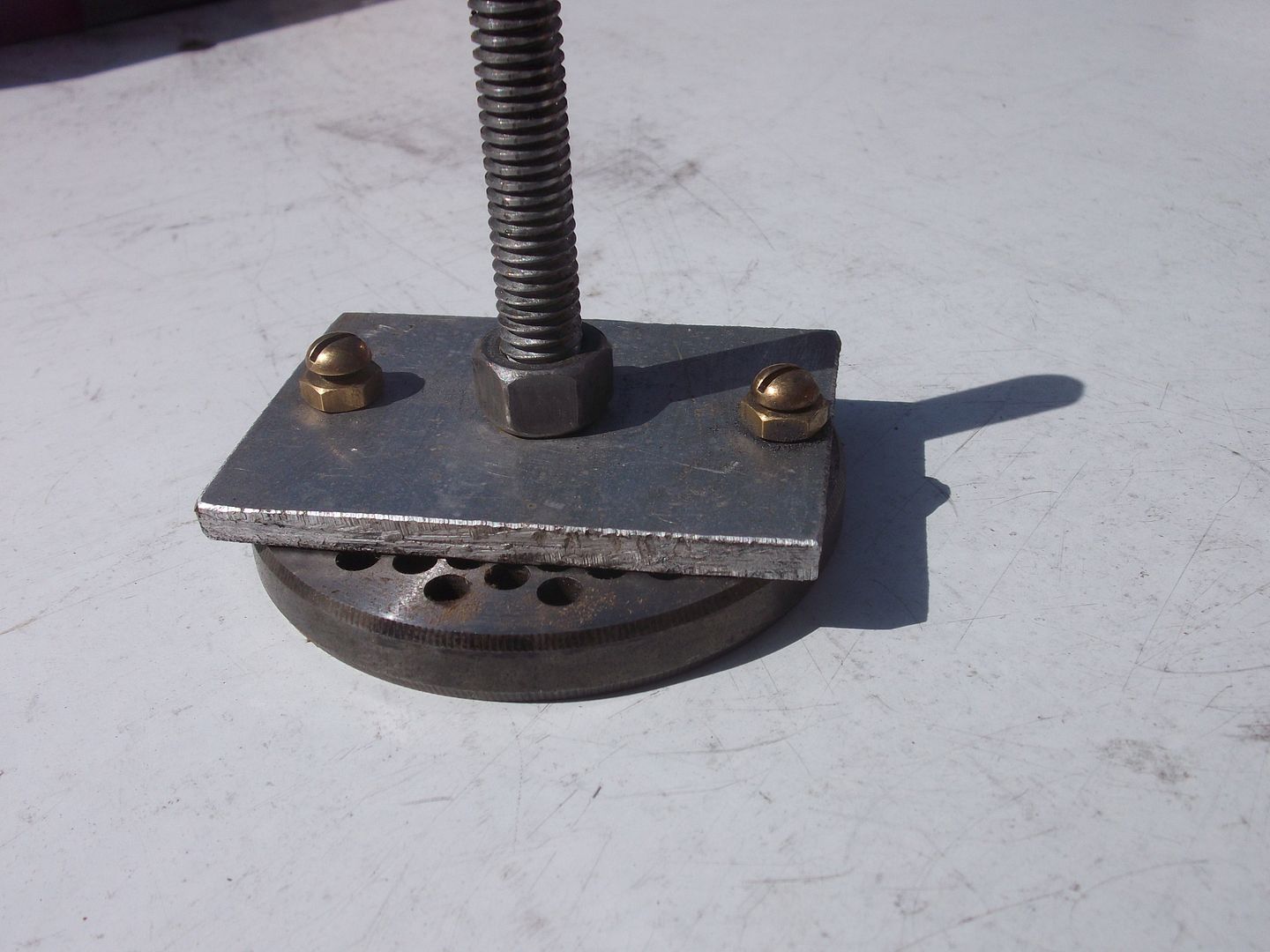 Now...when it comes to engineering something like this, I wouldn't refer to him as a "slow" engineer....nor would I refer to him as a "fast" engineer but what I WOULD in fact refer to him is: A "half fast" engineer. Jusssssssssst don't say that too rapidly or it may sound like something I certainly would never intend it to sound like.....
Anyway, all you need is a small 1/4" plate and some brass 8-32 or 10-32 or near to whatever size orifices are in your backing plate, a stub of 3/8" allthread and locking nut. Drill and tap the plate in center, thread in the allthread and cut flush and grind smooth the other side and lock it in place with the lock nut. Take the brass bolts (or whatever) drill and tap two holes in the 1/4" plate that line up with two orifices in the backing plate. Drill and tap those, thread in the little bolts, lock them in place with the lock nuts after ensuring they reach all the way through far enough to engage the plate to rotate it by the use of the drill press also.
Again, the perfectly flat stone is a must and should be dedicated to only be used for this operation.
Another quick look at the first picture you can see the near precision job on the surface of the plate and especially on the perfectly shaped knife blades.
So see, not only is my much older brother just older, he is as stated before an eclectic collector, awesome tractor mechanic and an excellent butcher he is an ENGINEER !!!! Just remember to say the type of engineer realllllll slow though. :lol: :lol: :lol: