Discussion Starter
·
#1
·
Comparing this heat wave here to a giant hair dryer is the perfect analogy. We have been over 100 and had a hot wind for the last few days. Gardens and corn were drought stressed before the furnace cranked up. Later planted tobacco near the end of May is holding up ok for now, but earlier planted tobacco needs water badly. Some of it is nearing the button stage.
I took these pics this afternoon, Saturday, after the farmers market. I told the market overseer that we are looking at the possibility of an early retirement this year if this weather continues.
Late melon patch planted around May 20 on cousin's farm next to mom's farm, our new place. It still has potential.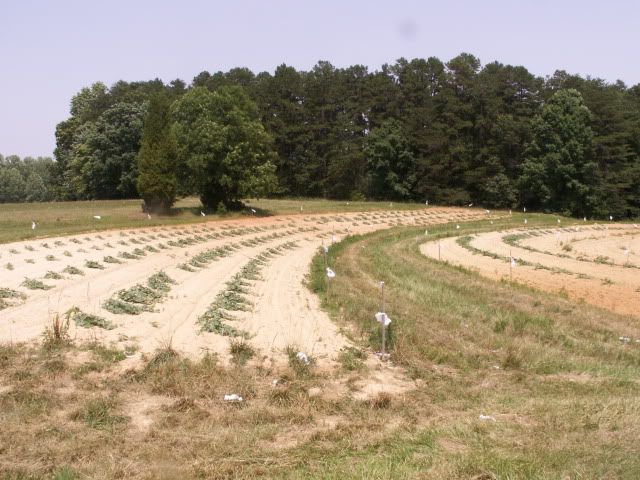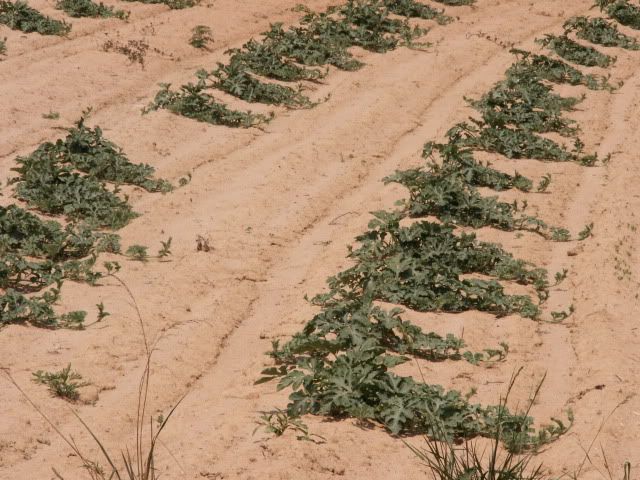 The upper side of about a 2.5 acre field of staggered veggie plantings. There is just a small corner here left to plant. Last Monday after a weekend thunderstorm, I planted a row of pinkeye purple hull peas and 1/2 a row each of cukes and squash. I cultivated on Monday also. The moisture from the storm, about an inch, did not last long.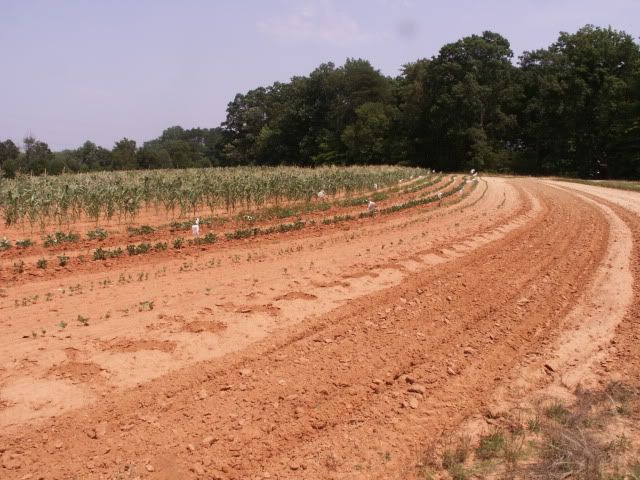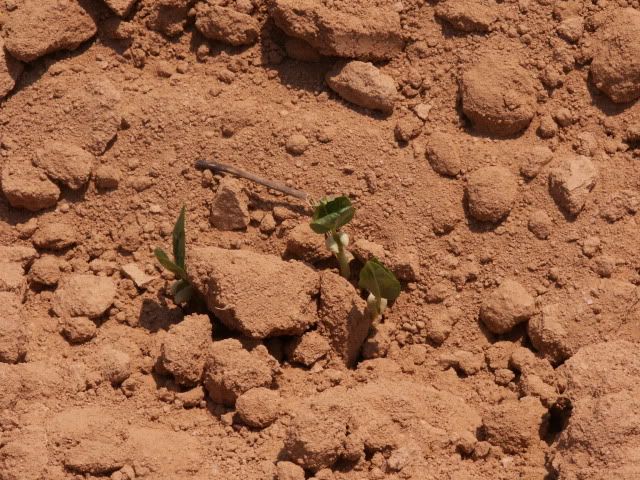 In the upper terrace, we planted one row of Ledmon watermelon transplants for some early ones. There are a few melons between softball and basketball size, and many with odd shapes and small plants signs of drought stress. Small ones, tennis ball size and smaller, will begin to dry up and blacken if they haven't already. Ledmons are not disease resistant. It is a crap shoot as to where to plant them in a good year. A few here and there will let a grower know pretty quickly where they can be productive.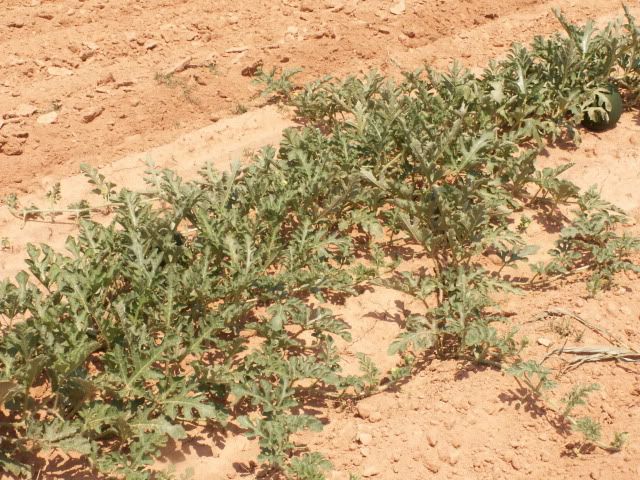 We have 4 different strip plantings of sweet corn, Merit, Golden Queen, Silver Queen, and bodacious.
The stands were spotty. Soil moisture was marginal through the germination period.
Between 2 corn strips, severanl bean varieties, squash, cukes, peppers, eggplant, and okra are planted. The barren spot on the backside is the okra spot. Some of the 3 rows were planted 3 times. It would come up, stand there a week to 10 days and begin dying. I can usually pick over it every day if favorable weather exists. We usually sell alot, and it doesn't take much to produce alot...normally.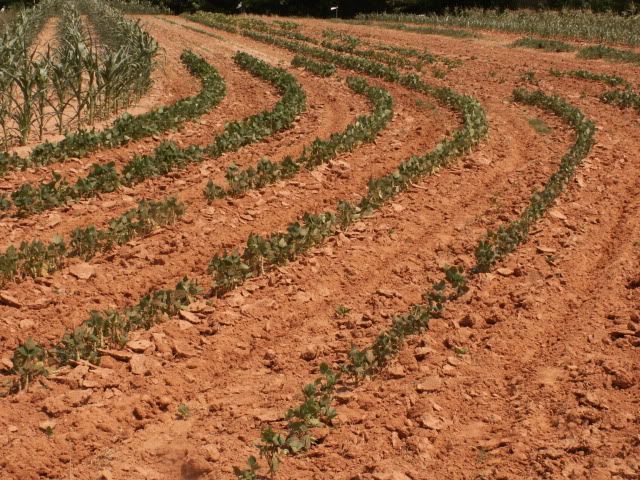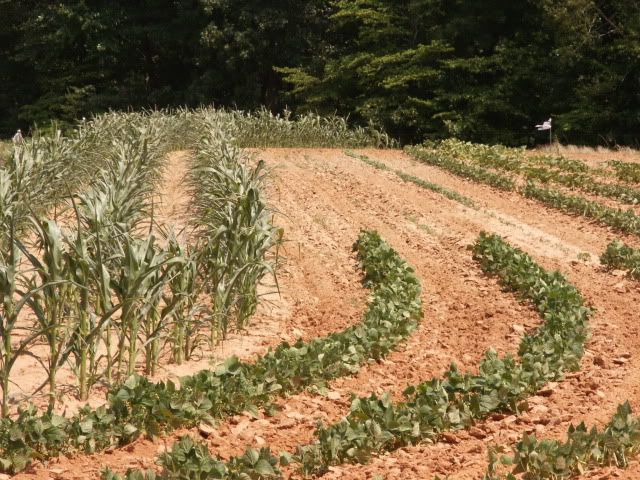 This is the earliest section of corn. It should have been ready by now. I will get nothing from it if there is no rain within a few days. Two rows of late-planted Kennebecs are to the right. We plowed out our early ones last week. We planted extras in April because the Red ones did not come up. A row each of early squash and cukes are to the right, not in the pic, and are mostly done.
The lower terrace, about .7 acre, was planted May 1 in watermelons and cantelopes. Most all of the cantelopes have died, and the melons are in trouble. Normally by now, the field would be covered in green, running melon vines.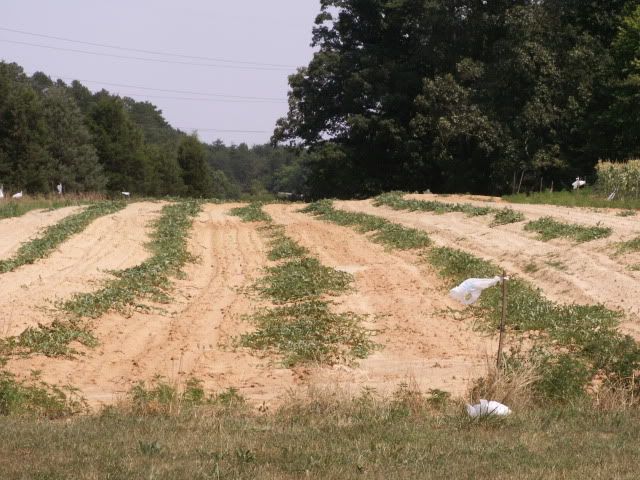 This blowing grocery bag shows the breeze today. I know the bags are light, but they all were standing straight out today. The wind makes conditions more bearable for us, but creates the hair dryer environment.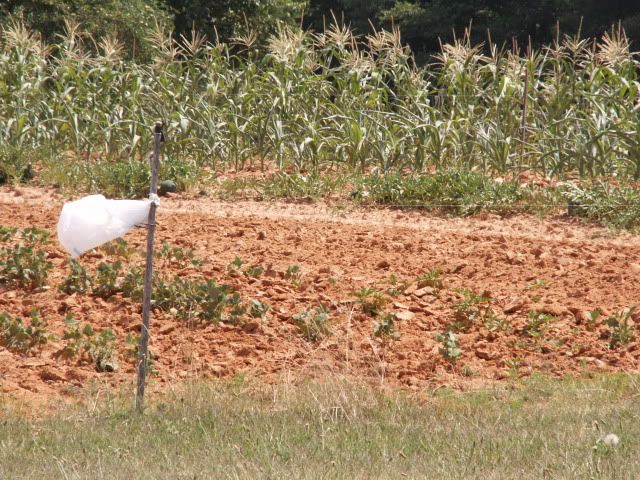 A couple of pics of the hayfield out mom's, now daughter's family's, front door.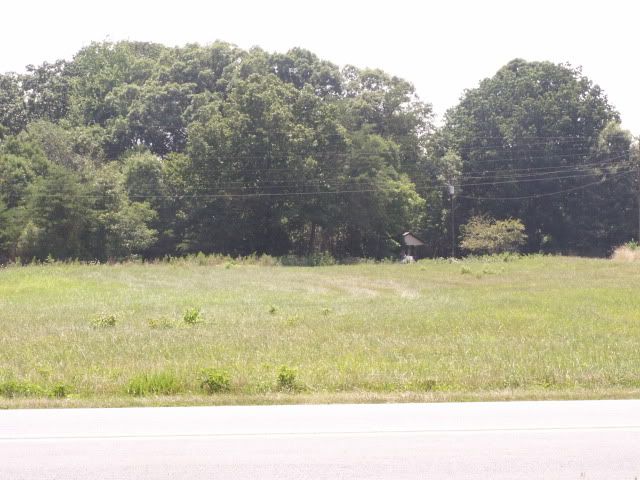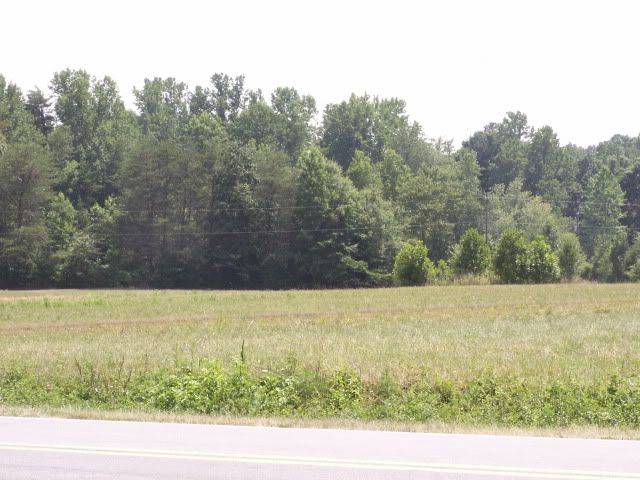 The next series of pics are at our home. In addition to Mrs. Jim's kitchen gardens, we have 3 small veggie plots.
Green beans on the lower end and pinkeye purple hull peas on the upper end near the camera. Broccoli and cabbage do well here. I am in the process of taking out broccoil plants and feeding them to the cows.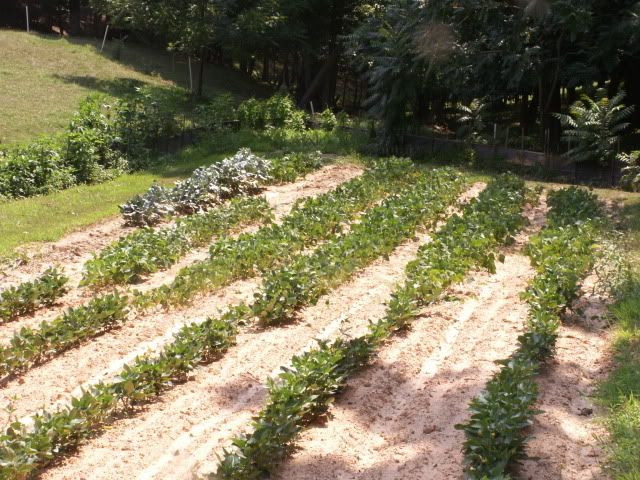 The other side of this narrow strip has early squash and cukes that are done, a row of badly wilted beets, about 150 mater plants, and cabbage and onions. I put a makeshift shed over the cabbage, about 50 heads to keep them from scorching. Working well so far.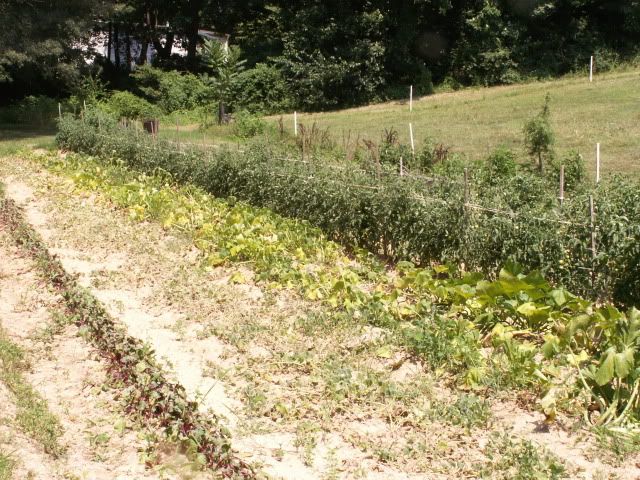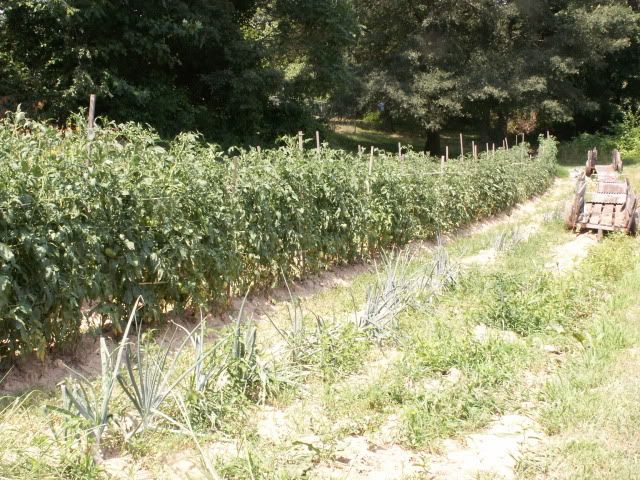 Through the woods and up the hill beside the driveway is the last plot. A hodgepodge of squash, maters, beets, lettuce, spinach, kohlrabi, dill, carrots, and green beans. There is some method to my madness. Soil types vary greatly in these small plots and the larger fields. I try to match veggies that do well in certain soil types, that avoids cross pollenation, and can be easily cultivated. It's like a puzzle and makes a little more work, but it is easier than managing more planted land. With current weather conditions, even a little seems to be too much.